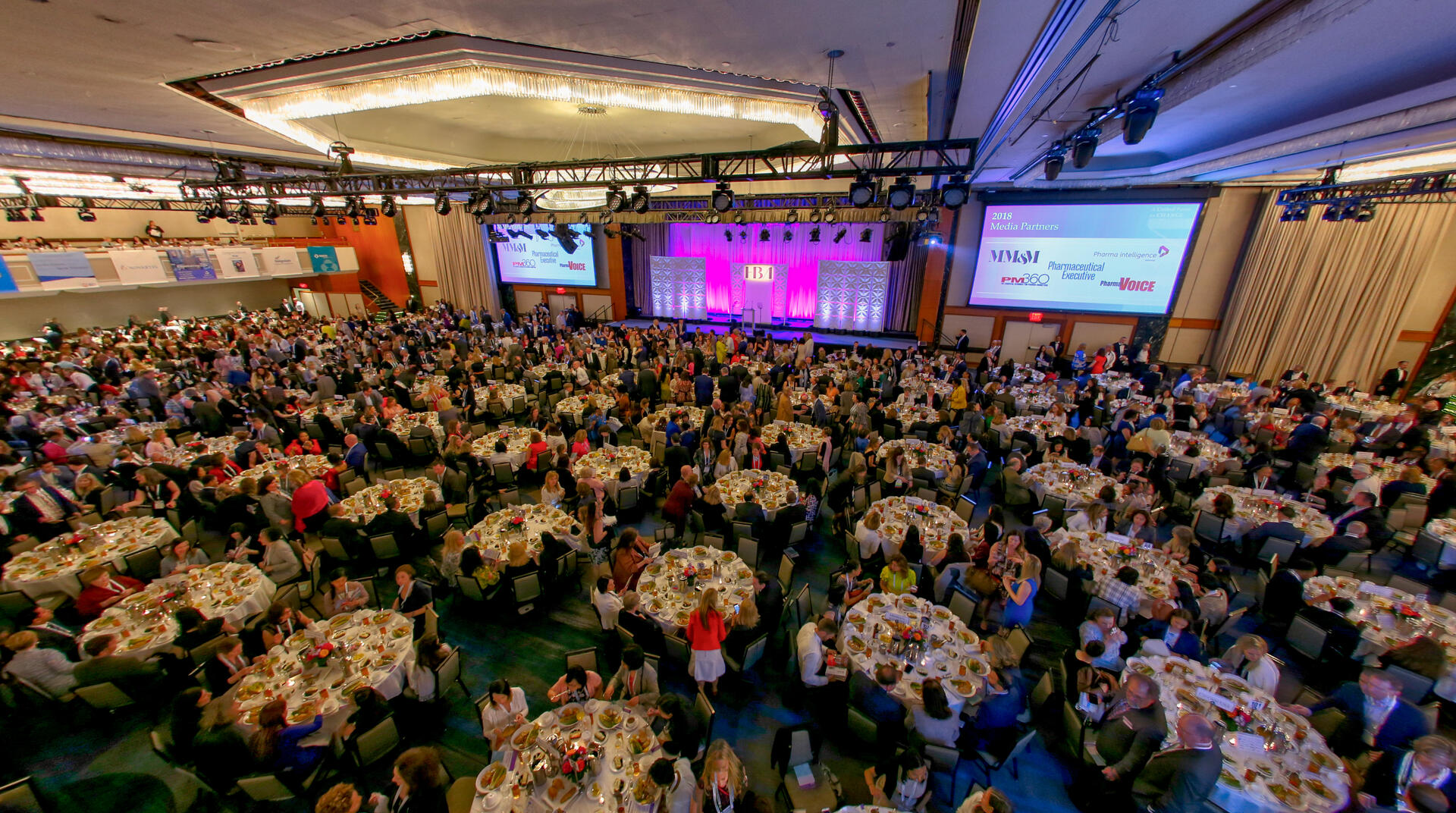 HBA Rising Stars are professionals in various sectors of the healthcare industry, including pharmaceutical, biotechnology, advertising, public relations, medical education and market research, among other fields. Nominated by HBA's corporate partners, the Rising Stars represent various career stages and disciplines, and have demonstrated noteworthy achievements and proven attention to furthering their careers.

Titles reflect positions at the time the award was presented.
Lisa Arbogast
Vice President, Life Sciences
YourEncore, Inc.
Lisa is a remarkable business woman and exceptionally creative partner to life science clients across the industry.  Lisa initiated YourEncore's life sciences practice nearly ten years ago, creating a progressive business model that has evolved to meet industry's challenges.  Her leadership benefits community causes and our company.  Within YourEncore, Lisa hires and mentors a diverse team.  She brings personal passion to advancing women's careers and helping all members of her team reach their professional goals.
Jacqueline Beagan
Head of Global Clinical Trial Management
EMD Serono, Inc.
Jacquie's contributions as a leader have been evident in the achievement of critical milestones in our clinical trials. She has consistently demonstrated her ability to work cross-functionally to solve problems collaboratively with exemplified leadership behavior. In addition, her strategic abilities helped shaping the current global organization she's heading. She was recently promoted to her current role. Merck feels honored to have such a high potential female leader within the organization.
Yin Becker
Vice President, Communications and Public Relations
Stryker
Yin Becker is a "rising star" at Stryker.  She brings 25 years of experience in the medical technology industry and 2013 be her most impactful yet.  As the Vice President of Communications and Public Affairs, Yin is responsible for developing and implementing communication and public affairs strategies that grow and enhance the Company's position and reputation as an industry leader. In addition, she oversees government affairs, social responsibility and strategic marketing.
Ritta Bernshteyn
Executive Director, Business Intelligence
Forest Laboratories, Inc.
A hallmark of Ritta's operating style is her ability to formulate the effectiveness and ease of use of analytic solutions to her customers.  Under her expertise and strong leadership, Business Intelligence has contributed significantly to enable the business in varied critical activities such as: multiple product launches, new sell models, compliance for commercial programs, and expanded Clinical development activity.  Her work impacts the entire company.   Ritta is strategic, results oriented professional and she is highly respected by her peers.
Amila Bewtra
Practice Lead, Brand Analytics
Symphony Health Solutions
Amila is a Practice Lead focused on helping our pharmaceutical industry and healthcare clients validate and optimize their brand strategies using Symphony Health Solutions' unique claims information solutions (encrypted patient and managed markets).  In her senior role she is instrumental to the design and development of innovative solutions that offer insights to brand influences on key brands, procedure, and diagnosis / therapy areas (i.e., HIV, Oncology, etc) Amila has over 15 years of experience in providing service and insights to the pharmaceutical industry. Amila holds a MS in Information Science from Penn State University and BS in Mathematics from Villanova University.
Melody A. Blanchford
Senior Manager, Advisory Services, Life Sciences Sector
Ernst & Young Americas
Melody Blanchford, a senior manager in EY's Advisory practice, has over 10 years of experience in the pharmaceutical, medical device, and consumer products industries. Starting her career as an auditor, she is well versed in and advises clients on the critical financial, regulatory, and risk issues. In her role as a rising leader and mentor, Melody shares this knowledge daily and, most critically, as coordinator of an inaugural Learning Week for her colleagues.
Kelley Boucher
Director and Sr. HRBP
Shire Pharmaceuticals
Kelley Boucher is lead HR business partner at Shire HGT technical operations.  Based in Lexington, MA, she is responsible for 1000 people globally. Kelley is a role model HR professional, with her business first, pragmatic, solutions oriented approach.  A respected leader, she has been instrumental in managing recent, significant change and growth.  Thank you Kelley for all you do in support of our mission - to enable people with life-altering conditions to lead better lives.
Tia Bryant
SVP, Account Group Supervisor
Draftfcb Healthcare
Tia joined ProHealth 2 ½ years ago to take her skills to the next level.   Not only has she done so, but she has proven to be the DFCB "rock star" this year, embodying all that the agency represents.  Tia delivers excellence in everything she does, is an innovative problem solver, a collaborator, and a teacher, mentor and role model.  She is a true leader, which has earned her the respect of clients and staff alike.  These qualities have helped drive a positive and rewarding culture, a winning environment, and ratings that exceed expectations from the brands she and her team represent. Congratulations, Tia!
Rachel Bunting
Senior Associate Scientist, ImmunoPharmacology Group
Johnson & Johnson
Rachel is a vital asset to the Johnson & Johnson organization.  She continues to exhibit exemplary leadership qualities and commitment to bring innovative therapeutics to patients. Her recent work procuring human samples aided in the progression of key pre-clinical assets to stage-gates as well as enabled the ability to better understand and treat human disease in the future. Rachel has had significant impact on J&J with her passion for and commitment to women's leadership development through mentoring.  She has demonstrated this by volunteering to lead a cross-sector team to launch and expand the Mentoring Works! Program globally.
Erin E. Capra
Senior Product Manager, Marketing
Shionogi Inc.
Erin has made significant contributions to the Shionogi marketing team which also includes the successful development and commercial launch of two product line extensions.  Erin was recently promoted to the Shionogi Women's Healthcare Marketing team and is responsible for the development of innovative commercial initiatives that enhances customer value.  Erin has earned the respect of our cross functional team by striving for performance, respect for others and consistently being the "voice" of the customer.  Erin's dedication, insights and passion are refreshing and contagious.
Joann Chalmers
Account Director
Cegedim Relationship Management
Joann is a creative marketer who understands how to use technology and novel approaches to reach target audiences.  At OPUS Health, a Division of Cegedim Relationship Management, she is considered a trusted partner and her clients count on her to understand their business needs and bring forth solutions that are relevant, timely, and strategically sound. Joann is an enthusiastic, dedicated colleague and we are proud to recognize her as our 2013 HBA Rising Star.
Christine Colella
Senior Legal Director
Eisai Inc.
Christine Colella is the senior lawyer counseling Eisai's commercial and medical affairs functions.  The role demands expertise to address the varied issues that arise, wisdom to identify the appropriate course of action, and dedication to the clients with whom solutions are pursued.  Christine demonstrates all of these.  She couples these attributes with a sense of compassion for her colleagues and for the larger purpose of her work – helping contribute to the well-being of the patients our medicines serve.  Christine is a role model for our human healthcare (hhc) mission.
Selina Coleman
Associate
Fulbright & Jaworski L.L.P.
As an associate in the Washington Office of Fulbright & Jaworski L.L.P., Selina focuses her practice on litigation and compliance matters affecting health care clients.  She is a frequent author on topics such as the Sunshine Act implementation and fraud and abuse issues.  Selina is consistently recognized for her dedication to client service, and diligently follows the issues affecting her clients.  With her commitment to her legal practice and clients, Selina is a Rising Star.
Jenny Colombo
Vice President, Medical Affairs Strategies and Communications
Takeda Pharmaceuticals International, Inc.
In addition to her dedication to the patients we serve, Jenny embraces community service; volunteering as a team organizer with Rebuilding Together in underserved Chicago neighborhoods. A Chicago HBA mentor, she offers guidance to women in the healthcare industry. Jenny also supports the Chicago Museum of Science and Industry by coordinating volunteer efforts of scientifically trained Takeda employees to further children's education in the life sciences. Jenny is an exceptional leader and an extraordinary woman!
Lisa Costa
Account Manager, Buying Services and Deliverables
CMI/Compas
Lisa Costa is dedicated to our business and to client service, and her hard work and dedication have allowed her to develop relationships with some of our largest clients and partners. Lisa works tirelessly, and the service she provides truly exemplifies our commitment to partnership. Lisa has also become a mentor to other team members and the go-to person for her clients. She embodies our corporate values and continually contributes to our success.
Narisa Cougar
Director, Advisory
KPMG
Narisa truly embodies the qualities that we look for in a future leader at KPMG. In her role within KPMG's Forensics practice, she has dedicated her career to helping Life Sciences companies manage risk and prevent fraud. Much of her work is conducted overseas, and she has built a global experience that will catapult her career within an ever-shrinking world. In addition, younger women at all levels at KPMG look up to her as a profile that they want to emulate. We are very proud of Narisa and look forward to supporting her at WOTY and in her career.
Kristin Croucher
Director, Clinical Project Management- Allergy, Respiratory, Infections Diseases and Vaccines
Quintiles
Quintiles is proud to recognize Kristin Croucher as our 2013 HBA Rising Star. From monitoring sites to modifying our business to better meet the health needs of vulnerable and underserved societies around the world, Kristin represents the very best of what we call "Work Worth Doing". Quintiles thanks Kristin for her dedication and passion and her unwavering commitment to customer service, integrity, leadership, and quality.
Ines Dahne
Executive Director, Process Excellence
Quest Diagnostics
Since joining Quest Diagnostics in 2005, Ines has made a difference in various functions across IT and Marketing. Her expertise lies in operations excellence, process improvement, change leadership, Mergers and Acquisitions and technology innovation. She achieves successful outcomes through cross functional collaboration, creativity, and a strong commitment to excellence. Ines is passionate about developing future leaders through the principles of Servant Leadership and is a proud contributor to Women's Leadership Development at Quest Diagnostics.
Lisa M. Deschamps-Baum
Executive Director and Head of Brain and Bone Marketing
Novartis Pharmaceuticals Corporation
Lisa has been a successful leader at Novartis for more than 15 years and has demonstrated excellence in multiple roles. Her list of accomplishments is long and includes sales, marketing, change management, and talent development. Her passion, drive, commitment and competency are apparent to all who work with her. Regardless of the challenge, Lisa has the ability to lead her teams and deliver results. Her future is bright and she has a lot of potential.
Sabine Dettwiler
Director, Commercial COE
Campbell Alliance
Sabine brings her experience in commercial and brand strategy, launch and business planning, and medical affairs to her role as Director in our Commercial Center of Excellence.  Since joining Campbell Alliance, Sabine has helped build out both our Boston office and our European region.  She has helped clients achieve commercial success through strategy development and implementation support across multiple therapeutic areas and geographies.
Sandy DiCesare
VP, Commercial Operations, Commercial Ops Mgmt
Millennium Pharmaceuticals: A Takeda Oncology Company
Sandy DiCesare is a leader within Millennium's Commercial Operations group who demonstrates two key elements of leadership - the ability to communicate across diverse groups and a deep commitment to the development of her staff. Sandy has an extensive network across the company and works to create opportunities to improve collaboration and project outcomes across the enterprise. With regard to her ability to develop people, she demonstrates a natural talent in matching people's skills, strengths and interests with the right position and she makes bold choices in assigning responsibilities.
Deborah Pan Dorner
Director, Scientific Strategy
Dowden Medical Communications Group
Years of studying organic chemistry as a student at MIT and designing compounds as a bench scientist at Merck prepared Deb to devise the formula that makes her such an effective partner to our clients.  Deb's solutions to challenges and opportunities involve one part scientific expertise, one part strategic acumen, and one part communications skills par excellence, infused with a massive jolt of energy. Congratulations to a colleague who always finds the right chemistry!
Debbie Durso-Bumpus
Director, Talent Acquisition
Cubist Pharmaceuticals
Since joining Cubist in 2009, Debbie has played a key leadership role in ensuring Cubist attracts top talent during a significant growth period through a variety of initiatives.  She created Cubist's brand as an employer of choice with an emphasis on our culture, implemented a companywide behavioral talent assessment system, and emphasized social media as a recruitment tool.  In 2012 alone, Debbie and her team filled almost 190 requisitions and significantly increased the company's candidate pipeline.
Amy Eaves
Principal
IMS Health
Amy Eaves consistently drives excellence in service delivery through a keen understanding of client business priorities.  Amy partners with key clients throughout the west coast to deliver the maximum value that IMS can provide. She challenges our entire organization to think creatively and drive insight for our clients.  She has taken a personal interest in mentoring all staff both locally and from a distance.  Amy's dedication and personal accountability serves as a model for others in our organization to aspire.
Edith M. Eby
Executive Director, Medical Realtions & Governance
Pfizer
Edith Eby has dedicated her career to establishing industry leadership in Pfizer's external medical relations.   She is responsible for the successful model for Pfizer's field-based medical colleagues globally.  She continually explores new ways to ensure that Pfizer medical has a positive impact on patient care, putting patients first.  Edith is a working mom serving as a role-model to many colleagues seeking a balance with family and work.  She is a highly effective colleague and leader.
Sara Elinson
Principal, Financial Advisory Services
Deloitte LLP
Sara's trademark is her unique ability to provide strategic perspectives for all aspects of acquisition strategy, including deal targeting and structure. She is an effective advisor of C-level clients at some of the largest and fastest growing life sciences companies and delivers superior valuation work. Sara's outstanding professionalism extends well beyond her clients' needs.  She is also a committed talent developer, which further supports her designation as a rising industry leader.
Maria Finlay
Product Manager, Janssen Pharmaceuticals
Johnson & Johnson
As a valued member of Janssen Pharmaceuticals Maria grew the $1.5 Billion channel she manages by 10% in 2012.  She is championing innovative patient centered hospital, CRM and other programs for greater patient outcomes and efficiencies. Maria also made it her personal mission to connect 4,000+ Johnson and Johnson remote employees across 3 sectors and multiple companies to: –      Continue to Promote WLI Vision & Membership –      Increase Remote Employee Engagement & Retention –      Stimulate Grassroots Chapter Resurgence
Ruthann Fleming
Sales Director
Roche Diagnostics
RuthAnn has brought WLI's mission to our field force. By encouraging a grass-roots approach, she has introduced WLI to a new demographic – our customers. She's brought WLI events to metro areas that engage people in women's career development. Ruthann has pursued this global Roche initiative from her perspective, ensuring that all who wish to be involved in WLI can be. Ruthann is known as a leader, advocate and strategist for the WLI mission.
Annie Foster
Senior Vice President, Associate Creative Director
JUICE Pharma Worldwide
One of our beloved creative mentors, Annie has devoted the past 10 years to nurturing fresh talent into a powerhouse team at JUICE. Her effusive energy, legendary smile, and infectious laughter light up a room and inspire everyone she works with—both clients and colleagues alike. Annie embodies everything you look for in a world-class creative: Intelligence, marketing savvy, courageous leadership, and an endless reservoir of innovative ideas that inspire her team to greatness. Cheers to you, Annie!
Valerie Francis
Senior Director, IS Business Partner for NA Pharmaceuticals Commercial Excellence
Sanofi US
Valerie Francis is truly a "Rising Star" who symbolizes Sanofi's core values and is a prime example of top talent.  With her drive, focus, and passion, Valerie is instrumental in protecting and enhancing public health through the delivery of vaccines and pharmaceuticals.   She is an advocate of partnering with her customers to bring valuable innovative solutions to the market.  Valerie demonstrates professionalism, grace, warmth and respect and is truly a role model within the organization.
Amber Gilbert
SVP, Chief Strategy Officer
Ogilvy CommonHealth Worldwide
Smart. Thoughtful. Optimistic. Humble. Confident. Teammate. Loving mom. Supportive wife. Role model. Leader. These all help describe why Amber Gilbert is a rising star within the healthcare advertising industry. Since joining the organization as SVP, Chief Strategy Officer only two years ago, Amber quickly earned the respect of both clients and colleagues alike, has elevated our work, and has grown our organization beyond just dollars and cents.
Elizabeth Gingrich
Senior Account Executive
Sudler & Hennessey
Liz proves that market knowledge, managed care prowess, team collaboration and break dancing in the right proportions can add up to success. Liz works skillfully with client brand directors, CEOs and novices. She is equally comfortable taking charge of a project or sitting companionably while an editor checks references. Her good will and brilliant humor are abundant. She is a vibrant reason why people join a team. We look forward to seeing her career bloom.
Joanne Golankiewicz
Executive Director, Field Force Effectiveness
Novo Nordisk, Inc.
In her 20+ years in the pharmaceutical industry, Joanne has been a leader in driving change and developing teams.  She has a robust business understanding and a passion to provide insights that drives decision making. She looks for opportunities to improve and challenge the status quo. She has great passion for developing individuals and is a devoted mentor and active member of the WINN team, a global initiative helping to empower women in our organization.
Ida Goldstein
Director, Commercial Analytics and Planning
Actelion Pharmaceuticals
As part of Actelion since 2001, Ida has consistently demonstrated a strong commitment to continuous learning.  As Head of the Commercial Analytics and Planning Team, Ida leads with a strategic vision and ensures she and her team flawlessly execute on their commitments.  Ida's innovative and solution-oriented approach to problem solving is just another of the many reasons we are proud to call her our 2013 HBA Rising Star.
Courtney Granville
Senior Research Scientist & Study Director
Battelle
Courtney is a board-certified toxicologist whose focus is on environmental toxicology and public health.  She is well-known for tackling the most scientifically demanding projects and maintaining a "can do" attitude.  Courtney is always willing to help out her colleagues by taking on an additional assignment, while also maintaining an optimum work-life balance.  Courtney's commitment to life science research and her positive attitude combine to make her a respected scientist within her field and an excellent role model for junior staff.
Eileen Green
Controller
Covidien
Eileen has built a strong reputation as a trusted leader during her career in finance at Covidien.  She strikes an effective balance between a financial focus and a people focus, which results in strong teams that achieve business results.  Eileen has been instrumental in launching two women's networks, one at the corporate headquarters and the other within the sales organization of her business unit.  She has provided the visionary leadership for these two networks to focus on goals for advancing women in the organization.   She is a true role model for all who aspire to lead at Covidien.
Soma Gupta
Senior Director, Group Leader, US Hematology, Oncology Business Unit
Pfizer
Soma Gupta, Senior Director, Group Leader of US Hematology, Oncology Business Unit, is a proven leader at Pfizer with a passion for her work and an exceptional ability to deliver results.  Across numerous roles of increasingly responsibility, Soma consistently demonstrates a unique ability to build strong teams and continuously motivate them even through challenging times.  This combination of knowledge, passion, and a fun, easygoing demeanor has made her a well-respected role model across the organization.
Maxine Hamilton
Vice President of Managed Access Programs
Idis
We are proud to nominate Maxine Hamilton, Vice President, Managed Access Programs for the 2013 HBA Rising Star Award.  Maxine truly represents what Idis is all about – making a difference in the lives of patients.  She leads our client facing teams, educating our pharmaceutical and biotech clients about patient access programs and ensuring we deliver amazing service every time.  Her passion, drive, and commitment to our organization, our mission, our PRIDE values and to patients is commendable.
Laurie L. Hill
Head of Biologics Intellectual Property
MedImmune
Laurie Hill is a biotechnology patent attorney currently working as Head of the Biologics IP department at MedImmune, LLC.  In this role, she works at the interface between science, law, and business. She leads the biologics IP team efforts in its development and enforcement of high value global patent portfolios and strategies, risk assessments for candidate drug products, and transactional support for high value late stage asset acquisition and third party collaborations.
Xinyan Huang
Senior Research Scientist, Molecular Pharmacology
Lundbeck
Xinyan is a talented, collaborative research scientist at Lundbeck who has successfully advanced numerous drug discovery projects, giving hope to patients and families suffering from the devastation of mental illnesses. Her highly creative spirit, innovative mind, and expertise and passion in molecular pharmacology have led to critical advances in the field. Xinyan has a distinct can-do approach and is recognized by colleagues companywide as a team player, an inspiration, and a role model to aspiring pharmaceutical leaders.
Qi Jiang
Executive Director Biostatistics
Amgen, Inc.
Since joining Amgen in 2004, Qi has proven to be an extraordinary scientific leader in her field, both within Amgen and industry-wide. She has made important contributions to Amgen across clinical development programs and process improvement initiatives, in the areas of study designs, data analyses and interpretation. In addition to her work at Amgen, Qi participates in several industry-related committees and has published numerous papers. She is a well-respected strategic visionary and strong role model.
Kelly Kaericher
Senior Director, Portfolio and Planning, Cornerstone
ASTRAZENECA
Congratulations to Kelly Kaericher - AstraZeneca's HBA Rising Star. Throughout Kelly's 24 years at AstraZeneca she has worked tirelessly to identify opportunities and deliver meaningful results for the business. With a positive attitude and a truly collaborative approach, Kelly is well respected and considered a trusted colleague and mentor by many. Her willingness to tackle new and diverse roles is exemplary of a true leader and professional.
Stephanie Kassab
Marketing Manager
BulletinHealthcare
Stephanie Kassab is truly a Rising Star here at BulletinHealthcare in the area of sales support/marketing. She is a hard worker, has a great attitude and possesses an unflinching commitment to getting things done "right" and with great efficiency (we don't call affectionately call her "Spreadsheet Woman" for nothing). What's A Rising Star? A conscientious soul. And a thinker and a doer who always looks to improve and who puts the customer first. That's Steph…!
Sue Kelsey
US Marketing Director of Smoking Cessation Brands
GlaxoSmithKline
Sue is a phenomenal leader.  She continued her impressive track record of personal accomplishment in 2012, leading the turnaround of our largest business while also championing and coaching her people.  Her relentless focus on building a winning culture, her commitment to transparency and empowerment, and her positive outlook allows her to have a broad impact throughout the Consumer Healthcare organization.
Julie Kim
Global Franchise Head, BioTherapeutics
Baxter Healthcare Corporation
Julie was the first woman promoted to General Manager for a global franchise.  She delivers strong results and is widely admired for her collaborative approach and her contributions to creating a high-performing culture at Baxter.  She plays key roles as a member of the Senior Management Team, the Corporate Sustainability Steering Committee and several I&D Committees.   In 2011, she initiated a women's leadership development program.   She is an inspiration for many at Baxter. We are proud to nominate her as our Rising Star.
Terese Kung
SVP, Group Managing Director
CDM New York
Terese embodies "What's Next" for CDM New York. She is a sideways thinker who has helped lead several innovative initiatives including business strategy, Thinkubator, and CDM Ventures. She is also transforming how we collaborate to better serve our clients. Internally, Terese has a huge passion for building strong teams. Terese holds an MBA from The Wharton School, and an honors degree from Boston University.
Lauret Maletsky
Vice President, Group Account Supervisor
grey healthcare group
Lauret Maletsky exhibits leadership that transcends the assignments she handles.  She has a wealth of experience on the agency side and provides great insight into building businesses and satisfying stakeholder needs.  Lauret is a mentor, team player and nurturer of creative talent.  Her clients sing her praises; her agency colleagues seek her guidance, and all know how lucky they are to work with her.  With great pleasure, we endorse Lauret as an HBA Rising Star.
Courtney Manze
Account Executive
QPharma, Inc.
In her over two years with QPharma, Courtney Manze has distinguished herself as a true "Rising Star" in the industry.  In addition to mentoring colleagues and providing superior service as an Account Executive to our healthcare clients, Courtney is an HBA volunteer, committee member, and eNewsletter chair for the NY/NJ Metro Chapter.  She also teaches and performs with a local dance studio and actively supports its non-profit foundation, which raises funds for special-needs children.
Sarah Marchetti
Director, Human Resources
Health Market Science
Sarah is the head of HR for HMS.   She has demonstrated a mastery of dealing with both sensitive and complex issues.  She has rolled out programs and policies to the organization to drive consistency and fairness.  Sarah has engaged department management as a business partner leading and guiding our team through annual activities as well as the strategic activities such as managing through a high-growth environment, modifying annual corporate bonus structures and introducing resource sourcing strategies.
Elizabeth McGee
Head of Legal, Oncology NA Region
Novartis Pharmaceuticals Corporation
Since the beginning of her Novartis legal career, Liz has advanced through increasing roles and responsibilities to her current role as Head of Legal, Oncology NA Region.   Liz has consistently been acknowledged by her business partners and Group Legal colleagues as a highly skilled and effective legal counsel, with a deep understanding of the Oncology business and strong ability to collaborate and work very effectively within the OBU organization and within Group Legal.
Rochelle Melton
SVP, Associate Creative Director
Havas Life New York
Rochelle represents the best of our industry, that rare combination of strategic vision, creative flair, and business savvy.  Our clients have enjoyed tremendous success over the years and Rochelle is a big reason why.  Always pushing to drive innovation and exceed expectations, Rochelle has repeatedly proven that great work will always yield great results.  With passion and dedication that is infectious, she has become a trusted mentor to many and a valued partner to all at Havas Life New York.  Long considered a star by the agency and clients who depend upon her, we look forward to the future as Rochelle's star will only continue to rise.
Kathy Meyer
Senior Director, Operations
Sandoz Inc
Kathy role models the Novartis Values and Behaviors, especially her resilience and ability to make things happens through others based on her leadership, empowerment, speed and flexibility.   She always drives for superior results and acts as a change agent.  Kathy easily engages and leads cross functional groups of people towards common goals.  Kathy has the potential to become a Site Head and therefore is truly a "rising star"!
Geline Midouin
SVP, Human Resources, Saatchi & Saatchi Health, Discovery & Razorfish Healthware
Publicis Healthcare Communications Group
Upon first entering Publicis Healthcare in October, 2011, Geline established herself as a true business partner and indispensible advisor. She is a consummate professional who brings tremendous functional and leadership excellence to her role as SVP, HR. Geline's strength lies in her ability to build strategy and exquisitely execute with and through others. Her key strength lies in her relationship building at all levels. Geline conducts herself with poise and dignity. She is a true rising star!
Teresa Miller
Director, Supply Chain Operations
Astellas
As director of Supply Chain Management at Astellas, Teresa Miller brings both strategic insight and a wealth of experience to her role. Whether collaborating with domestic partners to enhance customer service or partnering with global colleagues to improve supply chain processes, Teresa always performs at the highest level. Teammates consistently rely on her leadership and attention to detail. Not surprisingly, she was recently recognized by her colleagues as an Astellas Outstanding Employee of the Year.
Nicole Monachino
Director, Remediation
Boehringer Ingelheim
Nicole Monachino joined Boehringer Ingelheim as Associate Director, Legal Counsel and was most recently appointed as Director of Remediation, Ben Venue Laboratories. Nicole assembled a high performing team and governance model to effectuate change. A major accomplishment was her influence on decisions impacting the business's regulatory landscape.  As an expert in law, federal regulations, and as a people leader, Nicole is an outstanding example of exemplary leadership demonstrating perseverance and passion at Boehringer Ingelheim.
Kathleen Munster
Director, Global Quality Systems
Bristol-Myers Squibb Company
Kathleen is currently the Director, Global Quality Systems and has excelled in roles across multiple functions during her 8 years with BMS.  By leading across the seams of the business where functions connect, Kathleen has improved business performance, built systems and processes and developed lasting relationships.  With a focus on continuous improvement, she combines technical acuity with emotional intelligence and quickly builds trust and credibility.  Kathleen is truly a rising star.
Mary Neiweem
SVP, Group Account Director
The Bloc
Mary's star shines bright!  She is the person that clients want at their side for everything, from insightful strategic thinking to executional excellence. She has deep roots in consumer marketing where she is never short of innovative strategic programs and ideas.  Her contributions at The Bloc have helped brands address market challenges big and small, through launches and increasingly competitive environments.  Mary is also a motivator to her team and can always be counted on for leadership and collaboration.
Jeanine O'Kane
Managing Director, Biosector 2
Chandler Chicco Companies
Jeanine joined B2 a year ago and has already taken the agency to new heights.  Her talent lies in her ability to get at the heart of any client challenge and always find the perfect solution.  Jeanine is also a strong and effective leader.  Her staff is inspired and empowered to deliver award-winning work on a remarkably consistent basis.
Rhona O'Leary
Director, gRED Business Operations
Genentech
Rhona leads Business Operations for Genentech Research and Early Development (gRED), and is a Group Leader for Immunology, Metabolic and Infectious Diseases. Rhona delivers value every day through her commitment to excellence and steadfast dedication to always finding solutions. A strong people manager, outstanding technical leader in research and development, and a gifted communicator, Rhona has a broad and deep impact.  Rhona demonstrates Genentech's leadership values every day.  Rhona is Genentech's Rising Star.
Jennifer Oleski
VP, Account Director
GSW Worldwide
Jennifer is an inspiration to our agency, most importantly to our young professional women.  Through a tireless work ethic, hunger for growth and a passion for her craft, Jen has ascended from intern to Vice-President.  Jen leads one of our largest accounts, a blockbuster oncology brand with award winning work, including our 2nd Silver National Addy. Most important she mentors the talented young women in our agency, helping them find success in our competitive environment.
Carla Oliveira
Global Brand Leader, Contour USB, Bayer Diabetes Care
Bayer HealthCare
Carla joined Bayer HealthCare 11+ years ago and quickly established herself as a dynamic leader.  Her exceptional work quality, strong mentoring skills and inspirational style are exemplified in her business success and active leadership role in Bayer's Women's Leadership Initiative (WLI).   Even with her recent transition into Bayer's Diabetes Care Division, she did not miss a beat.  She has successfully launched the NEXT generation of ContourUSB and has expanded key components of Bayer's WLI program across divisions.  Carla is a true role model for organizational leadership.
Jane Petty
Area Director, Sales Force
Purdue Pharma L.P.
Jane Petty is Purdue Pharma's 2013 Rising Star.  Her career with Purdue spans more than 20 years, nearly all in a supervisory role.  In all of Jane's various leadership roles, she has served as a role model for women who desire advancement within Purdue's Sales & Marketing organization.  She has personally developed and mentored dozens of women.  Jane is an active member of the Atlanta, Georgia Chapter of HBA, having served in various leadership roles, including President.
Jennifer Poitrimol
Tax Director
Pricewaterhouse Coopers
Jen Poitrimol is not only a strong Tax Director at PwC, but she is role model as a working mom for the firm.  Jen has emerged as a leader in the pharmaceutical industry with her clients.  In addition to her superior client service skills, she also leads efforts with Partners in teaching staff about business development and acts as an informal mentor to a variety of staff levels.
MJ Roach
Sr. Director, CF Marketing
Vertex Pharmaceuticals Inc.
Since joining Vertex in 2011, MJ has made significant contributions as Senior Director of Marketing.  Under MJ's leadership, the cross-functional team successfully launched KALYDECO three months early making it the fastest orphan drug launch in history.  MJ's expertise and drive helped bring the vision of Vertex's Guidance & Patient Support program to reality for patients. She is a respected leader and mentor to many people - always looking to help team members further their development.
Alissa Roldan
VP, Management Supervisor
LLNS, Inc.
Alissa is a strategic, results-oriented marketer who continuously brings ideas and solutions to her clients.  She is a powerhouse that readily becomes a valued partner to both clients and colleagues.  Her positive can-do attitude and drive to deliver exceptional work makes Alissa a valuable role model and mentor to her teams.  Her incredible work ethic, strategic acumen, and exemplary leadership clearly make Alissa a Rising Star.
Annette Schulz
Senior Manager, Advisory Services, Life Sciences Sector
Ernst & Young Europe
Based in Germany, Annette Schulz blends her background in academia and consulting as a senior manager in EY's Advisory Practice. Building on her keen strategic thinking abilities, Annette helps clients and life science industry stakeholders across Europe improve their performance in light of current challenges and transformational initiatives. She shares her insights as a creator of sustainable solutions within EY, author of leading-edge thought leadership materials and, mentor and role model promoting HBA.
Purvi Kobawala Smith
Scientific Director
Health and Wellness Partners
Purvi is an extremely versatile Scientific Director. She guides clinical content, manages thought-leader relationships, develops outcomes measures, and analyzes outcomes.  In this ever-changing world of metrics, she conceives of and implements thoughtful assessments that are critical to success.  Her talent runs as deep as her knowledge. Purvi has expanded the services that HWP provides by adding value that differentiates our organization. Purvi is kind, gentle, and brilliant.  We are proud to have her as our 2013 Rising Star.
Krystina Smith
Research Analyst
Palio+Ignite
This year has been an all-star year for Krystina Smith. She was the lead innovator on our budget impact modeling capability; she single handedly sold in social listening to one of our clients; and has consistently received praise from clients and colleagues on nearly every project she contributes to. I nominate Krystina because of her industry knowledge, her incredible work ethic, and dedication and commitment to all her teams.
Janet Spear
Executive Director, Plant Manager
Celgene Corporation
Janet has led the Phoenix site since 2007 including overseeing the $100MM investment driving the facility's optimization.  During her tenure Janet's team has doubled while maintaining the highest standards for its diverse group of employees.  Janet continually focuses on Celgene values, primarily passion for the patient. Her inclusive leadership style has inspired her team to maximize their potential strategically and tactically.  Janet also gives back to her community by promoting our industry with local universities.
Branka Stancevic
VP, Medical Director
Flashpoint Medica
Branka's the perfect combination of smarts and poise and is our go-to medical expert for all client needs—she learns the category overnight and can go toe-to-toe with any KOL in discussing the scientific intricacies of a brand.  With her astute understanding of the science, Branka brings a high level of medical insight and strategy to the table—plus is a lot of fun to work with!
Terri Stentz
VP of National Brand Supplier Relations and Performance Plus
Cardinal Health
Terri Stentz, VP, National  Brand Supplier Relations and Performance Plus, is accountable for relationships with our preferred   suppliers.  She's a Founder's Award Nominee and since 1999, has been in roles that span IT, operational excellence & sourcing. Terri is a strong leader who consistently delivers results.  She's  known for coaching and developing others - and for challenging the status quo in a productive and innovative way.  She has the ability to be strategic, and also to operationalize and execute.
Kim Stone
Sr. Program Manager
PSKW, LLC
Kim Stone has become a valued contributor and leader in the co-pay offset sector working with brand leaders.  She is known for taking initiative to deliver excellence in the execution of programs through organizing, detail-oriented planning and managing multiple priorities. She is a strong performer who builds relationships and works both independently and collaboratively with cross-functional teams with an ability to anticipate potential problems and proactively develop solutions. Kim started her pharmaceutical career with Pfizer.
Courtney Sullivan
Director Procurement
Roche Diagnostics
A natural leader, Courtney has a passion for helping others that has distinguished her as a sought-after mentor. As campus chair of WLI, she helped create framework for their mission to engage women to command their own careers. Courtney is active in HBA and sources fresh ways to encourage involvement with that organization. Her efforts engrain the mission of advancing women's careers into our corporate culture. Courtney is a leader, learner, advocate and force!
Lisa Turzio
Associate Partner, Healthcare
Rosetta
Lisa is an Associate Partner overseeing one of our largest Healthcare Accounts.  Her unerring positive energy and her exceptional strength in account management and digitally enabled personalized marketing make her our 2013 Rising Star.  She is passionate about her clients and their business.  She tirelessly pursues only one goal -- making her clients and their business successful.  Lisa is the kind of Agency partner that every client dreams of.  And, she's the kind of leader that every Agency wants leading their accounts and people.
Kimberly Wix
Director, Internal Communications
Daiichi Sankyo, Inc
Kim is an effective, innovative leader who serves as a role model for others.  Her talent to be an effective team player is clearly evident through the relationships she has cultivated and the trusted partnerships she has built.  Through her innovation and leadership, Daiichi Sankyo established Product PR as a new discipline profoundly impacting how we promote and defend our products both domestically and globally.  She is a true example of top talent of DSI.
Maria K. Woods
Executive Director, Chief Compliance and Privacy Officer
Publicis Touchpoint Solutions, Inc.
Maria Woods is an exceptional leader, true team player, and a highly experienced healthcare compliance and privacy expert. Maria has become an essential member of the Touchpoint executive team. She brings a competent, passionate, committed, and positive approach to every situation. Importantly, she brings a level of expertise to our organization that our clients find invaluable. We are so pleased to see her recognized as an HBA Rising Star!
Alisha Woolford
Associate Director Marketing
Merck Sharp & Dohme Corp.
Alisha demonstrates the qualities of a Rising Star. She is energetic, confident and leads with passion. She demonstrates and models the leadership qualities we look for. Alisha has been very effective in leading and serving the African Ancestry Business Insight Roundtable, as she continues to manage her daily work. We are proud to have Alisha part of our Merck team.
Sara Zaccheo
VP, Associate Creative Director, Copy
McCann Torre Lazur Group
Spend 5 minutes with Sara and you know you are in the presence of a Rising Star.  With a strong scientific background and a talent for bringing creative to life, Sara brings her desire for excellence to everything she touches.  She has an infectious positive attitude and a strategic mind that always finds new ways to tell a compelling story.  She is a trusted leader, natural mentor, and genuine advocate for her teams.
June Zeringue
Consultant
Insigniam
June has a passion and commitment to organizations being wildly successful and to their people living a great life. Since joining Insigniam in 2011 she has demonstrated her skill in working with clients to increase their critical results and productivity as well as developing people in career-building breakthrough competencies. June is currently the Co-Director of Membership for the Metro Chapter of the HBA and loves bringing her passion to that role.