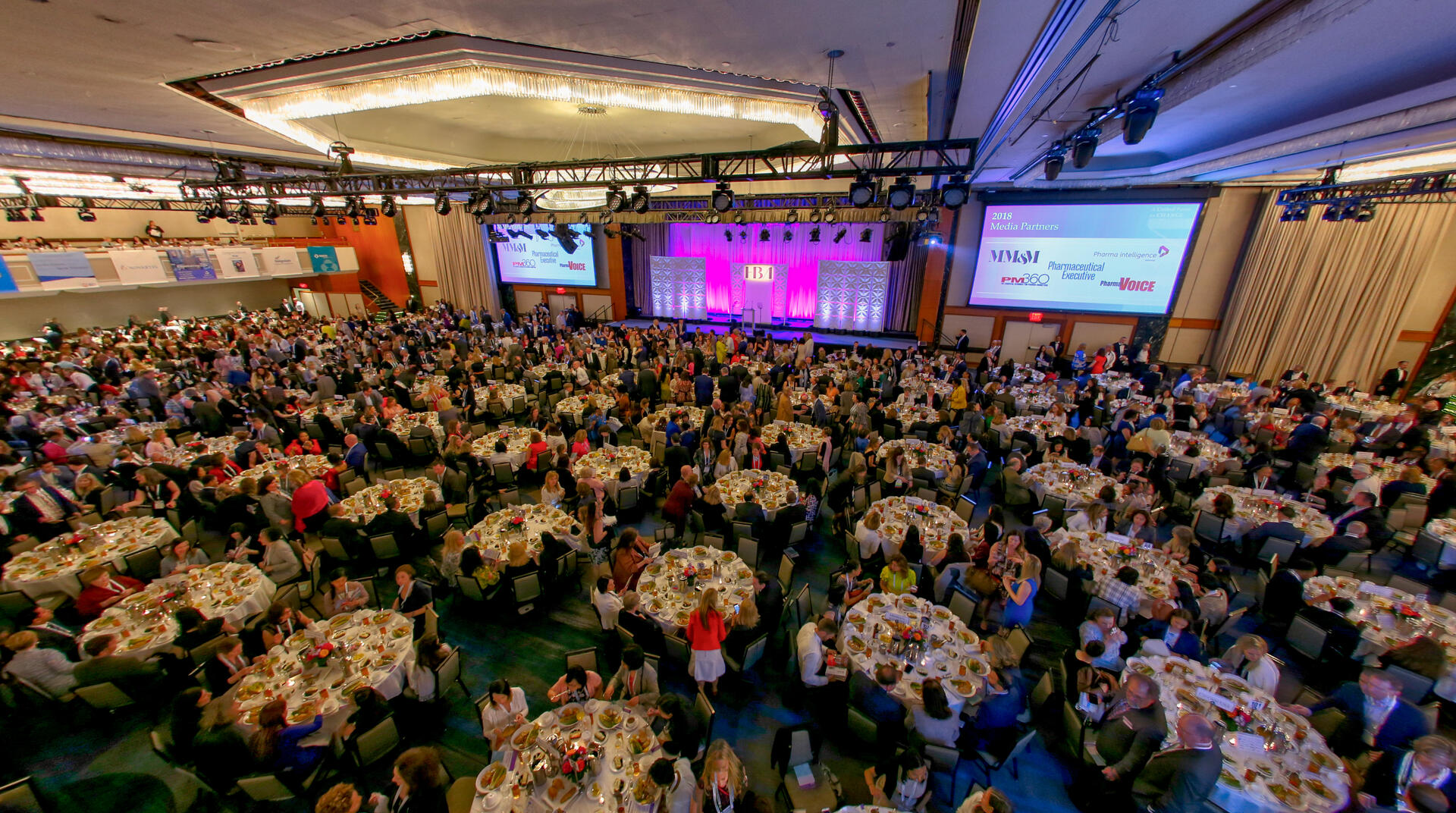 HBA Rising Stars are professionals in various sectors of the healthcare industry, including pharmaceutical, biotechnology, advertising, public relations, medical education and market research, among other fields. Nominated by HBA's corporate partners, the Rising Stars represent various career stages and disciplines, and have demonstrated noteworthy achievements and proven attention to furthering their careers.
Titles reflect positions at the time the award was presented.
Maria Acosta
VP, Creative Director
GSW Worldwide

Since joining the agency in 2007, Maria's endless energy, creativity, and dedication have contributed to her success as a highly valued member of GSW Worldwide. She instills inspiration among all of those around her, and she has proven time and time again her impact as a creative leader and award-winning designer. Maria's passion and positive attitude combined with her insights and intellect are just a few of the reasons why we are proud to call her our Rising Star.
Letizia Amadini-Lane
VP, Alliance Management, Worldwide Business Development, Pharmaceutical R&D
GlaxoSmithKline

Letizia is intuitive, strategic, and focused, in addition she has an ability to develop trust, manage conflict, build consensus, and successfully lead international teams. Her "coaching" leadership style is highly motivating. Her vision and interpersonal skills help teams get to solutions for seemingly hard-to-resolve issues. Letizia is a role model for many young women in R&D at GSK and she is active in Women's Leadership initiatives. She has the highest integrity and is a joy to work with.
Katie Baker
Senior Project Manager
PSKW & Associates

Katie has been an instrumental part of PSKW, which has grown from a start-up company to a major supplier of copay reduction cards to the industry. Katie is an experienced project manager. An advocate for her clients, she helps them achieve their business objectives. Katie has helped clients grow their brands exponentially and has been commended by the brand teams. She also mentors other staff members and she continually shares her knowledge with other members of the team.
Roxana Bannach-Lin
Senior Vice President, Strategic Planning/Business Development
JUICE Pharma Worldwide

Dedicating her entire career to the healthcare industry, Roxana's 15-plus years of experience span the spectrum from scientific researcher to sales rep to pharmaceutical product manager, culminating in her current role on the agency side at JUICE Pharma Worldwide. Leading JUICE and client teams to make global brands shine, Roxana shares a deep wealth of scientific knowledge, complemented by her innovative marketing savvy. Roxana is a visionary marketer, an inspiring leader, and a bright Rising Star.
Deirdre BeVard
VP, Clinical Operations & Data Management
Endo Pharmaceuticals

Deirdre is a unique leader who stays strategically focused while building core capabilities in the organization. She extends herself personally, advancing organizational performance at all levels. Generous with her time, she offers assistance to individuals and teams so their achievement is at the highest level. Deirdre can be counted on to challenge the thinking, ask the hard questions, and produce outstanding results. Her leadership, strategic, and technical skills make it happen. Her sense of humor makes it fun!
Alyson Bongiorni
Senior Account Director
Group DCA, Inc.

Alyson combines sparkling enthusiasm with the highest level of commitment to her work and dedication to her clients, making her an all-around winner at Group DCA. Always maintaining her professionalism and poise, she is trusted by colleagues and clients alike to provide leadership and support. Group DCA is a new media creative agency and Alyson has gained a rapid and thorough understanding of every aspect of this complex environment. She has proven that she can effectively analyze client needs and proactively deliver solutions. Her impressive ability to produce impeccable results delights her clients and makes us proud and grateful to have her contributing to the success of Group DCA.
Shelagh Brooke
EVP, Chief Strategic Officer
EvoLogue, part of CommonHealth

Shelagh is the ultimate consumer healthcare communications professional. Her 25 years of knowledge and experience span all of the facets of consumer marketing, including CRM, DTC, DTP, interactive, managed care, and research. While at EvoLogue, Shelagh has led the strategic development for multiple award-winning brands. Her keen foresight into industry trends and her passion for developing solutions to consumer marketing challenges make her the personification of a Rising Star.
Jennifer M. Brooks
Senior Vice President, Managing Director
HealthEd Encore, a HealthEd Company

Jen's exceptional leadership and commitment to a patient-centered approach have made her integral to the development and growth of HealthEd Encore. A motivating force with endless energy, Jen rallies cross-functional teams around the company's core strength of applying our knowledge of patients' needs toward strategic educational solutions. Brightening the lives of patients while helping to grow our clients' businesses makes Jen not just a Rising Star but also a shining star.
Jessica Brueggeman, RN, MPH, CHES
Director, Behavioral Services
MicroMass Communications, Inc.

As a registered nurse and educator, Jessica blends patient-centered compassion, clinical expertise, and deep behavioral insights to generate strategies that are the foundation of award- winning marketing campaigns. An inspiring team leader at MicroMass, Jessica's unassuming personality and natural mentoring skills draw the best from people. Her motivating and positive influence extends beyond the agency. She is a certified health education specialist, who can transform therapeutic complexities into clear, real-world applications that can change health behaviors.
Trudy Burke
Sr. Director, Baltimore Production Operations
Eisai Inc.

Trudy is a strong and capable leader. During a recent acquisition, she helped lead the integration of key personnel into Eisai systems, leveraging common cultural values and leadership behaviors to Eisai's human healthcare mission. As a result, performance of our Baltimore supply operations has improved while maintaining an exceptionally high compliance and safety standard.Trudy is respected by management and her peers, and she was selected to participate in Eisai's global leadership program, E-Elite.
Laura Bush
Editor in Chief, BioPharm International
Advanstar Communications Inc.

Laura's passion for journalism and her ability to innovate have made her a Rising Star in the biopharmaceutical community.Whether moderating panel sessions at Interphex, contributing to the Conference Advisory Panel for BIO, or hosting BioPharm's webcast and podcast series, Laura exhibits an ability to identify core issues and move toward problem-solving applications.
Britt Byers
Senior Director, Human Resource Business Partner
sanofi-aventis U.S.

As a Human Resources Business Partner (HRBP) for the Oncology Business Unit, Britt has distinguished herself by earning the oncology team's trust and helping to navigate through a time of organizational change. She has distinguished herself as someone who understands the transformation efforts put forth by senior management, and she works hard to align the organizational vision to the practical, necessary changes within oncology. Britt has earned the trust of team members by being a role model and demonstrating our values.
Cherrie Che, PhD
Senior Manager
Ernst & Young LLP

Rising Star Cherrie possesses an exceptional depth of industry knowledge and experience. With an advanced science degree, experience working with China and Australian companies, as well as being a well-respected advisor to the association representing multi-national pharmaceutical companies in China, she understands the complex issues shaping the critical and emerging market in China. Most importantly, Cherrie's passion, enthusiasm, and ability to mentor contribute to her ability to advance solutions and build teams in the face of today's most daunting challenges.
Brooke Claussen
Group Creative Director
Goble & Associates Healthcare Communication

As Group Creative Director at Goble & Associates, Brooke has proven herself to be relentless. She is relentless in her quest to discover the insights that make her brands resonate in their markets, and she is relentless in ensuring that her creative solutions are not just attentiongetting, but meet the unique needs of the brands and the clients that she so passionately serves. She's a rising leader in our agency and a Rising Star in healthcare communications.
Cynthia Clayton
Senior Director, Investor Relations & Corporate Communications
Alnylam Pharmaceuticals, Inc.

Cynthia truly exemplifies leadership and inspiration.Through her unrelenting passion, expertise, and broad experiences across the industry, she has pioneered a robust investor relations and corporate communications program that has been instrumental to the growth and success of Alnylam. She applies an innovative and strategic approach to biotechnology communications, and her commitment and enthusiasm for the company's mission are unparalleled. Cynthia, who was recently promoted and serves as a mentor for the HBA, is highly respected and admired by her colleagues and is an invaluable asset to Alnylam.
Elizabeth M. Colston, MD, PhD
Medical Director
CONNEXION Healthcare

Known for her scientific/clinical expertise and positive outlook, Liz brings her experience as a clinician, researcher, and medical writer to her role as medical director. Liz has a BA from Princeton University, an MD from Columbia College of Physicians and Surgeons, and a PhD in Microbiology from Columbia University. As a physician-scientist at the Hospital of the University of Pennsylvania, she conducted basic research in internal medicine and infectious diseases. Liz has won numerous awards and fellowships.
Doris Connell, PharmD
Director, Field Medical Affairs
Daiichi Sankyo Inc.

Doris is a role model who inspires and empowers others with her integrity, openness, strong work ethic, and desire to help others develop their talents. She is an effective leader who recognizes the value each team member brings and she utilizes individual talents to drive cross-functional teams to goal attainment.
Stacey Cowgill
Director, Custom Market Research
ImpactRx, Inc.

Stacey brings a wealth of experience and a collaborative, goal-driven, and unrelenting passion for providing outstanding results for our clients. Her tireless dedication to excellence and proactive nature have made her a key team member across the company. Stacey approaches every assignment and interaction with grace and style, making her an indispensable member of our analytic team. Stacey is a valued asset to ImpactRx, and we are excited to name her our 2010 Rising Star.
Tanika Craig
Account Supervisor
Siren Interactive

Tanika exemplifies Siren's approach to leadership, in her own words:"Leadership is a skill that has to be cultivated and it doesn't seek its own interest. It's focused on collaboration, adding value, and embracing change. It's understanding what others need from you and delivering a solution that meets that need. Being a leader is to lead by example—inspiring and empowering others to reach their highest potential."
Sabine Dandiguian
Managing Director, Emerging Markets, Janssen Cilag, EMEA
Johnson & Johnson

Sabine is a charismatic leader focused on performance excellence and spotting and developing talented people. She has led Janssen France through a period of significant change while consistently achieving business results and growing the company to a US$1 billion enterprise. Sabine has developed impactful relationships with the external environment, playing key roles as president and vice president of pharma associations. She has created many opportunities for talented and diverse individuals to prosper; her constant attention to people and strategic vision were recently recognized through two French awards.
Denise M. D'Andrea, MD, FACP
Senior Medical Director
Cephalon, Inc.

Denise is a shining example of how women significantly impact science. She serves as a role model for her colleagues, who widely respect her thorough approach to evaluating a compound's scientific and commercial possibilities. As the clinical lead, she is helping to pioneer the development of a new treatment for lupus. And by adeptly blending her experience as a physician, researcher, and project manager, she has distinguished herself as a valuable contributor to the company's development program.
Suzanne Delaney
Executive Director Commercial Operations—Symbicort
AstraZeneca Pharmaceuticals LP

Throughout Suzanne's career at AstraZeneca, she has consistently demonstrated the delivery of exceptional business results and a commitment to developing and mentoring others. Suzanne comes to work every day focused on achieving excellence. Her winning attitude, high ethical standards, and collaborative spirit are hallmarks of her leadership. Through the right balance of acknowledgment and motivation, Suzanne inspires all to achieve their personal best and the best for the business. Congratulations to our Rising Star, Suzanne Delaney.
Deneen R. Detorie
Assistant Vice President , Client Relations
MEDEX Global Group

Deneen is the heart and soul of MEDEX Global Group. For 24 years, Deneen has demonstrated the utmost commitment to the ongoing growth and development of MEDEX Global Group. Deneen's contributions in virtually every capacity within the organization have been paramount to MEDEX's 800% growth over this same period. Her combination of skills, passion, integrity, commitment, teamwork, and can-do mindset make her the ultimate professional and role model for others to follow. Deneen is MEDEX Global Group!
Christina DiBiase
National Sales Director
Publicis Selling Solutions

Christina expertly leads one of Publicis Selling Solutions' largest, most complex,multichannel sales and marketing teams with a Top 20 client. She is responsible for all aspects of this multifaceted partnership, including execution, sales, client services, and performance management. Christina is a superb leader with a tireless work ethic. Most importantly, Christina skillfully balances both her professional and personal lives. She is a loving wife, mother, sister, and daughter.
Kristen M. Dodge
Senior Manager, Global Finance Training & Development
Stryker Corporation

In 2002, Kristen joined Stryker as a tax accountant, earning promotions to senior tax accountant, financial planning supervisor, and accounting manager. Her technical expertise and people leadership skills contributed to her 2008 Performance Excellence Award. She chairs engagement teams and women's network activities, and she mentors others. She recruits, engages, and develops talent, and was an architect of the finance development function. Kristen is an impressive role model and highly valued at Stryker for her performance and people contribution.
Danielle Dunne
Chandler Chicco Companies Team Leader

Even in an agency of diverse talent and high achievers, Danielle has always risen to the top. With her strong background in health and beauty, strategic insights, focus on detail, and utmost attention to clients, she is a natural leader praised by colleagues and clients alike. Danielle has the unique ability to anticipate client needs and develop strategies that make a measurable difference in the lives of patients and healthcare providers.
Laurel Edelman
Vice President , Clinical
SDI Health LLC

Laurel brings a wealth of knowledge and experience to her clients. She embodies SDI's entrepreneurial spirit; she is always searching for opportunities and solutions. Laurel's command of complex data and methodologies has put her amongst SDI's top contributors. She has been instrumental in expanding the use of novel healthcare data assets in the public healthcare sector, including influenza surveillance for a key federal agency. Laurel is published in the areas of influenza and RSV surveillance systems.
Kate Einspahr
Manager, Compensation & HRIS
Cegedim Dendrite

Kate's energy and professionalism have made her a valuable asset to Cegedim Dendrite. She recently established an all new performance management process across the entire Americas region. She is a trusted advisor for talent management, staff development, and salary planning. Kate is a founding member of Cegedim Dendrite's Rising Individual Networking Group, an employee forum for networking and managing professional development. She exemplifies our company values of Delighting Customers, Respect,Teamwork, Accountability, and Integrity.
Patricia A. Ensor, RPh
Senior Vice President
Kantar Health

Patricia's expertise is derived from 25-plus years in multiple healthcare sectors, including pharmaceutical manufacturers, retail and hospital pharmacy, and consulting. She was recently selected to lead one of the largest groups within Kantar Health's Consulting Practice. She is widely respected by the organization from entry-level employees to the most senior executives. She is respected for her business achievements, as well as her ability to develop talent, who become trusted advisors to clients.
Stephanie Fitch
Senior Director, Commercial Operations
Millennium Pharmaceuticals:The Takeda Oncology Company

Stephanie quickly advanced from head of competitive intelligence into a broader leadership role within the commercial organization. She delivers outstanding results across a diverse set of functions, including distribution, reimbursement operations, oncology networks, compliance operations, and competitive intelligence. Stephanie's a dedicated and resourceful leader, who is known for her impressive work ethic, commitment to excellence, and success in recruiting top talent. She's a passionate advocate for women and serves as a mentor within the HBA Boston chapter.
Chrisoula Gentile
Project Lead
Quintiles

Chris joined Quintiles in 2004 as a Training Account Executive. She rapidly progressed through several promotions, and she is currently managing her second project sales team. Chris has received the Quintiles Global Presidents Club award, two Innovex Presidents Club awards, three Rising Star awards, five Customer Care awards, and was the 2008 Manager Excellence Award winner. Chris also has held a position on the Quintiles Diversity Inclusion Council.
Jennifer Giordano
Manager, Analytics
Purdue Pharma L.P.

During her 11 years at Purdue, Jennifer has garnered a reputation as a knowledgeable and tireless leader in the company's R&D community. After establishing herself as an impressive scientific contributor, she has evolved into a key point person for driving essential R&D projects from an analytics standpoint. Jennifer has an ideal blend of scientific expertise, organizational acumen, articulate communications, and collaborative talent—all of which make her invaluable to Purdue and a true Rising Star.
Dianne Gobin
Associate Director, Program Management Tech Ops
MannKind Corporation

Dianne's proactive leadership and dedication assured MannKind's successful PAI, which will be instrumental to NDA approval and subsequent drug manufacturing. In leading MannKind through a PAI, she contributed significantly across the tech ops and R&D organizations. This ability to work effectively on cross-functional teams makes Dianne a role model for others. Dianne is truly a Rising Star.
Meaghan Golden
Vice President, Associate Creative Director
Flashpoint Medica

Enthusiasm, a can-do approach, and a knack for coming up with cool ideas distinguish Meaghan as a Rising Star. She continually steps up to new challenges and has excelled in a new managerial role: organizing and managing multiple creative teams. Meaghan's trademark smile and fabulous interpersonal skills set her apart. In addition, her leadership style, warmth, appreciation, and humor motivate creative teams to deliver outstanding results. Go Meaghan!
Wendi Goodman
Managing Partner, Director of Client Services
AgencyRx, a division of The CDM Group

Wendi's star shines so brightly, wearing a little SPF 30 wouldn't be a bad idea! Tenacity, passion, intellect, and inquisitiveness come together with a healthy dose of selflessness, positivity, and an unwavering drive to be better than the day before—that's Wendi.
Camilla S. Graham, MD, MPH
Sr. Director, Medical Affairs
Vertex Pharmaceuticals Incorporated

Dr. Graham leads a team of medical and scientific professionals to effectively communicate the burden of hepatitis C to the medical community by incorporating her patient experiences derived as a practicing physician and professor in infectious disease. Her passion and commitment to her work and to the patient are reflected by her role as a resource, mentor, and leader for many facets of the Vertex community. She is dedicated to improving patients' lives and brings her clinical experiences to the forefront of drug development efforts.
Rebecca Greenberg
President, Group Account Director
The CementBloc

Rebecca loves launches. She thrives on them. Portfolio launch? No problem. Multiple indications? Been there, done that. Specialty, primary care, you name it, she's done it. But Rebecca is a Rising Star not just because of what she has accomplished in her career, it's how she does it. Rebecca has repeatedly achieved what many account people find impossible: maintaining that delicate balance between keeping clients happy and creative teams engaged. Rebecca is truly one of a kind.
Julie Hakim
Vice President, Business Planning
Lundbeck, Inc.

Julie is a key member of the Lundbeck Inc. finance team. Since joining the company in 2006 as controller, she has gained respect as a leader companywide. In her role, she has supported a range of special projects, including the financial integration of the company into H. Lundbeck following Ovation's acquisition last year. She was recently named VP, Business Planning, which is enabling her to grow further professionally while providing strategic financial decision support for the business.
Juliana Hardy
Sr. Manager, Strategic and Business Analysis
Solvay Pharmaceuticals, Now Abbott

Juliana has distinguished herself in the areas of strategic planning, financial analysis, assessment of new business development opportunities, and competitive intelligence. She demonstrates solid leadership and mentoring talent. Juliana proactively seeks to assume challenging responsibilities, including her role in the enhancement of our long-term strategic plan to encompass macro issues facing the pharmaceutical industry. She also plays an integral role as a key member of the Abbott-Solvay Pharmaceuticals integration team.
Kristen Harrington-Smith
Brand Director, Reclast
Novartis Pharmaceuticals Corporation

Kristen is an outstanding role model at Novartis Pharmaceuticals based on her strong leadership, marketing savvy, and proven ability to build high-performance teams with a can-do culture. She has successfully grown many brands and currently leads marketing for Reclast—our most successful launch in the past 15 years. Her commitment to mentoring, drive for diversity and inclusion, and compassion for both her team and for patients make her an exemplary HBA Rising Star.
Katie Havriliak
Senior Medical Marketing Manager
Health & Wellness Partners

Katie has always been a Rising Star. She has grown from a college intern to a senior-level HWP employee in record time. Katie's broad and deep skill set allows her to accomplish any task. Her ability to capture and synthesize information, while facilitating meetings or developing summary reports, has been valued by our clients. Her level of commitment to the organization is unsurpassed. Katie's contributions are numerous and are very much appreciated!
Tanya Hill
Director, NovoSeven® RT Marketing
Novo Nordisk, Inc.

Tanya demonstrates an outstanding track record of performance and she effectively collaborates across boundaries. She remains focused and professional during unexpected challenges and has a calming, get-it-done effect on her team and colleagues. She takes the initiative to engage others while building actionable development plans to ensure sustainability.Tanya is the winner of the Global Sales & Marketing Management Award. She also led the successful development of the Changing Possibilities in Hemophilia Campaign. She is a performance-driven leader at Novo Nordisk and a major contributor to the sales and profits of the organization.
Sarah Holloway, PhD
Senior Vice President, Strategic Planning
Sudler & Hennessey

Sarah possesses a rare combination of qualities—an exhaustive pursuit of knowledge, deep creativity, and a relentless drive to exceed expectations.These characteristics, as well as more than 10 years in pharmaceutical marketing, have helped Sarah to quickly excel in her role as a strategic planner. Her peers and clients value her contributions and partnership. Sarah embodies the highest qualities of S&H by adding value to every interaction.
Joni Honig
VP, Account Director
Regan Campbell Ward • McCann

Here's the thing about Joni, she wears a lot of hats—and all of them with style and grace. She's a respected leader, an astute strategist, a long-range thinker, a trusted mentor, and an inspiring coach. Joni believes the only way to meet expectations is to exceed them. And when asked about Joni and her contributions to their businesses, clients often say, "she's a star!" Finally, she's getting the award to prove it.
Emily Hua
Senior Vice President, Brand Management Practice
Campbell Alliance

Since joining Campbell Alliance in 1999, Emily has risen through the ranks and has emerged as a valuable leader within the organization. In her current role as senior vice president in the Brand Management Practice, Emily serves all of the practice's Northern California-based clients in their efforts to maximize the commercial value of their development-stage and in- line products. As a dedicated mentor and coach to her team and industry colleagues, Emily is truly one of the industry's Rising Stars.
Katharine Imbro
Associate Creative Director, Copy
Torre Lazur McCann

Over the past decade Katharine has risen to become one of TLM's most inspiring creative managers.Whether she's mentoring colleagues, developing award-winning copy, or building our business, only perfection will do. Katharine is truly unique and totally fearless—no matter if she's jumping out of a plane or into a novel neurological agent. She defines success at TLM: brave enough to try anything new, approaches work with passion and humor, generates fresh thinking, and puts others first.
Barbara Jackson
EVP, Management Supervisor
Draftfcb Healthcare

Whoever said, "you can't do it all," clearly never met Barbara. After succeeding on the pharma client side for more than a decade, Barbara challenged herself to return to the agency side to help bring client service to an even higher level. Combining this unique perspective and incredible passion, she has quickly become an agency star. Described as a class act, strong leader, and committed mentor—Barbara does it all, while excelling at her second job as a tirelessly involved mom.
Lindsay Janczak
Associate Director of GI Sales Training & Development
Shire Pharmaceuticals

Lindsay's breadth of experience in the healthcare marketplace has provided a springboard for her to become a rising leader at Shire. She is willing to take risks and challenge the status quo and is intently focused on delivering quality in all she does. Her credibility, accountability, and work ethic have allowed her to make a quick and significant impact. She is a well- respected leader who serves as a solid role model for both internal and field sales personnel.
Nicole Johnson
Vice President, Director of Digital Strategy
Medicus Life Brands

Nicole inspires us to think differently about how we engage with our customers every day. With an eye toward shaping the future, Nicole is leading efforts to help our clients navigate uncharted territories in new media. Her passion for leveraging the latest technologies to enhance the dialogue among healthcare stakeholders is grounded in her belief that better communication leads to better patient care. As an invaluable role model, Nicole infuses our organization with limitless positive energy.
Sabrina Jordan
Associate Director, Research
THE PLANNING SHOP international

After spending a year and a half training in our London office, Sabrina relocated to New York in October 2009 to support the growth of the three-year-old U.S. subsidiary. Her specialized knowledge of the company's unique techniques have helped to elevate our reputation. Her attention to detail and commitment to delivering outstanding results have already positively impacted revenue and client satisfaction with our work.We are pleased to have this Rising Star illuminating our growth!
Kate Korczykowski
Senior Account Manager
Communications Media, Inc. (CMI)

Kate is action-oriented and focused on delivering excellent results. Whether she is serving clients with exactly what they need, participating as part of a team dealing with a particular issue or opportunity, serving as a role model for those around her, or working to further her education, Kate embodies the spirit and drive of the HBA. Kate is truly a Rising Star with unlimited potential. We are proud to name her as CMI's 2010 Rising Star.
Megan Krueger
Director, Region Human Resources Consumer Care
Bayer HealthCare

As a member of the North American Regional Management Team of Bayer HealthCare's Consumer Care Division, Megan offers the right balance of big picture, strategic thinking combined with a strong sense of employee advocacy. Having led human resources teams in the healthcare industry for more than 20 years, she brings expertise along with a common-sense approach to management, making her a trusted senior leader throughout the business.
Kelly S. Lewis, PharmD
Senior Director, Medical Science Liaisons
Actelion Pharmaceuticals US, Inc.

Kelly is a trusted and respected colleague. From her first position in the pharmaceutical industry eight years ago, Kelly has maintained a superb track record. During her tenure at Actelion, she has advanced from a position as a Medical Science Liaison (MSL) to a senior leadership position heading up our whole MSL team. She has contributed tremendously to our success, and she is well-respected across the organization.
America Lopez-Luis
National Sales Director
PDI, Inc.

In the short time that America has been with PDI she has put her 23-plus years of experience building best-in-class sales teams. She leads by example, demonstrating that communicating the "why" behind business rules is critical for developing and leading a results-oriented team. Her customer-first philosophy coupled with a passion for continuously raising the bar, building interdepartmental partnerships, and adopting intelligent, standardized business processes have firmly established her as a Rising Star.
Sheryl Lowenhar, RPh
VP, Managed Markets and CME
Epocrates

Sheryl has been a distinguished leader since joining Epocrates in 2004. She is the driving force behind two critical areas of business within the Epocrates organization. Sheryl couples a broad range of professional experience with a thirst for innovation. In so doing, she has built a track record of success while delivering great value to her clients.
Lindsay Luke
Regional Sales Director,West
Celgene Corporation

Lindsay brings a wealth of experience and a collaborative and energetic spirit to our organization. As senior director of advocacy, she managed a complex set of interfaces involving external and internal stakeholders across our corporate, medical, and clinical areas. Lindsay now supports critical commercial markets as regional sales director, west. She personifies our corporate value of "passion for the patient" demonstrated by her interactions with global patient foundations, professional societies, and customers.
Sheri Mandry
SVP, Global Group Account Director
Grey Healthcare Group

Sheri is a passionate, driven individual who uses her extensive experience on high-profile consumer brands, including Boehringer Ingelheim and Essilor, to lead one of the fastest-growing division's at Grey Healthcare Group. Her exceptional ability in uncovering new and relevant ways to connect with consumers has led to a successful career in advertising for the past 15 years. Sheri's can-do attitude and commitment to excellence are unparalleled. She is a dedicated professional and an inspiration to her coworkers and our company.
Nancy Martin, MD
Medical Director, Astellas Pharma Global Development
Astellas Pharma US, Inc.

Dr. Nancy Martin joined the Medical Sciences Department of Astellas Pharma Global Development in 2008 and quickly became a key member of the U.S. clinical development team. In just a short time, Nancy has made significant contributions to the company's drug development program. In recognition of her talents, management skills, and leadership, she recently was appointed the global medical lead for a late-phase compound. Nancy's commitment to changing tomorrow by bringing about a healthier world today is unparalleled, which is what makes her a Rising Star.
Rosemary McConnell
Sr. Program Manager
Motivation Mechanics LLC

Proactive, disciplined, unflinching, a creative problem solving, a sense of humor, and a joy to work with, are a few of the adjectives that describe Rosemary. Rosemary embraces working hard to deliver an outstanding product. Recently, an important investor in one of our clients dubbed a significant marketing program that Rosemary carried over the finish line as "the best marketing program he has ever seen." She did it on message, on time, on budget—and she made sure that we all had fun doing it!
Kristin Milburn
Senior Vice President, Strategy & Planning, iMed Studios
Publicis Healthcare Communications Group

Kristin is SVP, strategy & planning, for iMed Studios, part of the PHCG network. With more than 15 years of experience in pharmaceutical advertising, she has focused on digital advertising since 2000. She is devoted to developing high-quality digital solutions and she has earned the trust and respect of an expanding list of iMed's clients. Her work ethic, sense of humor, and commitment to being a team player have earned her the admiration of her colleagues.
Michelle Morgan
Vice President, Management Supervisor
Ogilvy Healthworld

Michelle's positive attitude, enthusiasm, and unwavering commitment make her an invaluable asset to her clients and Ogilvy Healthworld. She is an inspirational leader, always taking on new responsibilities, driving change, and challenging herself and others. Her clients appreciate her big-picture thinking. Her team members respect her for always trying to foster the growth of others, which is why there's nothing her team cannot achieve. Congratulations Michelle!
Jennifer Murray
Director, Human Resources
Meda Pharmaceuticals

Jennifer is an integral member of Meda Pharmaceuticals' management team, and in her role as Director, Human Resources, she is a respected leader throughout our organization. Jen's passion and dedication to employees have enabled her to successfully implement effective organizational, cultural, and employee-focused programs, while providing invaluable counsel to her fellow colleagues and senior management. Jen exemplifies our organizational values and is a role model for women in the workplace. She is, without a doubt, a Rising Star.
Naomi Musaji
Director, Medical Affairs
Strativa Pharmaceuticals, a division of PAR Pharmaceuticals

Naomi embodies the finest qualities of a medical affairs professional. In her career, she successfully tackles every challenge that comes her way. She is efficient, precise, reliable, and is admired by her colleagues, our partners, and thought leaders as a person who gets the job done with the highest quality, while also being a joy to work with. Strativa recognizes Naomi as a person whose star is truly rising. Congratulations Naomi, and thank you!
Betty Nelson
Vice President, Marketing Americas
IMS Health

Betty is respected on the leadership team for her pragmatic business-centered perspectives and her ability to execute. Having led and developed the communications function, she recently added marketing to her responsibilities. Building on her strong business line relationships, she has increased the acknowledged value of her function. Betty is a consummate role model because of her evident competence and professionalism, and she makes the time to guide and mentor women at IMS.
Suzanne Newell
Vice President, Group Account Supervisor
Euro RSCG Life MetaMax, a division of Euro RSCG Life

Since joining ERL MetaMax nine years ago, Suzanne has emerged as one of the agency's brightest strategic leaders. Devoted to "thinking that makes a difference," she never fails to add value through the consistent quality of client service or her refreshingly clear perspective. The high standards she sets for herself and her team have earned the respect of clients and coworkers. Suzanne is our home-grown success story deserving the recognition of an HBA Rising Star!
Susan Hien Ngo
Controller
Bay City Capital LLC

In her 10 years at Bay City Capital, Susan has emerged from a quiet accounting manager to a confident controller who can take charge and mentor her staff accountants. She has earned respect not only from her subordinates but from everyone at the firm. She is noted for her dedication, integrity, thoroughness, and the respect she has for the work of her peers. She is certainly a great asset to Bay City Capital.
Nilsa Oquendo
VP, Chief Financial Officer
PACE Inc., a Lowe Healthcare Company

Nilsa's commitment to Pace extends well beyond her role as VP, chief financial officer. She embraces all of Pace in her pursuit of financial excellence. She not only ensures that each department is financially savvy, she even finds the time to support our softball team and judge a chili contest. Her dedication and passion are evident in everything she does, and her enthusiasm is contagious. Nilsa embodies the essence of a Rising Star: commitment, passion, and imagination.
Susan B. Orr
Senior Director, Strategy & Innovation
Johnson & Johnson

Suzy led the development of a unique campaign for women at the Johnson & Johnson companies focused on retention.The concept is to identify high-potential women at three levels: individual motivation, company career progression, and community service. Using the "Power of Story," the core intended outcome of this campaign is to enhance and reinvigorate the connection for women to our company.
Dawn Palace, PhD
VP of Strategic Solutions
Big Communications

You don't have to be in Dawn's presence long to know "she gets it!" Dawn effortlessly combines keen business acumen with a healthy dose of infectious energy and passion. With a Starbuck's coffee cup in hand each morning, our VP of strategic solutions moves through her day purposefully set on creating and designing high-impact solutions for Big's clients. Her pragmatic intellect, unwavering commitment to client satisfaction, and ability to see the forest and the trees truly set her apart.We are so honored to have Dawn on our team and as our 2010 Rising Star!
Stamy Paul
Executive Director, Human Resources
Boehringer Ingelheim USA Corporation–Ben Venue Laboratories, Inc.

Stamy's strength in leading transformational change has significantly influenced a shift in culture throughout our organization. Her experience in strategic management, partnering, and planning has significantly impacted our talent acquisition and talent management endeavors. She has partnered with key stakeholders across our corporation working with them to understand their business and operational needs. In addition, Stamy is responsible for driving improved employee and management performance throughout the organization. Stamy is a strong leader who possesses a high level of professionalism, integrity, and credibility and consistently challenges herself and her HR team to exceed customer expectations.
Gisela Paulsen, MPharm
BioOncology Marketing, Communications and Operations
Genentech, A Member of the Roche Group

Gisela is a highly respected leader at Genentech, who is known for setting high standards for herself and the entire organization. She is someone who seeks out developmental opportunities for herself and her team and has shown great commitment to women professionals in our industry. She presently leads operations, marketing & communications, for the BioOncology business unit. Previously, Gisela helped build and led the Independent Medical Education Department (IMED), establishing a best-in-class medical education team for Genentech.
Kristin LaBounty Phillips
Vice President, Account Services
Palio

Her teammates describe her as a smart and positive leader; a role model and great mentor; and, as someone who loves a challenge. She also encourages all on her team to learn and grow. Kristin works tirelessly to grow her accounts and she leads some of the largest brands at Palio. And yet, she knows the value of balance and strives for it. Her incredible work ethic, dedication to the members of her team, industry knowledge, and exemplary leadership make Kristin a Rising Star.
Norma Piggott
Executive Director, Business Unit Marketing
Amgen, Inc.

Norma has worked on women's health issues in North America, Europe, and Asia. Committed to addressing unmet needs in osteoporosis care, Norma has reached out to hundreds of European physicians and leaders about the burden of this chronic, debilitating disease and she catalyzed one of the most innovative osteoporosis education programs ever developed in partnership with the International Osteoporosis Foundation. A frequent speaker at women's events, Norma is an ambassador for Amgen.
Mary Poluikis
Digital Marketing Group Director
Cramer

Cramer's digital division has experienced great growth, much of which has been supported by Mary's efforts. She plays a key role in refining structure and process to support growth—without ever sacrificing quality. Mary has mentored and coached many along the way. She exemplifies grace and is well-respected for her commitment to the company, our clients, and, most importantly, her teammates. All she touches turns to gold.
Stacy Quinn
Director, Internal Communications
Roche

Stacy is dedicated to her craft, has an eye for detail, and has earned the appreciation and respect of the Roche Nutley Management team, her peers, and other colleagues. After less than a year on the job, she earned a well-deserved promotion to her current position as director. Stacy demonstrates the values, professionalism, and emerging leadership skills that will lead to a long and very successful career in healthcare.
Jennifer Restivo
Vice President & Managing Director, inVentiv Advance Insights
inVentiv Health

As practice leader at inVentiv Advance Insights, Jennifer has helped pharmaceutical and biotechnology companies develop ground-breaking market and organizational strategies with particular focus on pre-launch preparation for new products. Clients and peers have consistently applauded her strategic and leadership abilities. Jennifer has worked tirelessly to integrate diverse internal groups into a sophisticated and results-oriented practice team. She is admired by coworkers for her success in developing new capabilities and achieving a healthy work-life balance.
Caroline C. Rhine
Regional Business Director, Hospital & Surgical Products Division
King Pharmaceuticals, Inc.

Caroline is an exceptional leader with an authentic personal style that engages and inspires others. Starting out as a medical service representative, she successfully advanced through King's leadership ranks and earned multiple recognitions in the President's Club, representing the top 10 percent of sales performers.Today, Caroline is committed to developing and helping others succeed. As a consummate team player, she works tirelessly to make good things happen for our company and her coworkers.
Nancy A. Rurkowski
Executive Director & General Manager, Syracuse,Technical Operations
Bristol-Myers Squibb, Co.

Nancy is a key driving force behind our Syracuse, NY, pharmaceutical manufacturing operations. With responsibility for a highly complex and dynamic portfolio of new products, she leads an organization focused on the development, scale-up, and commercial supply of biologic products that are vital to our company and our patients. Nancy has been instrumental in fostering a culture of continuous improvement and collaboration at the site. Her strategic leadership, wealth of experience, and dedication make Nancy a valued asset to our organization.
Kristen Saporetti
Account Manager
Compas, Inc.

Kristen's blend of knowledge, hard work, and passion to excel has contributed to her success with Compas. As account manager for some of Compas' largest clients, she has been instrumental in maintaining current business while obtaining new accounts, including global initiatives. Kristen's dedication to her colleagues and clients is an asset to Compas, and her drive for continued success makes her a true Rising Star! We congratulate Kristen on this honor, and look forward to her continued success!
Keecia Scott
Supervisor, Sales and Marketing Services
UCB, Inc

Following a successful sales career in the consumer industry, Keecia joined UCB in 2005 as a marketing assistant. She was promoted to supervisor, sales and marketing services this year, based on her experience and leadership skills. Recognized this year in the New York Times for her successful HBA Mentoring experience, Keecia is a true leader within UCB, as well as within the community; she is committed to her team and her fellow professionals to achieve extraordinary results.
Lisa Shaw
US Marketing Leader
Merck

Lisa is Merck's US marketing leader—Singulair for asthma and allergic rhinitis. Beginning in sales in Australia, Lisa's been responsible for several franchises across two continents during her 18-year career with Merck. She has served in a variety of roles and responsibilities, including the market development and launch of important products such as Zostavax, a vaccine for shingles, and Zetia, used to treat high cholesterol. Lisa holds a biomedical science degree from the University of Technology, Sydney, Australia.
Judi Sheffer
Production Manager
Elsevier Medical Information LLC

Judi joined International Medical News Group/Elsevier in 1998, and the first project she initiated was the transition of advertising film to digital files. Currently, she's leading the production department to convert all pre-press operations to in-house production. Judi's exemplary work ethic, outstanding technical knowledge of pre-press, printing and distribution, and the ability to quickly adapt to a constantly changing production environment make her a Rising Star in Elsevier. Congratulations Judi!
Jennifer Shirley
SVP, Associate Group Account Director
Saatchi & Saatchi Wellness, a division of SSHG

Jennifer runs two of our agency's three largest accounts, and her team was recognized in 2009 for doing the best consumer work at AstraZeneca (Nexium was Consumer Campaign of the Year and the new Seroquel campaign also has been highly praised). SSW was recently awarded a major new assignment from sanofi –aventis because of her leadership. Jennifer is the go-to person for junior talent and management, and she tackles any challenge with her sharp mind and a smile.
Ana Silva
Group Account Supervisor
CAHG

Ana lives our CAHG vision: We Grow Leaders—Leadership Talent, Leadership Ideas, and Leadership Brands. Ana is a shining example of leadership talent; she is a graduate of our esteemed NextGen Program, a selective year-long training program developed for our most promising leaders. As a strong leader in the industry, Ana has the courage to bring bold leadership ideas to her clients, which in turn have helped build leadership brands.
Meira Smith
Account Executicve
Mc|K Healthcare

Meira leads with passion and determination always in the quest for excellence, both at work and in life. Her expertise and insights when finding solutions for complex production questions are invaluable and an asset that has helped grow our business at Mc|K. Meira's quirky nature and collaborative spirit are very magnetic. Meira exemplifies "Rising Star" qualities through her mentorship and dedication to excellence in healthcare advertising and marketing.
Judith Steenbergen
Director, Clinical Microbiology—Clinical Microbiology Cubist Pharmaceuticals
Cubist Pharmaceuticals, Inc.

Judith contributes to the development of Cubist's products—CUBICIN® (daptomycin for injection)—and its pipeline. Her rapid progression from scientist to director is testament to her skills as a scientist and manager.The consummate team player, Judith engages others across the company and throughout the industry as a champion for antimicrobial development. As a leader, she is picked for strategic teams, plans and coordinates advisory boards, and demonstrates rapport with her peers and established leaders in infectious diseases.
Robyn Stoy
National Project Director
Practice Therapeutics

Robyn joined Practice Therapeutics in 2006 as region manager, and she has quickly risen through the ranks to her current position as national project director. She is a leader who brings tremendous dedication and integrity to her role. In addition to her principal duties of managing a national clinical educator team, she is always looking for additional ways to contribute to the success of our growing business. Robyn is an invaluable asset to our organization, a real Rising Star!
Alexis Stroud
ASQ CQA, Manager, Regulatory Compliance
QPharma, Inc.

Alexis began her exceptional career at QPharma in 2000, and she has quickly become a leader in the regulatory and compliance space. Her breadth of knowledge and attention to detail are invaluable. Alexis holds an MBA in Pharmaceutical Management and she recently became an ASQ Certified Quality Auditor. She passes this experience on to all levels of the organization and unselfishly volunteers support to every project that comes through QPharma's doors, earning her the respect of both valued clients and admiring colleagues.
Kala Subramanian, PhD
Global Head Program Management & Head of Operations
Novartis Pharmaceuticals Corporation

Since starting her career in the pharmaceutical industry, Kala has demonstrated exemplary leadership by taking on roles of increased responsibility. She has established herself as an effective leader through her dedication, determination, enthusiasm, and innovative spirit. She has successfully led numerous high-level strategic initiatives that have delivered exceptional results. Kala is a role model for the company's values and behaviors. It is her fortitude as a leader that makes her a true asset to Novartis.
Suzanne Sullivan
Sr. Regional Sales Director
Wolters Kluwer Pharma Solutions

A passionate advocate in every aspect of her professional life, Suzanne exemplifies the qualities of a Rising Star. She champions customer needs and works to develop creative solutions that exceed expectations. As a leader in the organization, she mentors newer members of the team and generously shares her industry knowledge and best practices to find better solutions to healthcare questions. Her insight, drive, and infectious positive attitude all translate to remarkable results.
Beth Swanson
Vice President, Operations
Huntsworth Health

Team members from across all of our divisions can attest to Beth's contributions to our organization. Her financial acumen paired with her ability to drive projects, solve problems, and contribute to the operational effectiveness of our company make her a true asset to our team and her colleagues. Since joining our organization in 1999, Beth has been a Rising Star who continues to grow professionally as a leader, mentor, and key member of our organization.
Karen J. Thomas, CCMEP
Associate Director, Compliance & Accreditation
Institute for Continuing Healthcare Education, a Vox Medica Company

Karen's can-do attitude and intense commitment to quality continuing education make her an invaluable asset to the Institute for Continuing Healthcare Education. Her expertise in the compliance arena has significantly contributed to The Institute's success. She has conducted dozens of highly regarded educational workshops for her colleagues, earning her the respect of her peers and recognition throughout the industry. Karen is an exemplary teacher and dynamic speaker as well as a consummate ambassador for The Institute.
Jennifer Tindale
VP, Associate General Counsel & Corporate Secretary
Biovail

Jennifer joined Biovail in June 2006 as director, business & legal affairs providing legal support for a variety of our corporate and commercial needs and legal assistance with business development activities. After 17 months she was appointed to the position of VP, associate general counsel. Jennifer's commitment to the business and her team together with strong knowledge, expertise in the legal field and outstanding leadership skills have resulted in the consistent delivery of excellent results and the high regard others have for her as a bright and Rising Star!
Erin Walls
Advisor, Global Marketplace Diversity
Eli Lilly and Company

In her 14 years at Lilly, Erin has demonstrated her commitment to improving individual patient outcomes through her significant contributions to Lilly's medical writing and marketplace diversity efforts. Recently, she was instrumental in launching a comprehensive gender strategy to leverage women's unique strengths to ensure Lilly's success. As marketplace diversity manager, Erin has catalyzed the commitment to and implementation of Lilly's clinical diversity strategy. Erin's leadership is best described as "thoughtful, tenacious, and results-driven."
Amy Weickert
Director of Marketing
InfoMedics, Inc.

Amy has made exceptional contributions within her client-facing and marketing roles at InfoMedics. Spearheading cross-functional innovation, Amy is leading several initiatives to drive high- impact marketing. Leading by example, Amy guides her team to advance new program services.Amy also holds several volunteer leadership roles within the HBA and coordinates the annual InfoMedics gift drive for needy families in our community.Amy's leadership, enthusiasm, professionalism, and commitment are first-rate.They merit this special Rising Star recognition.
Debra Young
Vice President, Creative Director Copy
Wishbone, LLC

We are so proud to name Debra as our Rising Star. Debra is the epitome of a star, or actually a superstar. Her hard work and dedication come wrapped in a can-do attitude with an infectious laugh. Debra not only handles the pressure of agency life, she relieves it.You can't help but be drawn to her upbeat, positive, self-assured manner. It's not surprising that everyone at Wishbone wants to be on her team.
Karen Young
Partner-Pharmaceuticals and Life Sciences
PricewaterhouseCoopers LLP

Karen is a key driving force for the PwC Pharmaceutical and Life Sciences Practice. Because of her personal spirit and ability to champion progress, she consistently delivers exceptional outcomes for our clients. She is a dedicated professional who thrives on solving her client's business challenges and is an absolute pleasure with whom to work.With her work ethic and enthusiasm, Karen manages her team with extraordinary skill, while garnering commitment and loyalty. In addition to her personal commitment to PwC, Karen manages to balance her time to raise her twin boys Andrew and Brian and her 2-year-old daughter Mary.
Marissa Zenie
Senior Interactive Project Lead
LyonHeart

Marissa is LyonHeart's change agent. An account executive by training, Marissa anticipated our agency's shift to the digital space almost two years ago, and she has proactively sought the opportunities to help us evolve. Her aptitude for digital project management has allowed us to deliver breakthrough digital solutions for our clients that exceed their expectations for creativity, efficiency, and results. Marissa is an entrepreneur, a risk taker, and a leader. For these reasons, we proudly recognize Marissa as our Rising Star.