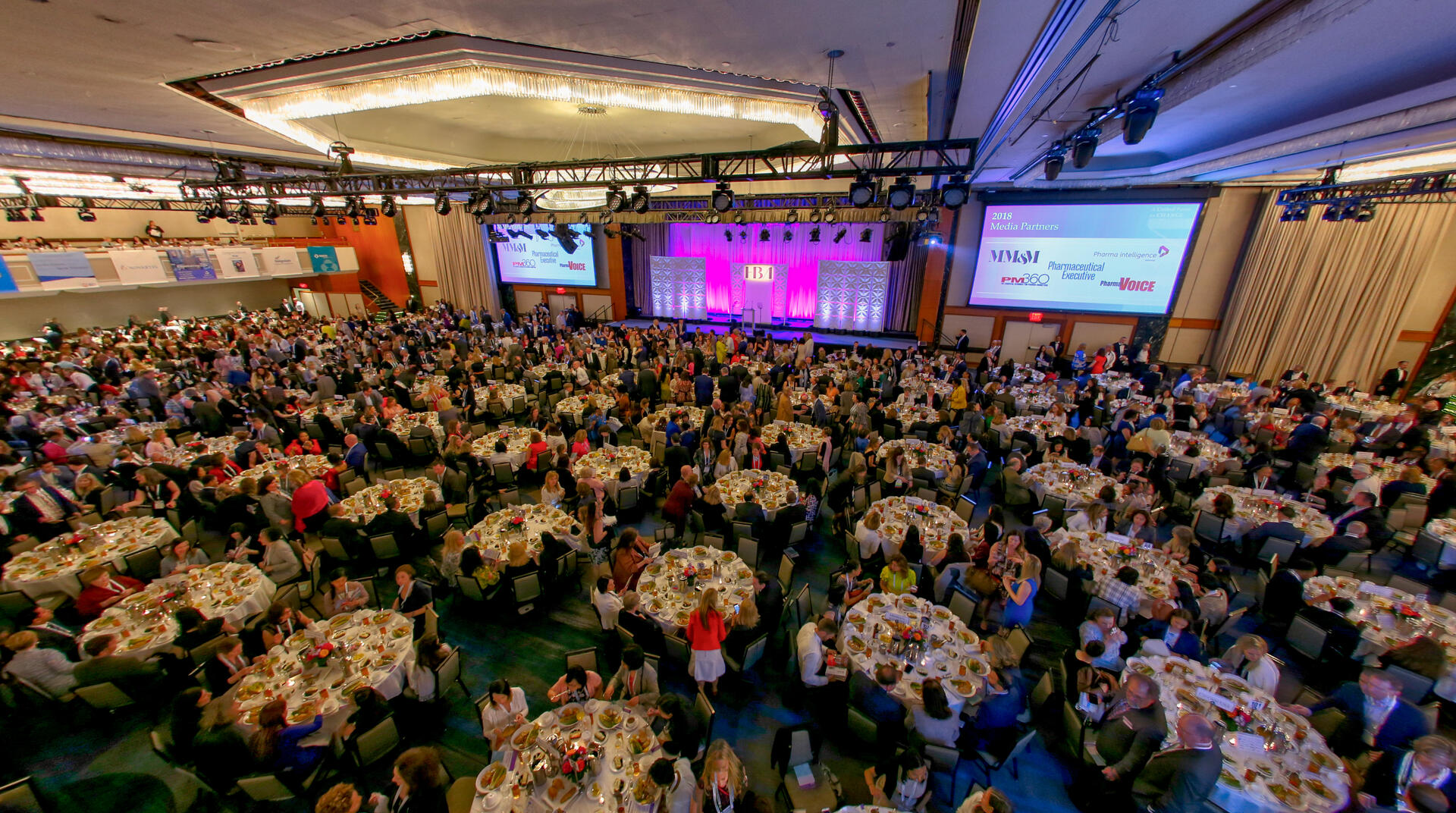 2015 HBA Luminaries
Judith E. Beach, PhD, JD, senior vice president and senior associate general counsel for regulatory and government affairs
Quintiles
Quintiles is proud to recognize Dr. Beach as our 2015 HBA Luminary. With more than 25 years of industry experience, Judith is a Luminary in every sense of the word. Her work has contributed toward the infrastructure that forms the backbone of Quintiles compliance and risk management efforts. She is an expert in regulatory and privacy laws as related to the healthcare industry. Judith is a consummate leader and mentor to many. 
Erin Byrne, executive vice president, managing partner
ghg
As EVP, managing partner and chief client officer at ghg, Erin leads the agency's integrated marketing efforts. With 20-plus years of experience, she is a sought-out counselor to C-suite executives looking to navigate the highly regulated and rapidly changing healthcare environment. Erin is a member of ghg's executive committee, sits on the global WPP digital advisory board and serves on the Text4Baby national steering committee and board of directors of InMed Partnerships for Children.
Anne Davison, senior vice president, strategic planning 
JUICE Pharma Worldwide
Anne embodies everything you'd ever want in a world-class marketer: brilliance, charm, fearlessness, compassion and a can-do attitude that is utterly infectious. Even after more than 20 years in pharma, her professional enthusiasm remains as fresh as her never-ending ideas. She is a joy to work with—always ready to share generous words of wisdom, or just to lend a hand. Anne is one in a million, and we're so grateful she's one of us.
Nicole Faust Cohen, managing director, growth and strategy lead - research and development, Accenture Life Sciences
Accenture
Nicole is truly a Luminary at Accenture and for her clients. She has been working in healthcare for more than 15 years, primarily in R&D, helping clients transform R&D to get their products to patients faster. She is equally passionate about developing people as the North American Life Sciences People lead and executive sponsor of the North America Life Sciences Women's Community. She is an amazing role model, exemplifying leadership and stewardship in word and action.
Lynn Gerber, area vice president sales
Astellas Pharma US
As area vice-president of sales, Lynn has made significant contributions to the growth of the urology franchise and Astellas. Her unwavering commitment to coaching and development led the franchise to exceed budget expectations for the last four years. Lynn is committed to both delivering on financial expectations and making Astellas a great place to work. She demonstrates her passion in the way she leads by example and her willingness to serve as a mentor to others.
Amy Grahn, senior vice president, global clinical development, operations and pharmacovigilance 
Horizon Pharma, PLC
Amy joined Horizon Pharma in 2009 as senior vice president, global clinical development, operations and pharmacovigilance. She has more than 20 years of pharmaceutical industry experience and has brought a number of medical products to the market that have favorably impacted the health and well-being of others. Most importantly, she is a strong leader who serves as a role model and actively mentors other women in the pharmaceutical industry to advance their careers.
Suzanne Hansen, director of healthcare, Boots UK
Walgreens Boots Alliance
A tenacious leader and passionate advocate for healthcare, Suzanne is instrumental in transforming community pharmacy. She is director of healthcare at Boots UK, a division of Walgreens Boots Alliance, and leads the integration of the pharmacy, optical and hearing businesses. Suzanne is a pharmacist by trade and previously led Walgreens Pharmacy Operations and Healthcare Clinics. These diverse roles speak to Suzanne's agility, knowledge and professionalism, and moreover, to her dedication to her field and Walgreens
Tobi Hunziker, national client liaison
Publicis Touchpoint Solutions
Tobi has become a trusted advisor to both her team and her clients, making her an invaluable asset at Touchpoint. Tobi is an inspirational leader, a great listener and is always focused on the development and advancement of her team members. Her breadth of industry experience — from sales leadership to clinical and operations — allows her to fluidly adapt to this rapidly changing market while providing superb execution and customer service for her clients.
Amy Hutnik, executive vice president, strategy and operations
inVentiv Health Commercial
Amy is smart, strategic, thoughtful and keenly operational. This unique combination of characteristics allows her to not only think critically, but also manage and motivate inVentiv Health's program management team of 30 to commercial success. Amy established our Newtown, PA advertising agency operations and integrated agency best practices across multiple locations. With her honesty, articulation and dynamism, Amy truly exemplifies the collaborative spirit of an industry Luminary. 
Amanda Joly, senior vice president, operations and strategy
GSW, an InVentiv Health Company
Amanda joined GSW with a largely consumer background specializing in consumer insight discovery.  Over the past three years with GSW, she applied her past experiences with fortune 500 companies and evolved them to the world of healthcare, acting as pioneer and mentor in developing GSW's Speak People story. Her discoveries of beneath-the-surface insights and ability to articulate them actionable strategies have led to groundbreaking campaigns across therapeutic categories and audiences.      
Lynn W. Kenney, communications director, North America
RB
Lynn astutely embodies our leadership principle of being passionate, bold and always thinking beyond in all that she does here at RB as director of communications for NA. From day one, she quickly earned the respect of her colleagues across the globe as a true communications expert. Her entrepreneurial spirit and ability to mentor those around her to drive game-changing solutions are hallmarks of her leadership style and her commitment to her craft and RB.
Emily Lightfoot, senior vice president health systems
AmerisourceBergen
Emily is a distinguished leader who exemplifies core leadership attributes, and is a great role model for women at AmerisourceBergen Corporation. As senior vice president, she is responsible for leading the health systems segment of our business. Emily has served in key leadership roles across the organization, and has led major initiatives, including merger integrations and an SAP ERP implementation. Emily earned an MBA from Washington University and a BA from the College of Idaho. 
Diana Littman Paige, executive vice president, MMC Health
Marina Maher Communications
Since joining MMC Health in 2007, Diana has more than tripled billings and added a broad portfolio of clients to the practice. In 2012, The Holmes Report named MMC Health Healthcare Agency of the Year. The following year, MMC Health won awards for Best Campaign of the Year and Healthcare Campaign of the Year from industry groups. Diana recently assumed oversight of MMC's new specialty healthcare agency Rx Mosaic.
Andrea Marks, vice president, chief analytics officer
Catamaran
Andrea has made a significant impact on Catamaran by mentoring many and by creating an analytic vision for her department and the broader company. Highly capable, her can-do attitude, confidence in her work and management presence fosters open communication, accountability and building trusting relationships. Under Andrea's leadership, the team has delivered numerous models that demonstrate our clinical value, elevate our ability to speak credibly through data and offer products that differentiate our business.
Shaden Marzouk, MD, vice president, clinical affairs
Cardinal Health
Dr. Marzouk is a lifelong advocate of patient safety. After many successful years practicing neurosurgery, Shaden brought her clinical expertise to Cardinal Health. Directly reporting to the medical segment CEO, Shaden makes critical contributions to devices and services commercialization efforts, and merger and acquisition strategies. She influences the healthcare industry by leading advisory groups of key physicians across the country. Shaden is an active mentor to women at Cardinal and throughout the industry. 
Kristi Matus, executive vice president and chief financial and administrative officer
athenahealth
Kristi is a strong leader—unafraid to speak her mind and lobby for her point of view. She is a great role model for businesswomen and a perfect example of someone who has used her commitment and passion to not only fuel a company's success, but the success of others. In addition to being a dynamic executive, she has tremendous foresight and has used it to drive change; many professionals can benefit from her wisdom.
Natalie McDonald, founder and president
Create NYC
By creating an on-demand and flat-fee healthcare agency, Natalie has brought new meaning to the word efficiency. Leveraging her background in leadership roles selling, marketing and advertising some of the world's largest brands, including Lipitor and Nexium, she provides clients with top-notch creative via an innovative model and Creator Hub that assembles the talent to deliver projects with speed and accuracy. At Create NYC, Natalie has created an environment in which teams and clients thrive. 
Lisa Rometty, global franchise head, fluid systems
Baxter Healthcare
Throughout her career, Lisa has exemplified the true meaning of leadership. In her role as the global franchise head of fluid systems, she delivers compelling business results while being widely admired for her passion around inclusion and diversity and talent development. Lisa launched the global I&D counsel, and is an active member of Business Resource Groups. As a steering committee member for the Marketing Development Program, she mentors employees at all levels within Baxter.
Kathrin Schoenborn-Sobolewski, PhD, vice president, head of strategic partnership
Merck KGaA, Darmstadt, Germany
Katherin has been contributing to the healthcare industry for 25 years in a variety of research and commercial roles. She is recognized as an inspiring leader with proven success in leading high-performing teams, implementing change and driving results. Over the past four years, she has led the development of the Frankfurt area location of the HBA Europe chapter, which provides extensive mentoring and development opportunities for women at Merck KGaA and throughout the region.
Karen Shoshan, senior vice president, client services
McCann Managed Markets
Karen demonstrates leadership and extraordinary innovation in all her endeavors at McCann Managed Markets, including inspiring a team dedicated to bringing the highest levels of service to our clients. She has mentored many people who, subsequently, have become outstanding in their own right. Her personal charisma, marketing savvy—and specifically her in-depth knowledge of the healthcare industry—make her our Luminary and we are proud to recognize her achievements.
Rekha Shukla, senior director of operations management
Cegedim Inc.
Rekha unquestionably embodies the qualities of an HBA Luminary. A respected mentor and knowledgeable resource for others, she shares her expertise without reservation and allows both colleagues and clients to consistently draw on her 20 years of industry experience. She constantly demonstrates a positive attitude, regardless of the challenge at hand. Her combination of skills, product knowledge, unbridled enthusiasm and inspiring work ethic make Rekha an exceptional colleague. She is a true leader.
Ellen Stafford-Sigg, principal, life sciences
Deloitte Consulting LLP
Ellen is a leader in Deloitte's global life sciences practice, serving as global lead client service principal for a leading pharmaceutical company. In addition to her client team leadership, Ellen recently served on the US and global boards of directors, and leads client leader development. Ellen is dedicated to mentoring future leaders in the industry; she also serves as the national board chair for Girls Incorporated and as a trustee for The Browning School.
Rachel Stahler, chief information officer
inVentiv Health, Clinical 
Rachel's expertise in complicated IT systems is only part of why she is one of inVentiv Health's Luminaries. What sets her apart is her ability to understand the way those systems impact not only our clients and their studies, but the patients whose lives are touched by the treatments we help develop and commercialize. She eagerly provides mentoring to colleagues and brings a sense of humor and humanism to everything she does.
Victoria Summers, executive vice president, engagement strategy and analytics
Saatchi & Saatchi Wellness
Victoria truly embraces the Saatchi & Saatchi Wellness vision of "Feel something, do something." She has served as a catalyst for new and innovative thinking at our agency. She is a transformational and compassionate leader who sets a high bar for herself and her team. She also gives back to her community and is involved in multiple pro bono initiatives. With her constant drive and dedication, Victoria is a role model at our company.
Hilary Thomas, PhD, partner and chief medical adviser life sciences
KPMG
Hillary is a champion of women. As chief medical officer for KPMG's life sciences practice, Hilary uses her role as a leader, mentor and sponsor to share her passion for innovation and to develop the next generation of leaders in the healthcare and life-sciences industries. Hilary's ability to challenge the status quo while maintaining her unwavering optimism—a trait she is known for— is a source of inspiration for clients and peers alike. 
Lisa Walkush, national advisory life sciences leader
Grant Thornton LLP
As national leader of Grant Thornton's life sciences advisory services, Lisa has built one of the firm's most profitable practices that continues to succeed and gain recognition. With a wealth of industry knowledge, Lisa exemplifies poise in high-stress situations, ensures her team is recognized for their contributions and demonstrates a successful work-life balance. A strong role model, Lisa consistently encourages women to fulfill their potential, while building confidence and providing professional guidance and support.