The Essential Role of Intercultural Dialogue for Creative, Sustainable, Equitable Solutions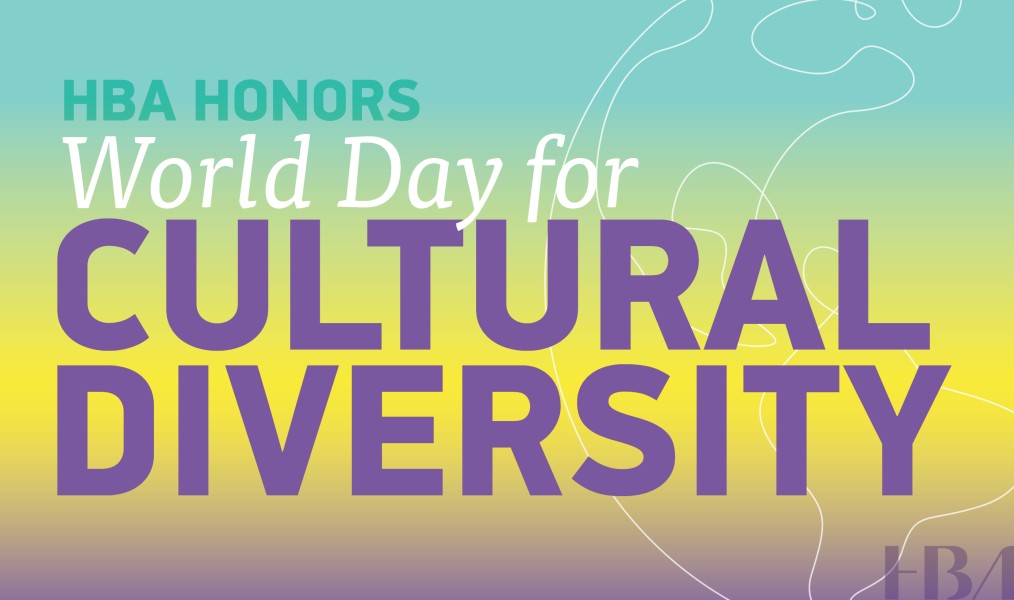 In recognition of the UN World Day for Cultural Diversity for Dialogue and Development yesterday, the HBA EMEA Operating Board Director of Value Zoe Healey shares why it is more important than ever to protect the diversity of cultural expressions and how it is essential for achieving sustainable development. Read the full article below!
Yesterday (21 May) was the UN World Day for Cultural Diversity for Dialogue and Development. The UN states that protecting the diversity of cultural expressions is more important than ever and highlights the essential role of intercultural dialogue for achieving sustainable development.
Here at the HBA, our vision of advancing women into positions of influence and decision-making to improve health equity and outcomes is rooted in appreciation of the values of diverse perspectives and the power of inclusion. That said, inclusion is not a one-off exercise, and we are not alone in this journey. To make it a common practise we need to constantly adapt and learn.
Within many of our industry's key and emerging markets, sizable and multiple populations of different cultures have specific health needs and different interactions with health systems. Climate and geopolitics in the coming years will only make migration more common place. With the healthcare sector striving to deliver more equitable and needs based outcomes, we need to ensure intercultural dialogue remains at the fore.
To date, industry data sources are still lacking in representation such as gender and ethnicity. To become more sustainable, nuances in cultural engagement with healthcare practices must be better understood. Only when cultural inclusion is commonplace, from drug development to resource dissemination (e.g. clinical trials, the generation of patient support solutions) will society be better equipped to prioritise health commonalities, and differences, across the globe.
"Just like healthcare conditions come with their nuances, so does ethnicity and culture. Reducing the burden of long-term and evolving conditions commands the direct inclusion and understanding of the patient populations impacted. Equally so, delivering on a long term sustainable healthcare system must rely on understanding and inclusion of ethnically and culturally diverse patient populations," Justna Muhith, Director, U-FACE Affinity Group.
For this, lived experience is extremely valuable to correct assumptions, bring insightful, actionable evidence to bear, and to bring emotional humanity that can creatively drive us forward for impact. There is nothing like a human story to build empathy, change perspectives, and encourage purposeful action. Ensuring our teams are culturally diverse, and actively practicing the assimilation of data and insights from a broad range of cultures is essential to set us up for long-term success in delivering equitable health outcomes.
U-FACE with the HBA (Unison of Faith, Allies, Culture and Ethnicity) promotes equity for all intersectionalities regardless of their nuances in the workplace and our communities.
We hope to inspire and advance intercultural dialogue today and encourage our network to become an ally through various opportunities:
Join a collaborative, supportive community. There's nothing better than having like-minded people on the same mission. Share human stories to advance with purpose.
Play your part in intercultural dialogue by accepting everyone around you as they are and respecting the value of their lived experience. Seek out relevant experience different to your own.
Be actively anti-racist. Look out for and challenge systemic bias, narrow assumptions, and demand that people of different cultures are represented and included in insight-generation and decision-making.
"As Mohammed Ali once said, 'the will must be stronger than the skill!' As a society we are continually updating our skills, and through organisations such as the HBA we voice our will! Remember the louder you are, the easier it is to be heard." Justna Muhith, Director, U-FACE Affinity Group.
####
Authored by Zoe Healey, PhD, Associate Partner Dot I/O Health.
Zoë has been an active HBA member, serving in leadership roles on HBA's Global Board of Directors, and currently as the HBA EMEA Operating Board Director of Value. She has a BSc in biotechnology and a PhD in gastroenterology. She has more than two decades of marketing and communications experience and is a champion for gender parity in the business of healthcare.