Cardinal Health AHA Moment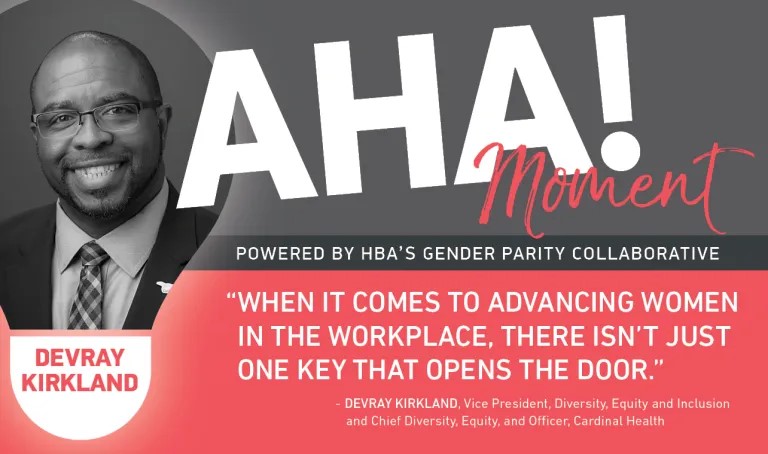 "Are we all facing the same challenges?" wondered Devray Kirkland, Chief Diversity Officer for Cardinal Health, when he first joined Healthcare Businesswomen's Association's Gender Parity Collaborative (GPC), a group of organizations in the healthcare and life sciences industries committed to holding each other accountable for increasing parity, equity, and influence for women.
The answer, he discovered was in large part, "yes," as leaders from disparate organizations came together to openly share some of their biggest challenges. "I would wonder, 'Am I the only one thinking that?" Kirkland shares, "and then I'd realize, 'Nope, I'm not.'"
While Collaborative members are competitors in the marketplace, the conversations they have aren't about "product, cost structure, or anything proprietary," Kirkland explains. "It's about people. When you get down to our common denominator, it's, 'What can we do to treat people better?'"
Considering broader points of view
While having his experiences validated has been a valuable aspect of Collaborative membership, the bigger value, Kirkland says, has come from the ways in which the group has exposed him to new points of view. The biggest "aha!" moment came a couple of years into his membership: In 2020, in the wake of George Floyd's murder and in the midst of the COVID pandemic, the power of examining organizational challenges through a broader societal lens became increasingly clear. Conversations became even more open and the group began more explicitly connecting their organizational challenges with broader social issues.
When news of the "Great Resignation" emerged, for example, Kirkland and fellow Collaborative members grappled with how the pandemic disproportionately affected women caregivers, and the implications for women in their workforce. Together, leaders from disparate organizations discussed what flexible work schedules could look like, and began imagining a more hybrid workforce. Exploring these topics as part of the Collaborative helped Kirkland to avoid being myopic, he says, and to consider issues from multiple points of view — for example, when a fellow member brought up the importance of addressing the unique mental health challenges the pandemic presented to women. "There isn't just one key that opens the door" to gender equality, equity, or parity, he explains. "There are multiple keys, and multiple doors. The question is, which ones will be most impactful for you?"
Zooming out from his day-to-day vantage point to examine the barriers that women face at work has helped Kirkland see more potential doors, and more potential keys, that can benefit Cardinal Health employees. And this broader perspective has driven further innovation in his company's support for women.
Sharing perspectives openly requires trust
When pressed to consider what makes it possible for leaders from otherwise competitive organizations to come together to have such open and robust conversations about sensitive topics, Kirkland is quick to say, "It's trust." He credits HBA staff with creating an atmosphere of trust and confidentiality, within which there is safe space to be vulnerable and to discuss uncomfortable topics. As a result, members can bring real issues to the table.
The specific leaders who represent their organizations as part of the Collaborative also set the tone in a significant way, Kirkland says. He describes the group as "very inclusive," and says, "If you know your voice is valued, it makes you want to share more." He's quick to clarify that conversations between Collaborative members are never an opportunity to air dirty laundry. "No names are shared," he says. "It's more, I've heard about it, or been part of it, and want to bring it to the table. Nothing is attributed to a particular organization. It's more of, Here's a topic, let's chew on it."
Perspective fuels innovation and leadership
All that chewing has only strengthened the ways in which Cardinal Health is increasing parity for women in its workforce. Last year, for example, the company publicly shared its representation targets, and just this month, they published a report showing their progress against those targets. "We believe that transparency is key to building the culture we want to have," Kirkland says, noting that, "by publishing our goals, we're holding ourselves accountable and bringing our employees in on the process." He notes that the goals aren't just about gender parity for the organization overall, but are specific to increasing parity in leadership roles. The company also continues its work to increase pay equity at all levels.
On a personal level, Kirkland says, participating in the GPC has been deeply meaningful. "I'm a lifelong learner," he explains. "I can't help people if I stop learning." Being a Collaborative member helps him add tools to his leadership toolbelt, get more comfortable with uncomfortable things, and be a better person. "You may have a position in leadership, but that doesn't make you a leader," he says. "Leadership is something you earn."
As one of his idols, Maya Angelou, once observed, when you know better, you do better. That, it seems, is what Kirkland's experience with the Collaborative has been all about.
####
Devray Kirkland (He/Him/His), VP, Diversity, Equity, & Inclusion, Chief Diversity Officer, Cardinal Health.
Devray Kirkland is a versatile Corporate Human Resource and Diversity & Inclusion Professional with over 25 years experience. He has extensive experience in designing, developing, and facilitating training programs, as well as implementing Diversity and Inclusion initiatives that can be applied to both corporate and field associates.