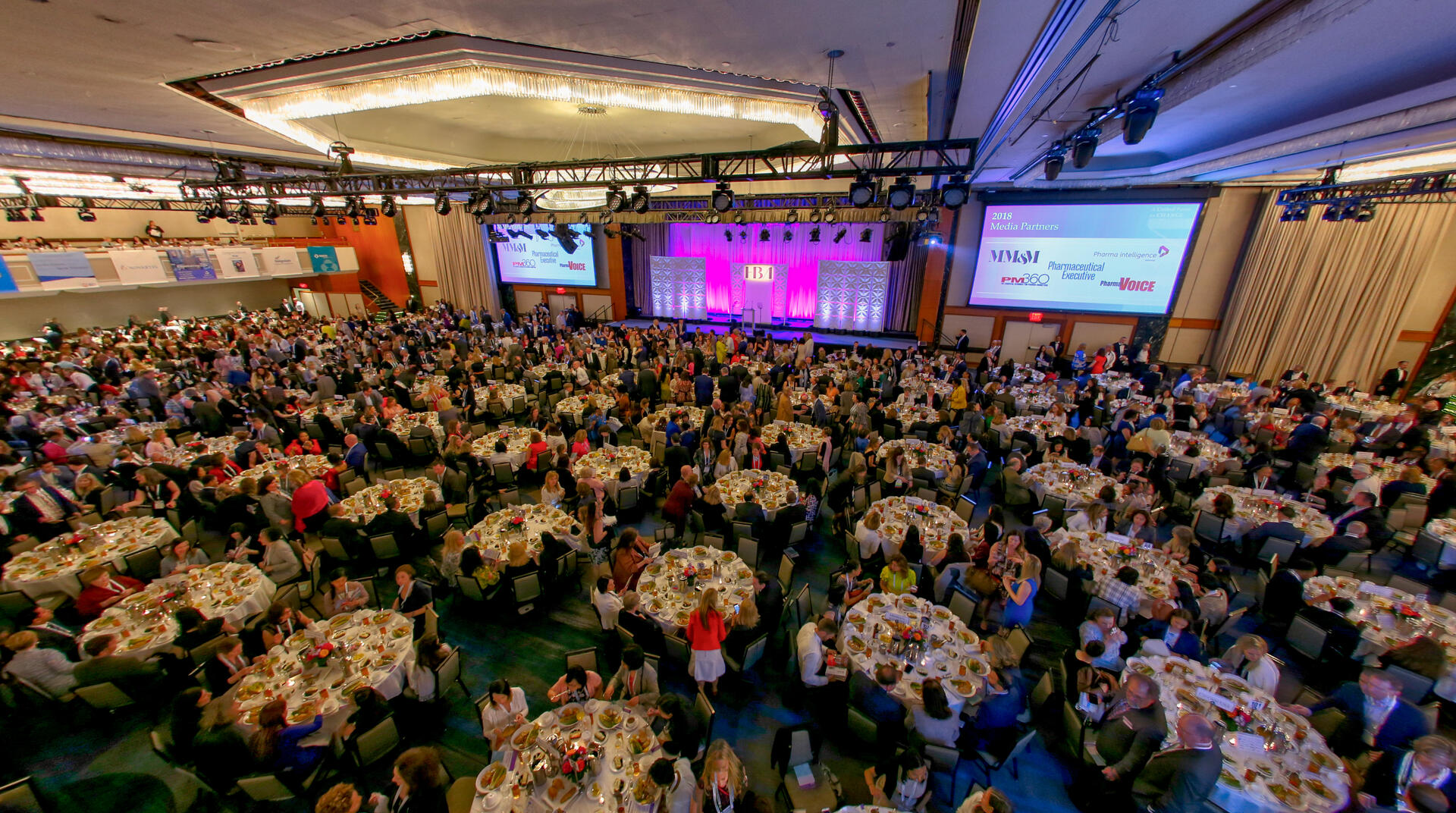 HBA Rising Stars are professionals in various sectors of the healthcare industry, including pharmaceutical, biotechnology, advertising, public relations, medical education and market research, among other fields. Nominated by the HBA's Corporate Partners, the Rising Stars represent various career stages and disciplines and have demonstrated noteworthy achievements and proven attention to furthering their careers.
Rachael Asselin, VP
1798, a Fingerpaint Company
Julie Tyler, DVP, global marketing
Abbott
Margot Goodkin, MD, PhD, executive director, clinical development
AbbVie Inc.
Jennifer Bouchard, senior manager, scientific informatics services
Accenture
Tamar Thompson, VP, US government affairs and policy    
Alexion Pharmaceuticals, Inc.
Joyanna Wesche-Blake, senior director, IT
Alkermes
Noemi Romero, executive director, supply chain    
Amgen Inc.
Allyson Livingstone, director, diversity and inclusion, HR
athenahealth
MarySue Raith, client partner
Atlas
Analisa Orta, associate director, business analytics and insights
Avanir Pharmaceuticals
Vicki Barniak, senior principal scientist
Bausch Health
Caroline Houston, plant manager    
Baxter International Inc.
Elizabeth Beaulieu, senior manager, commercial strategy    
Bayer US
Carol Nieto, senior director, quality management
BD
Emelyn Maravilla, director, asthma and established brands marketing    
Boehringer Ingelheim
Barbara Curtis, manager, commercial leadership development program
Bristol Myers Squibb
Taylor Freisher, group copy supervisor    
Calcium USA
Emily Gallo, VP, product and solutions marketing
Cardinal Health
Katherine Murnen, PhD, medical director    
ClinicalMind, LLC
Courtney Mullen, VP, SEM and emerging media
CMI Media Group
Karen Callahan, senior director, Center of Excellence, healthcare product consulting 
Cognizant Technology Solutions
Diana Di Gioia, manager, digital ad ops    
Compas
Jaclyn Barber, medical science manager    
CSL Behring
Georgia Jones, senior GPO account manager
Daiichi Sankyo, Inc.
Nicole Bailey, account lead    
Doximity, Inc.
Pallavi Sachdev, senior director, translational medicine
Eisai Inc.
Rhonda Pacheco, GM, Canada
Eli Lilly and Company
Jobina Jones-McDonnell, VP and assistant general counsel, litigation and risk    
Endo International
Natalie Beaton, market access manager, uro-oncology    
Ferring Canada
Jennifer Accumanno, associate director, marketing, microbiome    
Ferring Pharmaceuticals, USA
Dara Pincas, head of healthcare law group, senior associate general counsel
Genentech
Ambily Banerjee, director, therapeutic group, global regulatory affairs    
GlaxoSmithKline
Jennifer Gaydos, director, sales force effectiveness    
Greenwich Biosciences (US subsidiary of GW Pharmaceuticals)
Katie Tippit, director, Hemostasis clinical sales, North America
Haemonetics Corporation
Caitlin Gilbert, account director
Havas Health & You
Tiffany Butler, VP, managing director, strategy and innovation    
Health Perspectives Group
Jennifer Heckman, executive director, clinical portfolio and capacity management
Incyte
Megan Zipkin, director, corporate marketing
Inovalon
Whitney Jappe, associate director, program management, brand marketing    
Intouch Group
Christy Mitchell, regional business director, neuroscience
Ipsen Biopharmaceuticals
Sarah Lyons, VP, privacy analytics
IQVIA
Ana Raposo, business unit director, BeNeLux    
Johnson & Johnson
Seema Vaidyanathan, associate director, strategic partnerships    
Johnson & Johnson
Nevija Watson, senior manager, process engineering, chapter lead for Gilead Leadership Organization of Black Employees (GLOBE)    
Kite, a Gilead Company
Annette Ogbru, PharmD, regional director, medical science liaisons
Lundbeck
Juliet Kasaya, senior corporate trainer    
Magellan Rx Management
Megan Roberts, director SEC reporting, technical accounting and global consolidations
Mallinckrodt Pharmaceuticals
Drew Tomlinson, VP, strategy director    
McCann Health
Shjan Santiago, VP, account supervisor    
McCann Health Managed Markets
Stephanie Chueh, director of sales strategy and strategic programs for global enterprise sales
Medidata, a Dassault Systèmes Company
Sherita Lee, director, key talent programs, talent management    
Merck & Co., Inc.
Claire Bonaci, senior director, US health and life sciences    
Microsoft
Kim Christopher, VP, R&D project management    
MiMedx Group, Inc.
Laura Ford, VP, product    
Navigating Cancer
Anastacia Awad, head, diversity and inclusion (NIBR)    
Novartis Pharmaceuticals Corporation
Mara Feldman, district business manager    
Novo Nordisk
Corinne Yaouanq-Lyngberg, director, omnichannel strategic enablement    
Novo Nordisk
Erika Mühlberg, SVP, account management    
Ogilvy Health
Izabella Tyszler, VP, marketing and field execution
Orphazyme US, Inc.
Terry-Ann Cooper, privacy officer
Otsuka America Pharmaceutical, Inc.
Hilary Duckworth, commercial lead, hospital business unit, UK    
Pfizer Inc.
Blanca Ortiz-Skelding, manager process engineer    
Pfizer Inc.
Sylvia Yu, VP
PhRMA
Rashmi Upasani, associate director, regulatory, pharmaceutics and analytical development    
Purdue Pharma L.P.
Elizabeth Crego, managing director, deals
PwC
Amanda Maximin, head of sales, vitamins business unit    
Reckitt
Cynthia Orr, customer VP, US value channel    
Reckitt
Chiatogu Onyewu, MD, PhD, director, research program management    
Regeneron Pharmaceuticals, Inc.
Rashmi Kshirsagar, VP, technical development    
Rubius Therapeutics
Ying Liu, PhD, senior director and franchise lead, US value and access, DUPIXENT
Sanofi
Jennifer Henderson, director, TOQ business office and chief of staff    
Sunovion Pharmaceuticals Inc.
Lynn Hamilton, senior director, clinical operations support, clinical development services   
Syneos Health
Katya Magonova, senior engagement manager, commercial advisory group, consulting, commercial solutions    
Syneos Health
Wendy Kanna, global head, information security governance and oversight
Takeda Pharmaceuticals, Inc.
Amanda Vankoski, senior account planner    
TBWA\WorldHealth
Maureen Field, associate director HR, US commercial sales, sales operations    
Teva Pharmaceuticals
Lisa Ambrose-Lanci, SVP, group account director    
The Lockwood Group LLC
Jalé Güner, executive director, clinical operations
Travere Therapeutics
Anita Moser, US neurology head, assets and optimization    
UCB, Inc.
Erica Puntel, US communication lead, digital    
UCB, Inc.
Shon Green, senior director, translational R&D    
Umoja Biopharma, Inc.
Nina Kirshenbaum, VP, analytics services
Veeva
Crew Smith, molecular and cell biology senior research scientist
Vertex Pharmaceuticals
Cherie Ihnen, senior director, HR    
VMS BioMarketing
Renee Smith, global senior director, WBA OneIT strategy and planning    
Walgreens Boots Alliance
Jennifer Curtis, associate principal
ZS Associates
Anna Von Rossum, scientist, exploratory research
Zymeworks Inc.