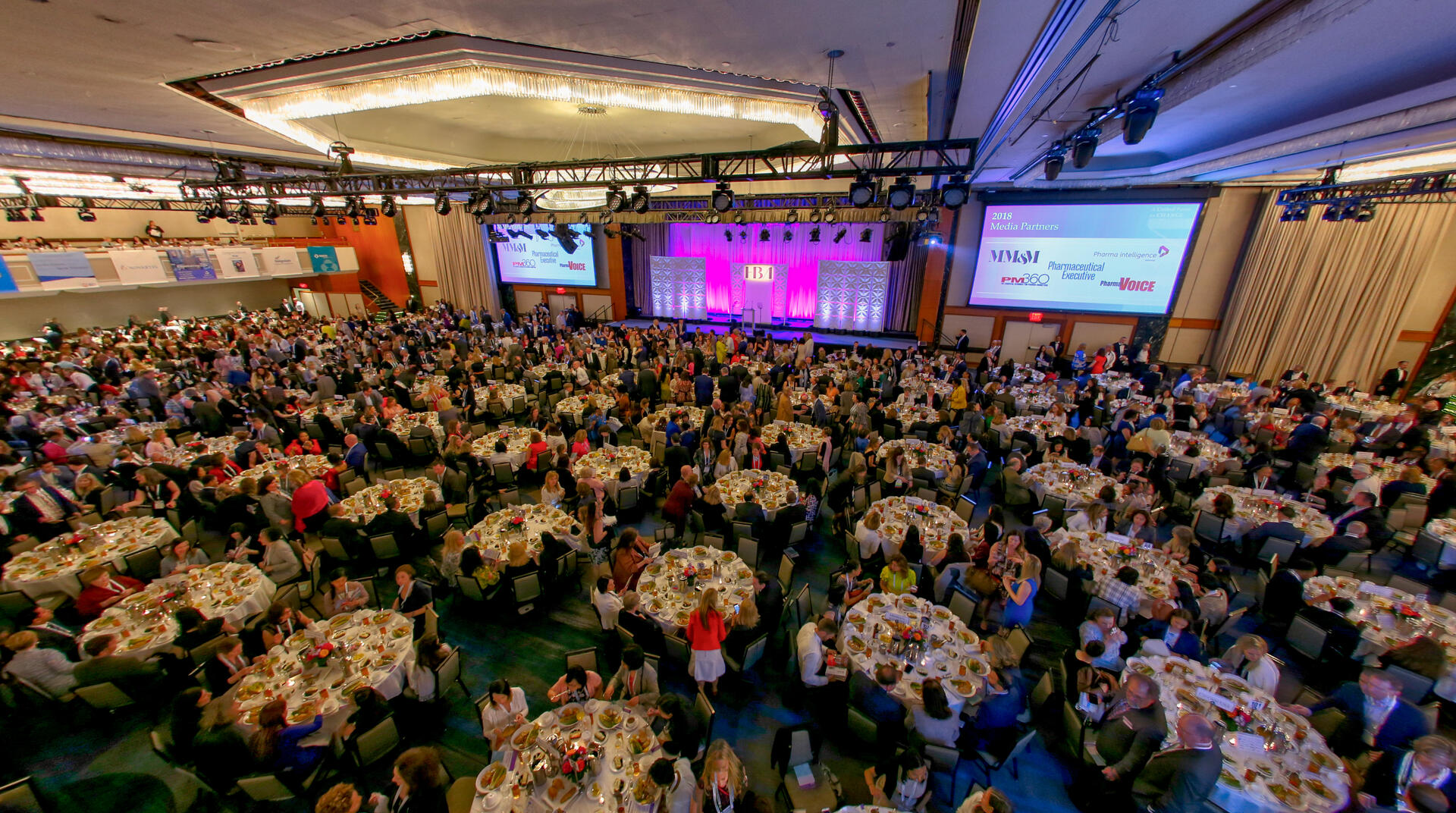 HBA Rising Stars are professionals in various sectors of the healthcare industry, including pharmaceutical, biotechnology, advertising, public relations, medical education and market research, among other fields. Nominated by HBA's corporate partners, the Rising Stars represent various career stages and disciplines, and have demonstrated noteworthy achievements and proven attention to furthering their careers.

Titles reflect positions at the time the award was presented.
Melissa Ayers
HR Manager
Janssen Biotech Johnson & Johnson
 Melissa joined J&J as an HR manager supporting Janssen Biotech. She has extensive experience in diversity leadership and a skill for linking it to business results. Melissa has achieved significant results in her short time with J&J and brought a high level of passion and commitment to all she accomplishes. Melissa engaged numerous external organizations to bring an increased level of commitment to diverse talent acquisition. Melissa is truly a Rising Star for Janssen.
Angela Bagley
Senior Director - Supply Chain Product Strategy
Shire Pharmaceuticals
Angela is the product strategy director at Shire Pharmaceuticals. In her role, Angela serves as a liaison between Shire supply chain customers, commercial functions and partners. Since joining Shire in 2006, Angela has been an exceptional performer. Her technical strengths, leadership, communication skills and emotional intelligence have enabled her to successfully achieve multiple accomplishments across various Shire products. Shire is thrilled to recognize Angela with the HBA 2012 Rising Star award. Congratulations, Angela.
Christy Barlow
Associate Director, Managed Care Specialist
Watson Pharmaceuticals, Inc.
Christy is a distinguished leader and plays a critical role in Watson's ability to bring our distinctive brand pharmaceuticals to the highly complex managed care markets. As Watson's associate director, managed care markets, Christy is responsible for driving sales management, including developing national best practices and coaching our sales force. Her results-driven focus has earned her the respect of peers,Watson's customers and the industry.
Melissa Stapleton Barnes
VP, Deputy General Counsel
Eli Lilly and Company
Since joining Lilly in 1994, Melissa has held multiple positions within legal. In 2011, she was promoted to vice president, deputy general counsel. She leads litigation and the Lilly compliance center of expertise, has oversight for the corporate secretary office, HR legal team and regulatory. Melissa believes in the advancement of women. She serves on the Lilly Women's Network lead team and has spoken about women in leadership as a panelist for a women's conference.
Alexa Beavers
Associate Director, Value Chain
Boehringer Ingelheim
Alexa was the leader of the organizational effectiveness and transition teams during a site project that completely transformed the way our business operates.The teams she led were responsible for developing and implementing a completely new operational model resulting in significant organizational change. Her leadership enabled the team to achieve results at a stunning pace— delivering the results in half the time expected.These changes reduced BICI's site costs by more than 20% annually.
Patricia Becker
Regional Sales Manager
PDI, Inc.
Pat is a highly resilient, flexible and respected pharmaceutical sales leader, routinely finishing at the top of the sales rankings. An infectious leader and motivator, Pat is constantly searching for innovative ways to motivate her team to excel. She consistently demonstrates a high-ethical standard and never shies away from an opportunity to assist the team. She is a true role model for PDI's values and an excellent example of a positive work/life balance.
Jeanne Blanchard
EVP, Director of Client Services
Ogilvy CommonHealth Medical Marketing
Ogilvy CommonHealth Worldwide
Jeanne possesses a unique blend of talents and skills that make her a rare find in this industry. You'd be hard-pressed to find a more persuasive, decisive and resourceful person—and these traits, combined with her positive attitude and incredible work ethic, serve her perfectly in her client services role. She's a remarkable businesswoman, leader and good friend, and I can't think of anyone I'd recommend more highly for recognition as a Rising Star in our industry.
Tayla Blount
VP, Account Group Supervisor
Euro RSCG Life LMP
To us,Tayla isn't just a great advertising executive—she's an inspiration. Never one to accept the status-quo,Tayla brings her sharp insight and sense of innovation to every project she touches. Because of these qualities,Tayla is a role model at the agency and a shining example of the kind of professional our clients and industry deserve.We are proud to nominate Tayla as our Rising Star and thank our lucky stars for her continued passion and dedication.
Sharon J. Bracken
Divisional VP, Global Operations,
Abbott Diagnostics
Abbott Laboratories
Sharon Bracken is the divisional vice president, operations, at Abbott Diagnostics.At Abbott since 2005, Sharon has held positions of increasing responsibility, including overseeing operations at Abbott sites in the US and Europe. Sharon's hallmark is delivering results. She has contributed substantial financial and quality improvements to Abbott's business while taking an active role in the Women Leaders in Action employee network. She generously gives time to mentoring and supports college recruiting initiatives to build Abbott's talent pipeline.
Jennifer Brunner
Director, Consumer Health
Cardinal Health, Inc.
Jennifer has made significant contributions to Cardinal Health in the areas of marketing, sourcing and account management. She is accountable for supporting the full product portfolio to meet the needs of our customers. Her leadership attributes help drive the success of our consumer health business, customers, employees and community. Jennifer is dedicated to promoting a nd developing the talents of other women through her engagement with several healthcare organizations, such as our Women Initiative Network.
Tia Bush
Executive Director, Quality
Amgen Inc.
Tia has had a direct impact on the well-being of millions of patients using Amgen's medicines. She leads teams of quality assurance employees who ensure the safety, efficacy and purity of numerous medicines before they leave Amgen's facilities en route to the people who desperately need them. She drives her teams to eliminate potential risk to product supply and has made Amgen's mission of serving patients her very own.
Ticia Cawley
Senior Consultant, Specialty Products
PSKW, LLC
Ticia is an integral part of PSKW's innovation in specialty pharmacy copay offset programs. A passionate results-oriented biotech professional, she is frequently acknowledged by clients and co-workers for her in-depth knowledge of biologics honed from a steep background at Genzeme and UCB. Ticia has driven sustainable business performance and cultural change to benchmark levels in our specialty market sector. A trusted advisor and thought leader, she has an authentic personal style that inspires others.
Lily Cheung
Director, Human Resources
Actelion Pharmaceuticals US, Inc.
Lily is a strategic business partner and is known for her collaborative approach and innovative ideas. She has led the compensation and benefits group at Actelion for almost six years and has been an instrumental leader through times of growth and change. She balances her analytical perspective with a solid understanding of her employees and the needs of the organization. Her impact has reached not only Actelion, US, but across the entire global organization.
Ashleigh Chung
Director
Vynamic
As a healthcare industry management consultant, Ashleigh applies her deep knowledge in the life sciences sector with her exceptional facilitation and communication skills to lead both strategic and operational initiatives. An authentic and results-oriented leader, Ashleigh has an amazing ability to form strong relationships while driving performance. In our increasingly interdependent and global business world, Ashleigh's extensive experience on global initiatives is a tremendous asset to her clients and her Vynamic team members.
Jody Cohn
VP, Management Supervisor
LLNS
When you think of Jody as a star, you are as likely to think as much about how bright she shines as how fast she's rising. Jody's commitment, passion and intelligence make her the center around which so much revolves, from projects and ideas to clients and colleagues. Jody's clients are drawn to her for her knowledge of their business and the healthcare industry, and for her stellar relationship building skills. Spending time with Jody leaves you invigorated, positive and certain that good results will happen.
Lisa Cooney
VP, Process Engineering
IMS Health, US
Lisa is a recurring star performer among IMS's vast global operations organization. In 2011, Lisa served as director, LEAN Sigma. Under her leadership, employee teams around the world delivered significant process and productivity improvements and LEAN Sigma has become part of our culture. She is an excellent role model for working effectively across organizational silos and her ability to deliver measureable results led to her recent role expansion and promotion to vice president, process engineering.
<Bridgett Craig
Director, Oracle Consulting Practice
North America Business & Decision, North America
Bridgett's leadership and commitment to her clients make her an integral part of our organization's success. She is a strong contributor to the growth and success of our integrated business practices. Her focus and sense of personal accountability combined with her positive attitude make her a valuable asset to all. Bridgett has extensive experience with multiple global pharmaceutical and medical device clients. Her understanding of various countries' requirements and needs is an attribute that is crucial in today's life science environment.
Katie Dahler
Managing Director
KPMG
From the day Katie joined KPMG in 2009, she has shown exceptionally strong leadership, industry knowledge and client focus that truly embodies KPMG's core values. In addition to her success as an industry and major, multi-national client account leader, Katie co-chairs KPMG's Network of Women (KNOW) in New Jersey, where she brings together professional women across industries, both inside the firm and in the marketplace to network, share knowledge and help each other succeed.
Emily Denney
Senior Director, Alliances Development Stakeholder Relations
AstraZeneca Pharmaceuticals
Congratulations to AstraZeneca's HBA Rising Star. Emily has always shown a commitment to excellence in everything she does since she joined AstraZeneca 14 years ago.Whether as team leader, team member or individual contributor, Emily has delivered exceptional business results while also maintaining her commitment to work/life balance as a spouse and mother of three wonderful children. Emily's positive, can-do attitude has served and continues to serve as an inspiration to many here.
Colleen DeSimone
Senior Director, Finance and Controller
Millennium:The Takeda Oncology Company
Colleen is a trusted advisor and leader within Millennium and across the broader Takeda family. Her deep knowledge of accounting coupled with a wealth of experience in the pharmaceutical industry enable her to draw invaluable insights and provide sound guidance to those she supports. Colleen is not only a Rising Star at Millennium, but also a key contributor towards our bold aspiration to cure cancer.We are proud to have Colleen represent Millennium as our nominee for the HBA Rising Star.
Susan Dorfman, MD
Chief Marketing and Innovation Officer
Communications Media, Inc.
Susan is CMI's most innovative employee, helping to commercialize our ByDoctor® data and enhance our value to clients. She is constantly seeking new opportunities for CMI to grab the leadership role in all things media and healthcare. Susan has significantly improved supplier relationships and has also fostered new ones. She is an incredible team player always willing to help train and contribute knowledge, which has become essential to our growth and success.
Marianne Eisenmann
Head of Communications, Research and Measurement
Chandler Chicco Companies
Marianne leads Determinus, the research arm of the Chandler Chicco Companies. She is dedicated to promoting research as a fundamental tool for building PR strategy and programming. From market research through measurement and evaluation to stakeholder research and competitive analysis, Marianne provides the ability to deliver evidence-based PR. Clients and colleagues are awed by her insights. Marianne is a highly-valued team member and an industry thought leader.We are proud to name her our 2012 HBA Rising Star.
Rachael England, MPH
Manager
CryerHealth
Rachael has already made an impact in healthcare on four continents. An award-winning researcher recognized at the 2011 European Public Health Conference, Rachael has redefined the CryerHealth research capabilities. Rachael brings intellect, energy and insights on topics as varied as microenterprise finance and global medical tourism to our team in a manner that exponentially expands the innovative potential of solutions we present to clients on patient engagement and patient-centric health.
Stella Elizabeth Evans
Associate Director, Supply Chain
Purdue Pharma L.P.
Since joining Purdue in 2000, Beth has progressed through positions of increasing responsibility in logistics and DEA compliance, critical functions in Purdue's Wilson, North Carolina manufacturing facility. She is recognized as an inspiring leader and has proven repeatedly that she can handle significant assignments outside her specific areas. Beth mentors colleagues, serves as a role model and participates on cross-functional management teams at the Wilson site. She truly embodies the qualities of a Rising Star.
Valeria Fantin
VP,Tumor Cell Biology, Oncology Research Unit
Pfizer Inc
Valeria is an internationally recognized tumor biologist, leading Pfizer oncology research unit's tumor cell biology program. Her group's singular goal is to build a strong, diverse pipeline of anticancer agents that significantly improve upon current treatment paradigms. Since joining, Valeria has rapidly earned the respect of both Pfizer's leaders and her scientific team as she builds a culture of scientific excellence, driven by a passion for developing the next generation of highly-impactful cancer therapeutics.
SuEllen Farrell
Editorial Director
Health & Wellness Partners
SuEllen has applied her talents to building and developing a strong editorial team at HWP. As an agency with core competencies in content development, her scientific knowledge, ability to simplify the data and communicate key information effectively is critical to our success. Additionally, SuEllen has mentored several team members cross-functionally. She leads by example in all aspects of her work. SuEllen is a tremendous asset to HWP and we are proud to have her as our 2012 Rising Star.
Kimberly Feeny
Research Associate
Motivation Mechanics, LLC
Kim's dual undergraduate degrees in communication and psychology provided her with a strong foundation for Motivation Mechanics' Right-Brain Research Methodology. During her time at Motivation Mechanics, she completed her Masters in communication, which further strengthens her contributions to our work. Kim is involved with research projects from start to finish— designing, implementing and analyzing research to achieve client objectives. Kim has a particular interest in projects relating to women's healthcare, especially pregnancy and preterm birth.
Anna Frable
VP, Communications and Advocacy
Novartis Pharmaceuticals Corporation
Anna has experience in the communications arena in several functions and geographies, including US Pharma, international assignment in global PR and Novartis Consumer Health. Anna has led campaigns that have been strategic and impactful to patients, associates and business. She was awarded Novartis' Global Corporate Communications in 2011, PR Week's Multicultural Marketing Campaign of the Year. Anna's commitment to talent is evidenced by her staff 's movement into marketing, global and OTC.
Lisa Gallo
Associate Partner, Project Management
Rosetta
There are two key reasons that Lisa is a Rising Star. First, Lisa has a focus on client delivery through operational excellence and a constant desire to improve how teams work. She leverages her extensive knowledge of healthcare and agency integration in everything she does. Second, Lisa believes strongly in the ongoing improvement of people. She is a leader, a mentor, an advocate and a consummate team player. She is the heart and soul of our group.
Shanthi Ganeshan, PhD
Executive Director, Drug Regulatory Affairs
Novartis Pharmaceuticals Corporation
After earning her PhD from Northwestern University and working in the regulatory affairs arena, Shanti joined Novartis in 2004. Given her scientific background and regulatory experience, she has been able to develop a strong reputation for her group, both internally and externally with Health Authorities. Shanti is a role model of the Novartis' values, demonstrates exceptional judgment and creates opportunities for networking, mentoring and leadership development for all her direct reports and employees within the organization.
Kavya Gopal
Director, Strategic Planning
Sandoz Inc.
Kavya is a key leader in the Sandoz US organization and has driven significant impact across a variety of high-priority projects. She role models the organization's values and behaviors, especially her ability to work cross-functionally and to build trust-based relationships. As a result, Kavya is always sought out as a trusted thought-partner by leadership team members and her peers. Finally, Kavya has the potential to grow into senior leadership roles of increasing responsibility within the organization, and therefore is truly a Rising Star.
Natalie Greer
Creative Director, Copy
GA Communication Group
Natalie exemplifies what women in our industry stand for: A keen curiosity, intelligence and a desire to participate in a field that can make a difference in the care and quality of life of the patients that we all serve. At GA Communication Group, Natalie also brings creativity, enthusiasm and team spirit to every brand assignment. She is the writer that everyone wants on their team and we're proud to name her our Rising Star.
Sarah Gunhouse
Hospital Sales Executive Director, Central Region
Quest Diagnostics
Since joining Quest Diagnostics in 2009, Sarah has had a significant impact at the company. She quickly identified opportunities to collaborate across lines of business and network with peers. Sarah has found ways to enhance communication and cooperation in ways that improve processes and results in growth. She focuses her team on achieving their goals, while developing individual talent and personal growth. Her energy, enthusiasm and initiative all contribute to her success at Quest Diagnostics.
Sarah Hall
SVP, Group Account Director
Saatchi & Saatchi Wellness
Sarah brings energy, intelligence and insight to every project she touches and in turn, has won the confidence of clients and colleagues. Sarah's diverse experience in healthcare has included working on leading brands like Frontline Plus, Nexium, NuvaRing and Ambien CR. Sarah is an extremely valued team member who strives for success and knows how to build her businesses.
Monica Heuer
Senior Manager
CFAR, Inc.
Monica brings warmth, optimism and analytic rigor to clients across the healthcare ecology, as well as an exceptional ability to connect with everyone in an organization, from the most senior executives to employees on the front lines. As co-leader of CFAR's Life Sciences practice, she exemplifies CFAR's commitment to learning and sustainable results. Her education in sociology, public policy and business reflects her considerable intellectual breadth, and both clients and colleagues value her thoughtfulness, integrity and collaborative spirit.
Susan B. Hundley
Project Leader
Quintiles
Susan has quickly become a Rising Star within Quintiles, contributing immensely to the company's standing as the leading provider of market access/market entry solutions. She has risen from a nurse educator to senior management, and is now the project lead for the longest running project in Quintiles' commercial division. The project has exceeded all metrics as a result of Susan's leadership. She has dedicated her profession to improving the healthcare industry and to serving her co-workers and patients.
Kimberly Jablonski
Assistant General Counsel
Bristol-Myers Squibb
Kim is an esteemed and influential leader in the Bristol-Myers Squibb legal organization. Her collaborative and problem-solving approach to innovation and emerging legal issues is helping to drive the company's patient-focused biopharma strategy. An outstanding mentor and role model, Kim excels at engaging and motivating her matrix team and serves a critical role in the professional development of women at BMS. Passionate, energetic and brilliant, Kim is a Rising Star in the pharmaceutical industry.
Phyllis Jarrett-Sutton
Executive Sales VP
Cardinal Health, Inc.
Phyllis is a key member of Cardinal Health's sales team. She contributes significantly to building corporate relations with customers in the healthcare industry. Cardinal Health recognized Phyllis for her leadership skills. She is instrumental in leading a Women's Initiative Network field chapter and dedicated to launching the field chapter for the African American Network. She also serves on the African American Steering Committee focused on the African American constituency.
Colleen Katzman
EVP, Client Services
JUICE Pharma Worldwide
Colleen is a beacon of energy, enthusiasm and talent, providing visionary leadership for a myriad of brands and the people who service them. Always at-the-ready with new ideas and innovative marketing solutions, Colleen infuses the agency with her infectious enthusiasm and intelligence. A brilliant marketer and compassionate mentor, Colleen embodies the best-in-class values that JUICE holds dear.We delight in her humor—and her dazzling style—and truly cherish her each and every day. Congratulations, Colleen.
Therese Kelley WW Director, Professional Education, DePuy Spine and Codman & Shurtleff Johnson & Johnson Therese has been with J&J for 20 years in roles of increasing responsibility in sales, marketing and professional education. She is analytical, detail-oriented, strategic, highly energetic and has led teams through change. Therese is respected by her colleagues globally for her industry knowledge and relationships; is a trusted leader and mentor to others. She is passionate about developing women and has been key in shaping J&J's highly successful Celebration of Women series.
Nida Khan
Senior Practice Executive
Campbell Alliance
Nida utilizes her experience in brand strategy development, market research, business development and regulatory strategy and intelligence in her role as senior practice executive in our brand management practice. Since joining Campbell Alliance, Nida has been instrumental to building our business in the Chicago region, helping clients to assess the commercial opportunity for their products and prepare for global product launches across multiple geographies and therapeutic areas.
Ewa J. Kleczyk, PhD
Senior Director, Custom Analytics
ImpactRx, Inc.
Ewa is exceptionally passionate about her work and represents the heart of our team. Her strengths include great knowledge of the methodological details of our offerings, as well as a strong set of business development skills. She is a great asset in bringing in new business, as well as in contributing to the delivery component of her work. She also contributes strongly to development initiatives and publications while serving as a mentor.
Nancy Ann Konnerth
Executive Director, Regulatory Affairs
Advertising and Labeling
Forest Laboratories Inc.
Since joining Forest in 2009, Nancy has leveraged her expertise and strong leadership ability to build an outstanding advertising and labeling function. Nancy exemplifies every key attribute of a team oriented professional and is a well-respected role model and exceptional mentor to her staff. She has distinguished herself through an approach both strategic and operational, resulting in valued contributions to several successful product launches, as well as the effective regulatory support of our marketed portfolio.
Carly Kuper
VP, Strategic Marketing & Corporate Communications
Compas, Inc.
Carly is a communications superstar and possesses the highest potential for taking our family of companies to the next level. Her expertise in corporate communications and public relations is beyond compare, and she has an unselfish dedication to the company's purpose, its employees, partners and clients. Carly is our agency's "go-to" person when it comes to new and exciting information in the healthcare world. She is truly a Rising Star.
Victoria Landolfi
Senior Director, R&D Projects
Sanofi US
Victoria began her career at Sanofi Pasteur in 1999 and has held various roles in R&D. She earned a Master's degree in microbiology from Rutgers University and an MBA from Fordham University. Victoria is a successful and established project leader resulting in the licensure of products including Flu ID and Flu HD. Due to her established achievements, she now leads our full-investment flagship projects in the area of influenza vaccine development.
Tina M. Larson
Senior Director, Operations & Engineering, Pharma Technical Development
Genentech, Inc.,
A Member of the Roche Group Tina is an enthusiastic and talented leader of Genentech's process development engineering and pilot plant operations groups. Her passion for innovation and creativity has led to a highly engaged and productive organization. She has become an influential role model for women leaders through her contributions to multiple women's organizations and her role as a mentor. We are delighted to recognize the significant impact Tina's leadership has had on our organization and for our patients.
Shira Lawlor
VP, Group Account Supervisor
Flashpoint Medica
Shira is a highly energetic, results-oriented go-getter who continuously seeks to innovate on behalf of our clients. She's driven, focused and passionate about her work and successfully delivers strategically sound and proactive solutions to our clients. Most endearing is her warmth, easy laughter and her commitment to mentoring junior staff members. Shira's earned the respect of her clients and colleagues as someone who goes above and beyond, is recognized as a highlyvalued partner and now an HBA Rising Star.
Kimberly Levy
VP, Commercial Marketing
Epocrates
Since joining Epocrates in early 2010, Kim has made significant contributions to our organization and our customers. She is an inspirational leader that has the ability to adapt to change quickly, maximize her resources and develop talent within her organization. She has also been critical in looking for strategic ways to expand our product offerings to meet our clients' brand objectives.
Meredith Levy
VP, Group Account Director
Publicis Life Brands Medicus
Meredith exemplifies outstanding leadership and inspires those she mentors. She knows when to take control and when to give others room to grow. Her decisive, yet collaborative style is at the heart of her ability to build cohesive teams and enduring client partnerships. Clients value her innovative solutions and strategic thinking. She personifies grace under pressure and is an invaluable role model. Meredith's unwavering good humor also makes it "fun" to work with her.
Nadine Lindley
Director, Commercial Operations
Lundbeck
Nadine is a key member of Lundbeck's Commercial team, overseeing the operations for the psychiatry business unit, including two business partnerships. She has been instrumental in providing cross-functional change management expertise helping the US subsidiary integrate with global headquarters and in ensuring the success of key business alliances.Through sound decision-making and structure, Nadine is playing an integral role in guiding the growth and development of the psychiatry business in the US.
Lisa Logan
Research Manager
The Planning Shop International (TPSI)
Since joining The Planning Shop International's oncology research group last March, Lisa has truly proven herself to be a star. She brings energy, enthusiasm and efficiency to her work, earning the admiration of her colleagues and praise from clients. Most recently, Lisa singlehandedly spearheaded an initiative to conduct a study on oncology patient blogs, and her efforts resulted in an article that was published in the March 2012 edition of EphMRA Magazine. Congratulations, Lisa.
Meghan Lopresto
VP, Multichannel Marketing and Sales Force Analytics
The CementBloc
Meghan exemplifies the rising generation of leaders needed to thrive in our ever dynamic digital marketplace. She has been instrumental in expanding our agency's capabilities, fueling business growth and elevating our profile in the industry. Meghan is truly valued at The Bloc for both her innovative ideas and enthusiasm. She inspires us.
Kristie Madara
Director, US Corporate Communications
UCB, Inc.
Since joining UCB in April 2010, Kristie has made a positive and lasting impact on the organization. A seasoned healthcare communications professional and trusted advisor to the leadership team, Kristie creates innovative employee engagement programs and delivers results through flawless execution. With all initiatives, Kristie rallies colleagues of all levels to achieve a common goal while injecting the spirit of collaboration in the process. Kristie exemplifies leadership and is a respected mentor to emerging leaders in the organization.
Jennifer Malatesta
AERS Principal
Deloitte
Jennifer is a principal in Deloitte's Life Sciences practice, advising some of our most significant clients on a variety of risk issues, including enterprise risk management, compliance and corporate governance. She is recognized as a thought leader in the Firm and leads training and development for our junior staff. Jennifer is a role model in the firm in her ability to balance work and her family and Deloitte is proud to recognize her as a Rising Star.
Susan Markham
Consultant
Insigniam
Susan is our 2012 Rising Star because of her exceptional performance over the past year. In 2011, she moved through two levels of our firm's development program—a first time for our firm. Throughout her six years with Insigniam, she has increased her leadership and capacity for responsibility externally with clients and internally. Her enthusiasm and inspiration are contagious. She specializes in pharmaceutical and healthcare sectors and has helped clients achieve "off-the-chart" results.
Peggy S. McKinnon, PharmD
Senior Director, Health Economics and Outcomes Research
Cubist Pharmaceuticals
Peggy is an accomplished researcher who is passionate about patient outcomes. In 2010, she led the creation of Cubist's health economics and outcomes research (HEOR) capabilities. Aware of the evolving healthcare environment, Peggy knew it was critical to be proactive in demonstrating the value of medicines through rigorous scientific research focusing on patient outcomes. She pushes her team to fulfill their potential in a way that encourages development and commitment.
Kimberly Metcalf
Senior Director, Commercial Training
Celgene Corporation
Kimberly built a best-in-class commercial training department at Celgene. This included the design and execution of the Celgene training facility. Her team has played a critical role in improving our corporate image to third in our industry. Kim's team influences global success of Celgene by sharing, adapting and leveraging best practices across our global markets. She has impacted the success of hundreds of employees by modeling exceptional behaviors and investing in their personal development.
Angel Micarelli
Creative Director
Cramer
Angel joined Cramer just over one year ago, bringing a thoroughly strategic approach, business acumen and attention to detail to the content team. Angel, we appreciate your calm, collaborative approach and the mentoring and respect you show to every member of the Cramer team.Thanks for your leadership in driving our client's messaging forward in creative and memorable ways.
Lauren Miller
Account Director
GSW Worldwide
Lauren brings leadership, drive and a winning attitude to everything she does on behalf of the agency and her clients. She is a creative solutions partner, a skill she has honed by working on a variety of products—most notably expedited launches. Lauren has a true passion for demystifying and bringing innovative platforms to both the agency and client's attention.
Gwen Moore
VP, Operations MD
Mindset, LLC
Gwen's dedication to the progression of MD Mindset makes her a Rising Star. As vice president, operations, Gwen manages a network of over 110K HCPs who assess the quality of sales professionals' calls. Gwen's experience in coordinating on-site training events and gathering market research data through her collaborative efforts with these HCPs deserves recognition. Gwen is an exceptional leader within MD Mindset and her commitment to the organization is immeasurable.
Rebecca A. Morison
VP, US Neuroscience Division
Eli Lilly and Company
Rebecca leads the largest sales organization at Lilly. She is responsible for sales and marketing which she operates as a true business owner. Alex Azar, president, Lilly USA says, "Becki connects with customers in ways that are meaningful for them." Becki leads and develops others by example. She has been a key leader of the Lilly Women's Network. In 2011, Becki sponsored three emerging leaders to the HBA Leadership Conference.
Katie Murtha
Group Account Supervisor
CAHG
This star rose to new heights in 2011 when she worked on a global product launch, bringing strong operational acumen and sharp strategic thinking to bear. With a fierce commitment to team and poise beyond her years, Katie stepped into new leadership territory during this launch to move cross-functional stakeholders toward a common goal. Her contributions to our clients are second-to-none and her actions stand as an exemplary example for our employees at CAHG.
Marianne McGowan Nugent
VP,Training & Program Implementation
Publicis Touchpoint Solutions, Inc.
Marianne is a consummate professional who consistently provides clients with exquisite execution and superb customer service. Marianne has exceptional depth and vast experience in the healthcare industry, but it's her passion, tireless work ethic and can-do approach that make her a strong, well-respected leader. She's committed her life to the industry and remains a supportive member of the HBA. Marianne's contributions undeniably relate to the company's success. She's a true Rising Star.
Leslie Sandberg Orne
Partner
Trinity Partners, LLC
Leslie is a brilliant strategist and dedicated partner to her life science clients. In over 10 years at Trinity, she has been integral to the organization's growth and is an exceptional mentor to the women in the organization.To her clients, she is a trusted extension of their team, providing insight and straight answers to their most complex business questions. Her strategic vision, analytic excellence and personal integrity make her an essential figure in Trinity's bright future.
Karen J. Otero
Senior Account Executive
Mc|K Healthcare
Karen brings a balance of creative, analytical and strategic proficiencies to her work at Mc|K. She is a self-motivated, enthusiastic team player with a "can-do" spirit. Karen's unflinching work ethic and professional standards, and her commitment to getting it right the first time for her clients, brand and internal team have placed her squarely in a position of growth and leadership.We are thrilled that we have Karen at Mc|K, as are her clients.
Kate Owen
Executive Director, Clinical Trial Management
Novo Nordisk Inc.
Kate has more than 20 years of experience in the pharmaceutical industry. She is responsible for more than 170 employees managing dozens of clinical trials enrolling thousands of patients across the US. Kate is an inspiration. She has transitioned a team challenged with quality and morale issues into a high-performing organization that delivers extraordinary results. Under Kate's leadership, trial productivity increased by 8% and audit findings decreased by 43%, despite a 23% increase in workload.
Aimee Pagano
Staffing Director
Publicis Healthcare Communications Group
From the moment she arrived in 2009,Aimee has added value to PHCG. She expertly built the staffing function from scratch, while recruiting top-tiered talent. She has exceptional operational, client service, leadership and partnering skills, and has earned the respect of hiring managers and HR peers alike. Aimee has a keen eye for talent and an innate ability to match the right people with the right jobs—a real win/win.
Laura Parks, PhD
SVP, Marketing & Sales
DSM Pharmaceutical Products Inc.
A member of the management team, Laura is responsible for global marketing and sales across the business group. Prior to DSM, Laura was with World Financial Group and Solae, a public company of over 10,000 employees. Laura holds a PhD in Food Science from the University of Georgia and a BS from Ohio State University. Laura is highly regarded as an inspirational leader and role model in the healthcare industry and within DSM.
Chris Ann Patrick
VP, Finance Torre
Lazur Healthcare Group
A team-oriented problem solver throughout her 16-plus years with TLHG, Chris Ann is a true Rising Star. As my right hand, she has been instrumental in building a team and creating analytical tools which have increased collaboration between finance and the rest of the Agency. Through a combination of hard work, executional excellence and sheer talent, Chris Ann has become a change agent in the finance department and an emerging leader in the TLHG network.
Krista Pinto
Global VP, Strategic Corporate Accounts
inVentiv Health
Krista's determination and passion for healthcare have driven her from her start as a sales representative to her current position as global vice president of strategic accounts at inVentiv Health where she develops integrated solutions for top pharmaceutical clients. Krista fearlessly takes on new challenges, evidenced by her ability to handle projects across various therapeutic categories and her active involvement in many nonprofit organizations, including the planning of the HBA's Woman of the Year event.
Kimberly Platten
Client Partner
Cegedim Relationship Management
Kim is an enthusiastic and engaging leader who is committed to innovation and service. Her experience, knowledge and diligent pursuit of service excellence have made her highly respected by both colleagues and business partners. Kim's energy, creativity and unwavering dedication extends beyond work-related tasks. Serving as co-chair of the company philanthropy committee, Kim has distinguished herself as a valuable role model to those around her.We are proud to recognize her as a Rising Star.
Kimberly Plessala
Executive Director
Bench International
Kim has been with Bench International since 2007. Her commitment to performance and client focus is stellar and is the essence of our business. Her dedication is exemplary and her followup unparalleled—she enhances both our company and our profession. Kim has endless passion to learn and refine her professional knowledge. She is the epitome of a Rising Star and we are proud that she is part of our team.
Shanna Potter
Manager, Quality Systems
Big Communications, LLC
Shanna has what every organization looks for in a leader—commitment to doing what's right for the company, unwavering optimism, an unmatched work ethic and a sincere desire to grow so that she can have a positive impact on the business. She's our Rising Star in so many ways and for so many reasons, but mostly for being a shining example of what Big is all about to everyone she meets.
Jennifer Potts
Manager of Business Development
Bulletin Healthcare
Built on a foundation constructed on marketing, creativity and a tireless energy, Jennifer has exponentially grown the medical education division of the company. She's applied her ingenuity and consultative approach to her clients' objectives and messaging, which has resulted in a multitude of successful campaigns and achieved objectives.We look forward to her talents further developing other divisions of Bulletin Healthcare, including devices, allied health and select specialty markets.We are thrilled to honor her.
Mary Puncochar
Bayer Healthcare Diabetes Care, US Sales and Marketing, Area Sales Manager
Bayer Healthcare
Mary is passionate about developing people and has created many development programs for her representatives and managers, including local women's leadership initiatives and a new hire mentor program that have been adopted nationwide. Her ability to manage and lead change continues to strengthen the organization overall and results in low voluntary turnover despite significant market and organizational changes. Every day, Mary exemplifies what good leadership looks like and continuously demonstrates a contagious positive attitude.
Laura Kellers Queen
VP, Human Resources - Americas
Teva Pharmaceuticals
Laura's impact on Teva is evident in the programs she has developed and her role as a true partner to the business. Her knowledge of HR, as well as the depth and breadth of Teva's business have enabled her to create programs that better serve the company and employees and ensure the development of our leaders—present and future. Laura mentors younger staff and looks at ways to challenge them in their growth and development.
Kara Quick
Senior Editorial Director
Synchrony Medical Communications
Since joining Synchrony, Kara has distinguished herself for her intelligence, integrity, and leadership. Kara has been instrumental in the development and delivery of many large-scale publication, communication, and training campaigns. In her role as Senior Editorial Director, Kara excels at attracting and mentoring a world-class editorial and writing team while ensuring that Synchrony continues to deliver the highest-quality content for our clients, health care professionals, and patients.
Michelle Radney
Regional Sales Director
Primary & Specialty Care
Eisai Inc.
Michelle is being recognized for her consistent above and beyond contributions and her passion for employee development.This is illustrated by Michelle achieving Eisai's most-prestigious sales award as a representative, manager and director. Her skill in handling complex challenges, coupled with a strong work ethic and partnership focus sets the standard for others to follow. She is a trusted leader with a wealth of potential.
Amanda Rhodes
Director, Strategic Solutions
McKesson Patient Relationship Solutions
Throughout her professional career, Amanda has been a proven thought leader and driver of health innovation, particularly in the area of health behavior change. Most recently, she spearheaded the launch of our behavioral call campaign program that uses tailored conversations to optimize patient adherence. Her passion, leadership, expertise and work ethic has earned her the trust and respect of both her clients and colleagues. Amanda is the epitome of a Rising Star and is well-deserved of this designation.
Laura Richman, DVM, PhD
VP, Research & Development - Translational Sciences
MedImmune
Laura is an award-winning pathologist and head of MedImmune's innovative translational sciences area.With oversight of predictive science activities in oncology; respiratory, inflammation and autoimmunity; and infectious diseases, Laura excels at bringing new approaches to drug development for patients with unmet medical needs. An inspiring leader, Laura is a role model for others. She is widely published, participates in numerous scientific conferences and community activities, and runs MedImmune's Zumba fitness class.
Jessica Riebe
SVP, Senior Program Director
IntraMed, a Sudler & Hennessey Company
Jessica's talent, poise and skills make her one of the brightest stars in the IntraMed universe. Her extraordinary business acumen and leadership abilities have impressed numerous clients. Jessica manages large, complex accounts effortlessly and efficiently, delivering top-quality content and innovative strategy, while simultaneously mentoring IntraMed talent. No task is too difficult— whenever clients request new initiatives, she always exceeds their expectations. She accomplishes these feats while continuing to be a pleasure to work with.
Andrea Rinkewich
VP, Account Supervisor
Saatchi & Saatchi Health Communications New York
Andrea is the person that clients want at their side for everything, from insightful strategic thinking to operational excellence. Her contributions have helped brands address market challenges big and small, and have helped her client teams stay ahead of the increasingly fastpaced demands of the pharmaceutical marketplace. Andrea is also a key motivator and mentor to her team and can always be counted on to be looking out for the happiness and continued development of those that she supervises.
Rachael Person Robertson
Director
PricewaterhouseCoopers
Rachael is a key driving force for PwC's internal audit practice, specializing in the pharmaceutical and life sciences sector. She is a dedicated professional with a passion for consulting within the pharmaceutical and medical device industry and is recognized by her clients as a trusted advisor and thought leader. Rachael's enthusiasm and energy has catapulted her as a mentor and role model within PwC for many aspiring women.
Erin Rossi
Senior Art Director
Palio
Whether she's designing Palio's new corporate website, laying out an award-winning journal ad, or brainstorming cutting-edge ideas for a new business pitch, Erin works tirelessly to push the creative boundaries. Her colleagues and managers describe Erin as a sharp and thoughtful art director, and a real pleasure to collaborate with. Erin is one of Palio's most sought-after and treasured resources, and without doubt a true Rising Star in the creative healthcare field.
Karen Rustek
Executive Director, Enterprise Applications
Daiichi Sankyo, Inc.
When you talk to Karen, you'll immediately notice that she always seeks to raise the bar, setting her apart from others. Karen leads a very large team and is well-respected for being accessible and accountable for the team's success. Karen was chair of the DSI Women's Forum in 2010 and built strong partnerships with the DSI Women's Forum in Japan and has influenced the adoption of best practices there.These characteristics and record of success make Karen a role model for those around her.
Christine Rydzik
Program Manager
Dowden Health Media
With her absolute commitment to providing clients with the highest level of service, her encyclopedic knowledge of the initiatives she oversees, her unflagging work ethic and her formidable problem-solving abilities, Christine personifies the Dowden Medical Communications Group's ethos and guiding principles. Since joining the company in 2006, Christine has made tremendous contributions to our operating companies—Medical DecisionPoint and Convergent Health Solutions—and, on behalf of her colleagues, I congratulate her on this much-deserved recognition.
Carol L. Sabourin, PhD
Senior Research Leader and Chief Scientist for the Battelle Biomedical Research Center
Battelle
Carol is highly respected for her scientific acumen but her exceptional leadership skills are what distinguish her. Carol has a natural interest in people and their learning and development. She makes time to explain the "basics" to a junior scientist or read a colleague's manuscript and provide expert insight. In all that she does for others, she never expects any acknowledgement or recognition. Her motivating force is to facilitate people in moving critical science forward.
Laura Schwieterman
Bayer Healthcare Consumer Care, Senior Brand Manager, Alka-Seltzer Franchise, Campho-Phenique, Bronkaid, Neo-Synephrine
Bayer Healthcare
Laura takes on challenges with optimism and helps drive the success in any organizational initiative she leads or participates in. Leading her Alka-Seltzer Plus team to reach a decade-long sales goal and launching a new product in record time are just two examples of her ambitious achievements. Laura exemplifies a Rising Star through her business results in addition to participating in the HBA group mentoring program, contributing to writing the Bayer Healthcare Women's Leadership Initiative (WLI) national strategy and spearheading site-specific WLI programming.
Denise Sena
Product Manager, Global Franchise Planning
MERCK
From my first conversation with Denise, I knew she was a Rising Star. I'm impressed by her confidence, credentials, courage and candor, but most of all her willingness to serve. In her daily work and her extracurricular activities, Denise shows up as a passionate, authentic, service leader. Denise makes a huge contribution via Women's Leadership and Initiatives, enabling participating colleagues to enhance their skills and confidence. In her "day job," Denise empowers her team to grow.
Isabella Sergio
Account Supervisor
The Hobart Group
Isabella is known for her adherence to high standards and strong commitment to the Hobart Group organization, her clients and her team. She lives Hobart's guiding principles, demonstrating a passion for her work and a drive to exceed client expectations. Isabella's leadership style is defined by her aptitude to set and achieve goals, encourage positive communication and by her ability to clearly identify and articulate every client need from abstract to specific.
Amy "JoyL" Silva
Regional Business Director, Northwest Region, US Primary Care
Pfizer Inc
JoyL is a creative thinker and natural leader who consistently stands out among her peers. Her innate understanding of how to advance patient care and improve the healthcare system is invaluable to our business. One of 15 regional leaders in US Primary Care, JoyL is responsible for generating more than $300M in revenue. She is a clear Rising Star who exemplifies Pfizer's values and is committed to building a culture of accountability and collaboration.
Kelly Simcox
Head of Clinical Science & Operations Project Leaders for Early Development
Sanofi US
As the global head leading projects for therapeutic strategic and distinct project units and our external partners, Kelly has been very instrumental in contributing to the overall leadership of clinical sciences and operations platform in R&D. Since joining the organization in 1993, she has been a role model regarding staff development and team building, engendering a business mindset, as well as a culture of excellence and continuous improvement. Her positive demeanor, determination and innovation in clinical trial operations are marks of a Rising Star in the pharmaceutical industry.
Priya Singhal, MD, MPH
VP, Medical Strategy- Education & Publication
Vertex Pharmaceuticals Inc.
Priya currently leads Vertex's Global Medical Affairs strategy, education and publications program and demonstrates Vertex's core values through her leadership and innovation, as well as tireless execution. Since joining in 2008, she's proven herself to be a successful collaborator and mentor. Priya's analytical safety presentation at a 2011 FDA Advisory Committee meeting, as well as her ability to field questions and communicate the data, greatly contributed to the approval of INCIVEK™,Vertex's approved medicine for hepatitis C and undoubtedly established her as a 2012 Rising Star.
Tamara Sniffen
VP Operations, Integrated Business Planning
Stryker
Tamara has inspired teams to focus on service excellence, continuous improvement and their own personal growth. Her insight and ability to manage complex issues is why she is now leading Stryker's company-wide processes for integrated business planning and product lifecycle management. Tamara has a proven history of developing strong teams that deliver results. Her keen sense of talent while being connected to their career success is what sets her apart as a true inspirational leader.
Donnia Sooklal
Senior Manager
Ernst & Young
Donnia is a wonderful strategic thinker, highly-effective project manager and dedicated team player. She has been instrumental in defining leading-edge strategies for E&Y clients who are evolving to a more patient-centric business model. Both creative and pragmatic, Donnia advances innovative solutions on diverse projects—R&D finance, global access and Pharma 3.0 transformation. Donnia has a breadth and depth of understanding that positions her to provide relevant insights and thought leadership to key industry stakeholders.
Consuelo Barrett Staheli
Director Global Strategy and Portfolio
Covidien
With 20-plus years' experience in the healthcare industry, Consuelo is a passionate and influential leader. Valued for her integrity, collaborative approach and thoughtful insights, she's earned a reputation for innovative, strategic portfolio decisions. Further, Consuelo established one of our first women's leadership affinity groups to attract, retain and develop women. She not only strives to ensure Covidien is a strong, successful company, but is a driving force in guiding and developing all women throughout the company.
Molly Stallings
Group Account Supervisor
MicroMass Communications, Inc.
Since arriving at MicroMass, Molly has sparked the agency with her leadership, extensive pharma expertise and exceptional client service skills. She sets the standard for excellence in account leadership and agency team partnerships. She developed and implemented agency skillsbuilding programs and has enthusiastically mentored our account staff. Her clients rely on her guidance and strategic counsel.They consider her part of their team. Molly is a guiding light for our agency and a Rising Star in our industry.
Laura D. Tannenbaum
SVP Creative Director
The RCW Group
In her two-plus years as creative director of RCW McCann Healthcare, Laura has created an environment of inspiration and encouragement. With numerous awards and a growing digital capacity, her stewardship has provided the vision that has transformed RCW McCann Healthcare into a creative force.
Joanne Uhl
Head of Planning, Project Planning and Management
GlaxoSmithKline
Joanne is a highly energetic, results-oriented leader who took on the role of global champion for our Women in Science Experience (WISE) at GlaxoSmithKline (GSK). By reaching out to staff in R&D, Joanne has built a network focusing on positive experiences for women. In addition to global broadcast events, Joanne has inspired local champions to conduct networking and training events. Joanne is a well-respected role model across GSK, who inspires others with her integrity, openness, collaboration and desire to help others continually contribute to the organization's success.
Martha Vincent, PhD, FACCP
VP, Clinical Development
Agensys, Inc., an affiliate of Astellas, LLC
As the company transitioned its first products into clinical development, Martha showed exemplary skill-building and leading a large, multi-disciplinary team to support this growth. Under her leadership, six INDs were filed leading to six phase I studies and the successful completion of a global phase II clinical program. Martha has outstanding relationships with key stakeholders and business partners. Known for her uncompromising approach to timeline management, quality and budget efficiency, she is highly respected.
Celine Vita
Senior VP, Group Managing Director
CDM NewYork
Celine's strong global background has been essential in establishing CDM's presence around the world. From the development of our emerging markets division, and her leadership in the integration of the CDM Group World agencies, Celine shines as a strong collaborator and strategic thinker. She received an MBA from the University of Delaware; a BA in marketing from the American Business School in Paris, France; and a BA in marketing and advertising from the Market'Sup/Sup de Pub in Paris, France.
Latesha M. Williams
VP, Account Group Supervisor
Draftfcb
Is it possible for someone to spark a near universal reaction? All who know Latesha describe her with a singular word: grace. Latesha exudes a unique combination of calm passion—for her brands, clients and colleagues. In oncology, this passion extends to patients and families who deserve it most. Latesha's purpose and style even extends to the MBA she will soon complete. Grace under pressure, sharp intellect and a warm smile.That's our Rising Star, Latesha.
Jennifer Wolfgram
VP, US Regulatory Compliance and Quality
Roche Diagnostics Corporation
As the vice president, US regulatory compliance and quality for Roche Diagnostics, Jennifer is passionate about Roche's customers and the patients they serve. Her background in microbiology and virology, combined with prior leadership roles within the commercial organization, have contributed to her ability to collaborate and innovate; ultimately ensuring that Roche's customers get the critical products they need to improve the lives of patients. Her passion and inspiration is contagious and thus the reason that she is absolutely a Rising Star within Roche Diagnostics.
Susan Zienowicz
SVP, Roche Applied Science
Roche Diagnostics Corporation
Proving that "if you focus on the people, the results will come" and a customer-centric outlook on business are what have taken Susan from director of marketing and sales to her current role of senior vice president and head of applied science at Roche. Susan's reputation of delivering results in a complex market, providing feedback in an open and honest manner and her dedication to building leadership skills in others make her a Rising Star and a highly sought-after mentor to many men and women throughout Roche Diagnostics.
Read more about the 2012 HBA Rising Stars in the May 2012 issue of PharmaVOICE, a media partner of the HBA.