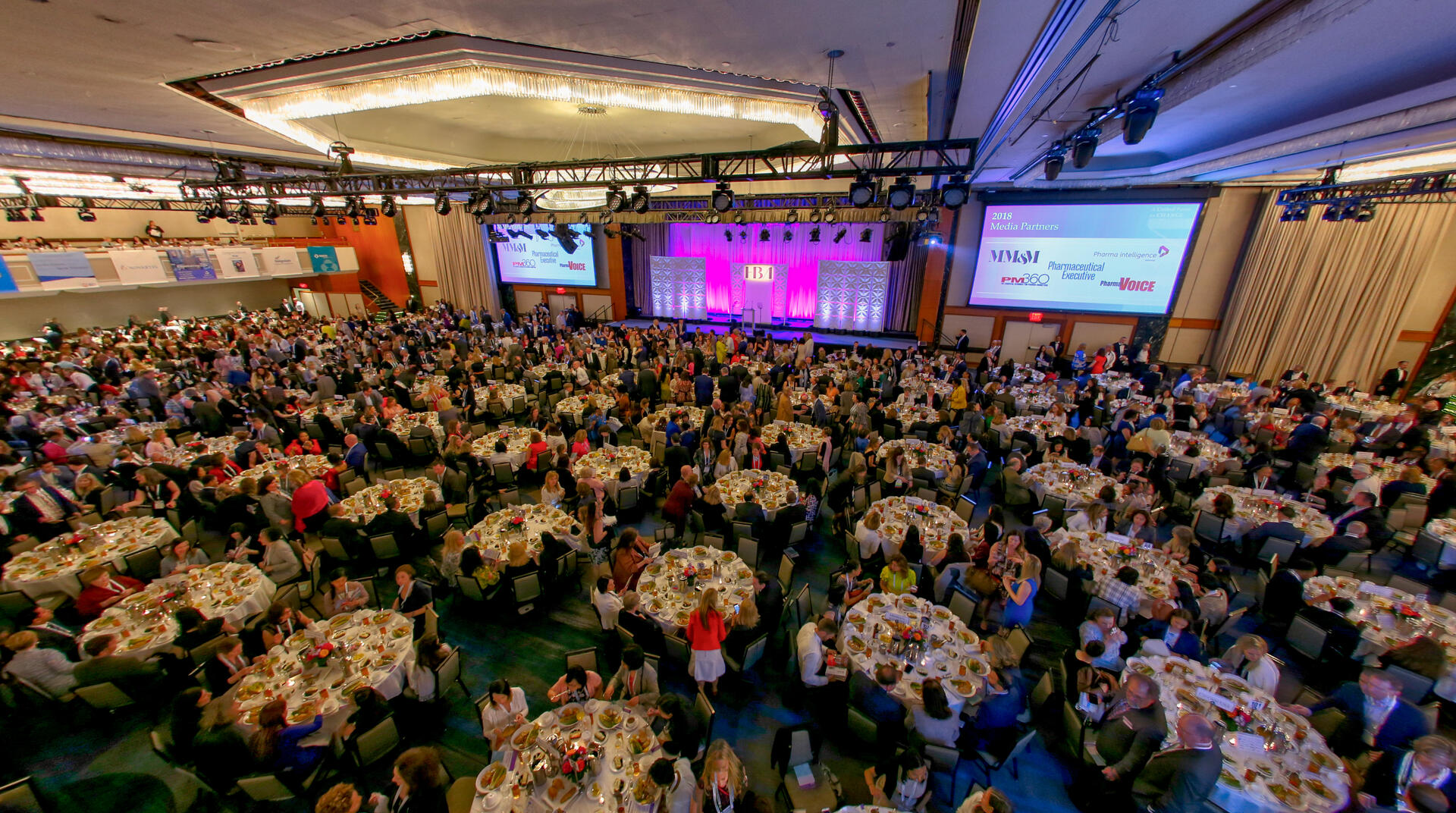 HBA Rising Stars are professionals in various sectors of the healthcare industry, including pharmaceutical, biotechnology, advertising, public relations, medical education and market research, among other fields. Nominated by HBA's corporate partners, the Rising Stars represent various career stages and disciplines, and have demonstrated noteworthy achievements and proven attention to furthering their careers.
Titles reflect positions at the time the award was presented.
Christie Anbar
Senior Client Counsel and Business Development
Chandler Chicco Agency

A 20-year veteran of the healthcare communications field, Christie is recognized by clients and colleagues for her unrelenting passion for the work and quest for outstanding results. With broad and deep experience in virtually every disease and product category, Christie has the ability to apply her expertise to every situation, making her an indispensable member of Chandler Chicco Companies. No matter what the challenge, Christie always brings a keen insight, making her someone you always want to have at the table.

Gianfranco Chicco, Founder, Principal, Chandler Chicco Companies
Mary Anderson
President, HLS, a part of CommonHealth
CommonHealth, a WPP Company

Mary combines her knowledge of medical communications, thought leader development, and scientific messaging with a keen understanding of how to deliver targeted, resource-efficient programs for our clients. Mary's efforts have supported the successful launch and marketing of Rx and OTC products to healthcare professionals of all levels. She is known by clients and peers alike for her exceptional ability to identify core issues and summon the right resources and talent to deliver results beyond expectations.

Stacey Singer, Managing Partner, CommonHealth
Cheryl Beal Anderson, PharmD RAC
Director, US Regulatory Affairs
Eli Lilly and Company

Following significant professional contributions, Cheryl joined Lilly in 2002. She was promoted to Director in 2005, based on demonstrated leadership and mentoring skills. Cheryl helped to start the Indiana Chapter of the HBA in 2003 and as President led the membership to a 40% increase in 2008. Further, in 2008 she enrolled in an Executive program to develop her business acumen. Cheryl's leadership is best described by her management as "solid, action-oriented and generally, terrific."

Dr. Jeffrey Emmick, Executive Director, US Regulatory Affiars
Christine Armstrong
VP/Creative Director-Healthcare
IOMEDIA

IOMEDIA prides itself on being a different kind of creative agency; Christine Armstrong embodies those differences and elucidates them for her ever growing group of loyal clients and staff that she motivates on a daily basis. Her rare ability to develop and deliver meaningful concepts and creative solutions to the Healthcare market has been an astounding accomplishment. As a true leader she is a force within the agency, as well as within the community, committed to helping her team, associates, and fellow professionals stretch their minds and capabilities to find they can achieve remarkable results.

Peter Korian, President/Founder
Pascale Auge, PhD
Senior Manager
Ernst & Young

Pascale is a key driving force for the Ernst & Young Innovation & Life Science advisory practive in EMEIA. Her entrepreneurial spirit and ability to champion innovation also consistently delivers exceptional outcomes internationally for our clients. With her unyielding work ethic and enthusiasm, Pascale also manages her team with extraordinary skills, while garnering commitment and loyalty. While being personally committed to LS innovation, Pascale also manages to balance her time to raise her two children.

Cherie B. Faiella, Executive Director
Jill Balderson
Senior Vice President, Strategic Marketing/Business Development, HealthEd Group
HealthEd Group

Jill is a forward-thinking leader and initiator. Her industry expertise has fueled award-winning marketing campaigns, resulting in rock-solid customer relationships. An innovative problem-solver and effective communicator, Jill has gained the respect and admiration of her clients and colleagues. Her instincts are always on-target and she continues to raise the bar with her exceptional strategic insights. A true embodiment of the HealthEd vision, Jill is a bright and "Rising Star."

Stephanie Mazzeo-Caputo MS, MSW, SVP, Organizational Development
Bethany Beck
Assistant General Cousel
Takeda Pharmaceuticals North America, inc.

Bethany is an exceptional manager, all inspiring mentor, and a great listener and advisor. Her reorganization of TAP Pharmaceutical Products Inc's R&D contracting processes and Legal function gained praise and appreciation from her internal clients while effectuating efficiencies and a streamlined approach for R&D's contracting. Her management style emphasizes the ideas of development, opportunity and grace and as a leader she is entrepreneurial, bright and visionary. She truly is a Rising Star.

Ayesha Sproul Lemons, Paralegal
Karen Beckert
Senior Partner, Group Account Director
Ogilvy Healthworld

Karen Beckert is truly a rising star at OgilvyHealthworld. She has integrated marketing communications experience on such brands as Xyzal, Advair, Procrit, Enfamil and Remicade. She led the development of the award-winning unbranded Web site, knowmenopause.com, for Wyeth's hormone therapy products and launched the CRM program, Mpowered Woman, for Premarin/Prempro. She is a dedicated professional who thrives on solving her client's business challenges and is an absolute pleasure with which to work. Congratulations Karen!!!

Donna Tuths, President, Ogilvy Healthworld NA
Danielle Bedard
Account Director
Palio

Danielle possesses vast, valuable experience in the marketing and healthcare industries. Her tireless dedication to strategic excellence and superb customer service has made her one of our most sought-after account leaders by many of our clients. Danielle manages multicomponent campaigns, branded and nonbranded patient and professional marketing, training and sales force communication initiatives, Web site development geared toward patients, physicians, and pharmacists ­ with style and grace and the determination to make her brands shine.

Dan Bobear, EVP, Managing Director of Client Service
Lauren Berkoff
Account Supervisor
Euro RSCG Life LM&P

Lauren is the true definition of a Rising Star. As an integral part of the account services staff at Euro RSCG Life LM&P, she has continually risen to the challenges placed before her and has performed at the highest level. She embodies the values of the agency, consistently striving to maintain a high level of customer focus, integrity, and positive work ethic. We could not be prouder of her achievements.

Scott D. Shevrin, SVP, Management Supervisor
Lisa Blair Davis
Senior Director, Human Resources
Centocor Ortho Biotech, Inc.

In a year of significant organizational change, Lisa played a critical role in establishing both a strong partnering environment amongst the senior leadership, as well as developing a collaborative and focused team of HR professionals. Her ability to manage complexity has been crucial to rapidly achieving stability and cohesion across the organization. Lisa is highly respected for her commitment to advancing the values of our organization, and championing the development of individual talent.

Kim Taylor, President
Joanna Breitstein
Executive Editor, Pharmaceutical Executive Magazine
Advanstar Medical Economics Healthcare Communications

Joanna, executive editor of Pharmaceutical Executive, has interviewed countless CEOs and other pharma executives since joining the magazine in 2000. She has earned numerous awards, including several Neal Awards and a Kaiser Family Foundation fellowship that led her to her life's work: Joanna is president and co-founder of the International HUG (i.HUG) Foundation, a 5013C organization whose mission is to help needy orphans in Uganda. Joanna's passion for journalism and volunteerism sets her apart as a professional and as a person; we are proud to work with Joanna and recognize her as a Rising Star.

Laura Wagner, Vice President of Operations, Life Sciences, Advanstar
Melody Brown
Vice President, Regulatory Affairs
Millennium Pharmaceuticals, Inc.

Melody Brown brings a wealth of experience and a collaborative, goal driven, and pragmatic spirit to our organization. As Vice President of Regulatory, she manages a complex set of tasks and interfaces involving external global regulatory agencies and multiple internal stakeholders in both the drug development and commercial areas. As part of the new global center for oncology development for Takeda- Melody has established a new vision and mission for regulatory required for global leadership in oncology.

Dr. Nancy Simonian, Chief Medical Officer
Jennifer Brownstein
Art Director
Clinical CONNEXION, a CONNEXION Healthcare Company

Jenny is the glue (pun intended) of the CONNEXION Healthcare (CXHC) creative team. She provides innovative art direction to CXHC's many clients and creates products with cutting-edge presentability. Her designs span a variety of media and exhibit eye-catching appeal while retaining the utmost in functionality. Promoted to Art Director in 2007, Jenny has created award-winning designs and received finalist status by The Global Awards, an international awards group recognized as the standard for creative excellence in healthcare communications. Her dedication, professionalism, and "can-do attitude" make Jenny a valued asset to our organization.

Jim Welsh, Vice President, Creative Director
Angela Brzyski
Vice President - Business Development
Practice Therapeutics

Angela has made significant contributions to Practice Therapeutics through her extensive industry experience, insight work ethic and commitment to growing the business. Angela's exceptional abilities at understanding customer's needs and developing business solutions have resulted in novel clinical education solutions that have provided significant benefits for healthcare professionals and patients. On top of this, Angela is an HBA committee chair for the Volunteer Committee of the Metro Chapter.

John Beriont, President
Michele Cytron Campbell
Vice President, Legal Affairs
Endo Pharmaceuticals

Michele is a unique individual who leverages her global, academic and pharmaceutical experiences to support the business. Her positive, collaborative and solution oriented style defines her leadership. During her tenure, several new best practices have been implemented advancing the organization's approach to contracting, asset sourcing and product commercialization. She assists colleagues at all levels, advancing their skills. Michele is a team player and consummate professional who works tirelessly to make things happen for our company and her co-workers.

Nancy Santilli, Vice President, Special Projects
Kristy Caraballo
Vice President, Account Director
Echo Torre Lazur

An 8-year veteran of Torre Lazur, Kristy has risen through the ranks with style and grace developing so many rising stars along the way. A trusted leader, natural mentor and valued partner to clients and colleagues alike, Kristy is one of echo-TL's greatest role models. With an advanced degree in marketing and a rich knowledge of human behavior, Kristy is just one of those people folks want by their side everyday.

Marci Piasecki, CEO, Torre Lazur Healthcare Group
Caren Catizone
Vice President, Client Services
Group DCA, Inc.

Caren's meteoric rise through the ranks at Group DCA to VP, Client Services is testament to her leadership skills, work ethic and strategic acumen. She has earned the respect and admiration of her GDCA colleagues and clients alike. Caren's ability to elevate the game of those around her is not only indicative of her past successes but also illustrates her great potential. We look forward to the continued growth and success of Caren in the future!

Steve Sudovar. SVP, Client Service
Kimberly Conner
National Sales and Account Director for Select Access
PDI, Inc.

Kim Conner joined PDI as a Sales Representative in 1995. She quickly advanced through the ranks to National Sales Manager of the Select Access Team. In this position, Kim is responsible for seven products and oversees 33 managers and 500 sales representatives. She has been instrumental in creating developmental roles to support the career growth of her team. Her dedication extends beyond PDI as she is an annual participant of Avon's Walk for Breast Cancer.

Nancy Connelly, Sr. VP of Sales Services
Vicki Crow
Vice President, Customer Service Management and Chief Customer Officer, Cegedim Dendrite Americas
Cegedim Dendrite

Since joining the company in 2001, Vicki has held several leadership positions within our customer facing organization and has been a principal architect of Cegedim Dendrite America's overall customer service & satisfaction strategy. In 2008, Vicki was appointed as the "Chief Customer Officer" for her vast contributions in implementing customer centric processes. As such, she executed the first formal company program called Legendary Service that recognizes employees exceeding customer's expectations. Vicki personifies Cegedim Dendrite's key corporate values of "delighting our customers." Vicki spent fifteen years with a Top 20 Pharma company before joining Cegedim Dendrite.

Laurent Schockmel, Chief Operating Office, Cegedim Americas
Carrie D'Andrea
Associate Director, Clinical Research
Meda Pharmaceuticals Inc.

Carrie D'Andrea exemplifies performance excellence. She has the ability to see an entire project, break it down into workable components, and then focus on the details. Her accomplishments are recognized well beyond her own department, and she continues to take on new assignments. It is a comfort to know that Carrie is the leader of important projects; they will always be completed on time with a high degree of professionalism.

Dr. Richard H. Spivey, Vice President Development - Meda Group
Lisa Darby
Group
PACE, Inc., a Lowe Healthcare Company

Lisa has excelled in her position as Group Art Supervisor and has firmly established her value at Pace. Beyond her excellent design skills, Lisa has sharpened her ability to think conceptually and strategically. Lisa is the go-to person when you need smart, break-through creative concepts. With her positive attitude and charming demeanor, she is an absolute pleasure to have at Pace. We are very proud that Lisa is our Rising Star.

Sharon McCarroll, Managing Director
Carmel Daughtery
Vice President, Project Management Office
BTA Pharmaceuticals (Biovail, the Company)

Carmel Daughtery joined Biovail as Director, Partnership Management in 2005 and within fifteen months was appointed to Sr. Director, Project Management. In addition to her principal duties managing R&D projects within Biovail, Carmel spearheaded important process improvements of that function. Within one year she was promoted again to VP, Project Management Office and added oversight of internal transformation initiatives to her credentials. She is a leader and brings tremendous dedication to her functional role. Carmel is an asset to our organization and is truly a bright and Rising Star!

Gilbert Godin, Executive VP and COO
Leanne Davis
Associate Director, Insights and Analytics
Communications Media, Inc. (CMI)

Leanne's unrelenting work ethic and dedication to her team and clients make her a true role model. In the five years that Leanne has been with CMI, she has demonstrated all of the values that CMI holds true, especially accountability, integrity, innovation, and creativity. She strives to improve CMI's best practices and elevate the company to higher standards. Leanne is a true professional and will no doubt continue to grow and succeed thanks to her dedication to top performance.

Alya Sherman, Executive Director, Media Strategies
Shantha Deshpande, MD
Executive Director, East and Resource Mgmt. Medical and Scientific Affairs
Novo Nordisk, Inc.

Shantha plays a leading role in working within Novo Nordisk as well as the healthcare community to increase awareness and importance in changing the course of diabetes. Through her leadership style she inspires her team and the people that she collaborates with to find solutions which will support the physician with the ultimate goal of benefiting the patient. In addition, she has played a critical role in the launch of Women in Novo Nordisk (WINN) – an initiative to foster leadership development for women.

Camille Lee, Vice President, Diabetes Brand Marketing
Maria DiLeo
VP, Group Account Director
Brand Pharm

Although Maria has been with Brand Pharm for a relatively small amount of time, she has had a very big impact. Her strategic acumen, pragmatic intellect, and tireless work ethic complement her honest and forthcoming style. These qualities have proven to be an invaluable resource to clients and to the young talent that she mentors. She is an exceptional leader who will help the agency continue to deliver on its vision of "Stimulating Alternative Thinking."

Kathy Magnuson, EVP, Managing Director
Hope R. D'Oyley- Gay
Assistant General Counsel
GlaxoSmithKline Consumer Healthcare

Hope is a key talent and valued business partner She routinely gets to solutions for seemingly hard to resolve issues. She demonstrates strong leadership and is without doubt a role model for many of the attorneys at GSK. Hope develops and supports her team, and has an incredibly high emotional intelligence that she brings to each of her interactions, inside and outside of GSK. She has the highest integrity and is a joy to work with.

Catherine Angell Sohn, Sr. VP, WW Business Development & Strategic Alliances, GSK Consumer Healthcare
Mary Alice Dwyer, PharmD
Vice President, Medical Affairs
AstraZeneca Pharmaceuticals LP

Mary Alice is the consummate business executive and leader. Under her leadership, Medical Affairs consistently delivers exceptional performance for patients and healthcare providers. While she is passionate about her team, Mary Alice never loses sight of the goals of the larger organization. She is a strong team player contributing to cross-functional teams that address strategic issues relating to business integrity and culture. Her commitment to mentoring and role modeling women's leadership at AstraZeneca is well recognized. Mary Alice is truly a"Rising Star".

Glenn Engelmann, Vice President, Policy, Legal & Scientific Affairs and General Counsel
Doreen Eckert
Vice President, Account Group Supervisor
AgencyRx

Doreen's positive attitude, infectious personality and unwavering commitment to strategic partnering make Doreen an invaluable asset to her global clients and AgencyRx. Doreen is a true leader in every sense of the word – mentoring, strategic partnering and team building are just a few of the traits that separate Doreen from her peers. It's clear that Doreen's star has been rising for a number of years and fitting that she receives the recognition she deserves. Congratulations Doreen!

Laurence Richards, Managing Partner, Director of Client Services
Cheryl Elder
Senior Director Regulatory Affairs
Strativa Pharmaceuticals, a division of Par Pharmaceutical, Inc.

Cheryl leads Strativa's Regulatory Affairs function. Cheryl excels in her regulatory job, while also regularly contributing to clinical, business development and marketing. She is thoughful and balanced and very effective at partnering across disciples. Humorous and approachable, Cheryl is well respected by all of her colleagues. Cheryl possesses the requisite skills for success; her nomination is well deserved. We are lucky to have Cheryl as a colleague. Her star is just beginning to rise.

John MacPhee, President
Kendra Fanara
Sr. Manager, Market Research
Tibotec Therapeutics

Kendra Fanara is a Market Researcher who goes above the call of duty in her job. She specifically focuses on how to move the business forward focusing on strategy. Through her market research, she provides Marketing with clear strategies to increase brand usage. This past year, we launched our second drug utilizing the strategy that Kendra recommended based on her market research results. The drug exceeded forecast. Kendra is considered a change agent in the Market Research department.

Terri Boyd, Sr. Director, Market Research/Competitive Intelligence
Margaret (Maggie) Feltz
Associate Director, Corporate Compliance
Purdue Pharma L.P.

Maggie is recognized throughout Purdue and the pharmaceutical compliance community for her intelligence, loyalty, dedication, ethical standards, and commitment to others. She played a leadership role in implementing a state-of-the-art compliance program for Sales and Marketing, and is a sought-after speaker at industry compliance programs. In addition to mentoring and supporting her colleagues, Maggie teaches English as a Second Language and has spent one vacation volunteering at an orphanage in Africa. She is a true star!

Bert Weinstein, Vice President, Corporate Compliance
Christine Finamore
Managing Partner, CDMiConnect
Cline Davis & Mann, Inc.

Christine Finamore is a true CDM star. She joined the Agency in 1988, and hasn't stopped rising since. After more than 10 years with CDM as a Producer (Chris oversaw many now well-known DTC campaigns, including Bob Dole's ED spot for Pfizer), Christine ventured into digital healthcare marketing. Along with two partners, she formed CDMiConnect, helping to grow it into a thriving interactive and relationship-marketing group, now with more than 110 employees.

Carol DiSanto. President, Cline Davis & Mann LLC
Noreen Fitzgerald
Executive Director, Head of Global Adverse Event Case Management
Celgene Corporation

Noreen is Executive Director, Head of Global Adverse Event Case Management at Celgene. Noreen leads a large international team of healthcare professionals who monitor the safe use of Celgene's products. Noreen has led numerous enhancement initiatives across this work setting that has seen productivity increase five-fold and has enabled this company to exceed regulatory requirements. Noreen is the embodiment of excellence in management.

John Freeman. Vice President, Head of Global Drug Safety
Marie Fortier
Director, Marketing
ImpactRx Inc.

As Director of Marketing & Product Development at ImpactRx, Marie supports many cross-functional projects within the organization. Her collaborative approach, attention to detail and results orientation are all key elements to her success. She is always up for a challenge and shows unwavering dedication and commitment to improving our offerings and the insights we can provide to our client teams. Marie is a valued asset to ImpactRx and we are excited to name her our 2009 Rising Star.

Jill Walton, Vice President, General Manager-Oncology
Amy Fry
Vice President, Public Affairs and Communications
Boehringer Ingelheim Pharmaceuticals, Inc.

Amy is a highly respected, influential leader whose innovative contributions have been key to the success of BI and for our employees. As vice president of Public Affairs and Communication, Amy leads several important areas within the organization. Amy initiated the "Extreme Potential" platform to focus the organization on Marketplace, People, Financial, and Organizational excellence. She has been the executive sponsor of BI's Women's Leadership Initiative and a trusted advisor to many individuals in the organization.

Christine Marsh. Vice President
Kristen Gengaro
Vice President, Senior Account Director
Surge Worldwide Healthcare Communications

Spend 5 minutes with Kristen and you know you're in the presence of a thinker who is in perfect command of her left and right brain, and who also possesses intellectual and emotional intelligence that's off the charts. But just wait until you really get to know her! In addition to her innate gifts, Kristen's passion, drive and enthusiasm are contagious. It's why there's nothing her team cannot achieve. And why clients will do whatever they must to make her vision a reality. Oh, and did we mention that she's got a thoughtful, selfless and empathetic heart of gold?

Carleen Kelly, President, Surge
Amber Gilbert
Managing Director
inVentiv Commercial

Since joining the company in 2002, Amber has been a tremendous asset to inVentiv Health's consulting division, Strategyx, by providing dynamic leadership skills. She brings nine years of consulting experience in new product launch market segmentation, product pricing and organizational capability development, while gaining industry recognition in key therapeutic areas including oncology, immunology and women's healthcare. Amber's engagement with large pharmaceutical companies and biotechs alike position her and Strategyx well for future growth. Ambers enthusiasm and positive attitude are as infectious among her colleagues as her, industry knowledge and commitment are reflected in her work on a daily basis.

Norm Stalsberg, President, Strategy and Analytics
Jennifer S. Goldberg
Sr Director Business Management
Wyeth

Jennifer's strategic abilities distinguish her as one of the clearest thinkers at Wyeth. In addition, she has a real passion for performance, consistently challenging herself and motivating her colleagues to achieve operational excellence. This combination positions Jennifer as a future leader in the organization. In her personal life, Jennifer is committed to making a difference in the world. She participates in a number of volunteer organizations and is deeply involved in work to support kidney transplantation.

Arnout Ploos van Amstel, SVP & GM Institutional Business Unit
Alayne Green
V.P. Operations and Service
Scientific Voice, Publicis Strategic Solutions Group

Alayne is a consummate professional and change agent. Alayne's career began on the service side where she excelled in leading operational service environments and client relationships. Alayne later joined Wyeth, where she helped move their speaker bureau and marketing services environments to the next level. At Scientific Voice, Alayne's unique style, grace, and honesty mixed with humor have made Alayne a true asset to her team, colleagues, and clients.

Laura Lynner, EVP Managing Director Scientific Voice, COO Publicis Messaging Group
Michaela Griggs
Vice President, U.S. Marketing, Bayer Healthcare, Medical Care
Bayer HealthCare, Consumer Care Division

Michaela exemplifies leadership at Bayer not only through her strategic work leading the marketing and commercial efforts of the U.S. Medical Care marketing team, but also in her recent work to champion the creation and successful launch of the Bayer HealthCare Women's Leadership Initiative—a new program that supports the company-wide goal of fostering more women leaders and increasing female management in top roles. Through partnering, motivating and delivering extraordinary results, Michaela consistently demonstrates that she is a natural leader and a Rising Star within the BHC organization.

Gary Balkema, President, Worldwide Bayer, Consumer Care, Bayer HealthCare
Rosemary Healy
Research Director
Motivation Mechanics LLC

Rosemary embodies exceptional curiosity, passion and creativity - essential qualities for ensuring that market research programs that she leads explode with insight on how to emotionally connect targets with our clients' products. She brings a sixth sense to her research as she uncovers the barriers, triggers and motivators to behavior that have to be embraced to ensure healcare marketing success

Kate Maguire, President
Mary Ellen Hegarty
Vice President, Business Development
Health and Wellness Partners

Mary Ellen combines brilliance with excellence to drive business development at HWP. She takes on new challenges and opportunities with enthusiasm and grace. Mary Ellen contributes to the growth of the organization by providing strategic services to our clients. She draws upon her experience in pharmaceutical sales to develop ideas that are efficient and effective in this ever changing medical communication environment. Mary Ellen has been, is and will be a star to watch.

Jani Hegarty, President
Eugenia B. Henry, PhD
Senior Vice President, Data Management Services
inVentiv Clinical Solutions

Eugenia Henry represents ideal leadership and an unmatched dedication in the pharmaceutical industry, having more than 19 years of experience. Since joining inVentiv Clinical Solutions in 2005, Eugenia has been instrumental in overseeing clinical data entry, clinical data management, statistical analysis and report writing. Also serving as statistical consultant and FDA liason, Eugenia's passion and proficiency enable her to grow as a professional and amiable leader, making her a true Rising Star.

Mike Hlinak, President and CEO, inVentiv Clinical
Cassie Hogenkamp
Director Commercial Analysis
Astellas Pharma US, Inc.

As a valued member of the Astellas Sales & Marketing Leadership team, Cassie played a key role in re-shaping our critically important Operations Department; specifically, our Market Research and Forecasting functions. She was instrumental in leading the development of innovative analytical tools, helping tremendously in our strategic decision making activities. Cassie demonstrates a high level of accountability, ownership and collaboration in all aspects of her job and Pharmaceutical's Sales & Marketing is a Rising Star in our organization.

Patrick Shea, Senior Vice-President Marketing and Sales
Katie Holm
Associate Director, Marketing & Sales Operations
Actelion Pharmaceuticals US, Inc.

Sometimes an organization is truly privileged to have a colleague who is not only a great Manager and Team Leader, but is also someone who cares deeply about building and operating the company in a way that ensures that it sticks to its Core Values under any circumstance. Through her incredible commitment, Katie Holm is truly a Rising Star for being a key player in helping to develop Actelion's PAH marketing leadership and expertise.

John Michael Marino, Vice President, US Marketing
Erin Hudson
Director, Human Resources
Solvay Pharmaceuticals, Inc.

It's rare to find an HR professional who is equally adept at operating strategically and maintaining an employee advocacy role. We have such an individual in Erin Hudson. Erin has progressed in her career at Solvay Pharmaceuticals through her demonstrated leadership, intelligence and ability to build strong relationships. Her knowledge of the business makes her a trusted business partner to managers and employees alike. Furthermore, those who work alongside Erin benefit from her unwavering commitment to development.

Megan Bowman, Vice President Human Resources
Elizabeth Jeffords
Director, Market Analysis and Intelligence
Genentech, Inc.

Elizabeth has had a profound and lasting effect at Genentech. She joined the company in 2001 as a Market Planning Manager and is now Director of Market Analysis and Intelligence where she provides outstanding leadership for all analytics and strategic support in the Commercial organization. While at Genentech Elizabeth created and grew the Competitive Intelligence function, led the development of a new department vision and began a formal mentoring program, resulting in an industry-leading department.

Len Kanavy, Vice President, Commercial Operations
Susan Johnson
Senior Director, Business Development
Publicis Selling Solutions

Susan has made significant contributions to Publicis Selling Solutions. Susan's relentless drive, unwavering dedication, and intense desire for success have helped elevate our organization to a new level. Susan consistently goes "the extra mile" for our clients. This, in addition to her contagious enthusiasm, passion for our industry, and wonderful sense of humor has made Susan a true asset to Publicis and great friend and colleague to many. All that….and a mother of four children!

Rick Keefer, President, Publicis Healthcare Communications Messaging Group
Susan Kitlas
Regional Account Director, Team Leader
SDI Health LLC

Susan is responsible for one of SDI's largest clients across the full range of the new SDI's products and services. She serves as the Team Leader for this client and has been responsible for mentoring the other account team members during her tenure in this role. Sue embodies SDI's consultative account management approach by focusing on ways to help her clients be among the leaders in the transformation of the U.S. healthcare marketplace taking place today.

Debbie Alcott, Vice President Sales
Amanda Kopec- Salamone
Marketing Services Manager
Compas, Inc.

Amanda join Compas in 2003, and has played an integral role in the development and implementation of our internal and external marketing communications efforts. Her capacity to step up and get things accomplished in a high-quality manner, regardless of lead times and last minute changes, has become one of her most laudable traits. Her accomplishments recently earned her recognition as Compas' 2008 Employee of the Year. We are proud to nominate Amanda as our 2009 Rising Star.

Robert A. (Bob) Girondi, Executive Vice President/Marketing and Research
Kelly S. Kraft
Associate Director Chemistry
MannKind Corporation

Kelly's "can do attitude" and willingness to contribute outside her functional area and outside her department, while doing her own job, makes her a wonderful example to both her staff and the MannKind community in general. Kelly is also a dedicated mentor to her staff and to junior staff members throughout Danbury. Kelly Kraft is truly a MannKind Rising Star.

Andrea Leone-Bay, Vice President Pharmaceutical Research and Development
Sandy Kultgen- Gombac
Senior Director, Global Key Account Manager
IMS Health

As a senior member of IMS's sales team Sandy is a true example of the skills and competencies IMS seeks in its customer facing staff. She consistently demonstrates a priority focus on her customer and their needs; she uses extremely effective interpersonal skills when working internally with her cross functional colleagues; and she has a passion for innovation which benefits both her customers and her employer. Sandy has successfully grown her accounts and has done so while maintaining both high client satisfaction scores and employee feedback ratings.

Bill Nelligan, President IMS Health, Americas
Stacey Leanos
Senior Director, Marketing & Investor Relations
Bay City Capital LLC

Stacey Leaños joined Bay City Capital seven years ago as a Financial Analyst, and has excelled in our firm. As we expanded our healthcare investor base, Stacey has done a fantastic job of keeping our portfolio companies and investors happy, so we proudly promoted her to Senior Director, Marketing and Investor Relations this year. Warm and energetic, she wears many hats in our organization; we're delighted to have her as a member of our team.

Fred Craves, PhD, Founder and Managing Director
Terri Lee
Executive Director, Government Affairs
Merck & Co., Inc.

As Merck's Executive Director, Government Affairs, Terri has been responsible for legislative policy strategies to address issues such as healthcare reform, HIV/AIDS, women's health, and health disparities. She has been acknowledged as one of Merck's Amazing Women and recently received Merck's Diversity & Inclusion Award for her efforts to enhance Merck's external image. During her personal time, Terri is a member of many boards devoted to helping young people achieve their goals.

Deborah Dagit, Chief Diversity Officer
Susan Lenderts
Manager of Strategic Analytics
Innovex

Susan's leadership and commitment to excellence has made her a critical member of the Innovex US team. Through her clinical background and strong analytical skills as well as her deep understanding of the healthcare industry, Susan has been able to provide valuable insights into Innovex's commercial solutions platform, resulting in significant company growth. Her expertise has allowed Innovex to improve the efficiency of our project teams as well as better targeting of field-based promotional resources.

Daryl Gaugler, President
Cheryl Lubbert
Divisional Vice President, Immunology
Abbott Laboratories

Since joining Abbott in 2006, Cheryl has had a measurable impact on the US pharmaceutical products division. Not only has Cheryl successfully built her brands, she has also introduced innovative approaches to support both physicians and patients in managing disease. She led the creation of two sales and marketing organizations and successfully launched two new indications for HUMIRA. Cheryl is a positive leader who able to mobilize and energize her teams to deliver outstanding results.

Mary Szela, Sr. Vice President, US Pharmaceuticals
Laurel Lucrezia
VP, US Pharma Sales
InfoMedics, Inc.

Laurel has made exceptional contributions to InfoMedics within her client-facing roles as Program Director, Account Director, and VP of US Pharma Sales. Recognizing the importance of team work, Laurel set the standard for Lead Generation and collaborative team selling. Laurel has built strong relationships with leading pharmaceutical clients, has opened doors to new opportunities and has helped clients reach their marketing objectives through innovative patient feedback programs. She is an outstanding, key contributor to InfoMedics.

Gene Guselli, President & CEO, InfoMedics, Inc
Marybeth Lynch
Senior Practice Executive, Clinical Development Practice
Campbell Alliance

Since joining Campbell Alliance in 2006 as a Consultant in the Clinical Development practice, Marybeth Lynch has quickly emerged as a leader within the organization, receiving four promotions within three years. In her current role as Senior Practice Executive, Marybeth serves all of the practice's East Coast-based clients in their efforts to drive efficiency into their clinical development organizations. Marybeth received her MBA from the NYU Stern School of Business and London Business School.

Gary Tyson, Senior Vice President, Clinical Development Practice
Elizabeth Maceo
Medical Information Specialist
Scientific Advantage, LLC

Liz has been pivotal in assisting Scientific Advantage in expanding its global Medical Affairs/MSL Services to include the area of Drug Information and Pharmacovigilance this year. Liz's experience as both a physician and certified Cancer Information Specialist from the NIH Memorial Sloan-Kettering Cancer Center has brought tremendous expertise to us in this area. Liz's willingness to work in a very dynamic environment while remaining flexible, and resourceful, is why she is our 2009 Rising Star!

Robin Winter-Sperry, MD, President & CEO
Jennifer Matthews
Partner, thecementbond
The Cement Works

Jennifer passionately believes that healthcare marketing can make a valuable impact on people's lives. Inspired to apply her extensive experience to healthcare, Jennifer joined The CementBloc in 2007 to launch The CementBond, focusing on the consumer and digital space. Jennifer is leading the rapid growth of the agency across a diverse set of healthcare Clients. She is instrumental in evolving our core practices to align with emerging Client needs and in deploying our new model to harmonize and amplify the brand voice across all customer segments and communication channels.

Susan Miller, Partner, Founder, TheCementBloc
K.C. McAllister
Vice President, Managing Director, Taylor Search Partners
Taylor Search Partners

Since joining Taylor Search Partners in 2000, K.C. has been instrumental in building TSP's Life Sciences search practice. She embodies our brand "Straight, Forward.." and has greatly enhanced our clients' ability to attract top talent. Her dedication and passion for clients, candidates and teammates makes K.C. a leader in her profession and the firm.

Mick Shimp, President, Taylor Search Partners
Stephanie M. McGee
Art Supervisor
Wishbone/ITP, Inc.

Wishbone is proud to nominate Stephanie McGee as our 2009 Rising Star. Stephanie is the embodiment of what Wishbone is all about – talents, smarts, drive, and humanity, too. Stephanie's smile can light an entire city block. But, beneath that smile, is a drive and determination to push beyond limits and compromise, and a constant desire to do the very best work possible. Stephanie's skills and drive make her a real asset. But, her warmth, humanity, and that 1000-watt smile, make her a real inspiration. We look forward to her continued shining success.

Steven Michaelson, Founder/CEO
Anne Mullally
Senior Director, HR
Stryker Corporation

Since joining Stryker in 2000, Anne has held incresingly impactful corporate and division roles from Assistant Counsel to Director, RA/QA to Senior Director, Human Resources. She has earned a reputation for driving top quality, performance and partnership. Anne is passionate about building talented and engaged teams and recently led the launch of the Stryker Women's Network. Anne is a great role model to other aspiring leaders at Stryker with her professionalism, integrity, directness and commitment.

Brad Saar, President, Stryker Medical
Loriann Murray
Creative Director/Brand Development
Cramer

To Loriann:- - For your commitment to the Digital Marketing & Strategy divisions, maintaining flexibility and adapting to a changing department. -For your commitment, creativity, and extraordinary ability to execute under pressure! -For your strategic art and creative direction on major healthcare accounts including the HBA! -For your management, leadership and mentoring skills, we all say 'thank you'!

Kate Hearn, Project Director/Art Director, Digital Marketing
Tanja Noren
Group Supervisor
Topin & Associates

Since joining the agency in 2003, Tanja has brought endless energy and strong leadership to her agency teams while guiding them through successful product launches. Her commitment to our clients has helped build solid, longstanding relationships that continue to grow business for the agency. Her talent and professionalism are matched only by her enthusiansm and sense of fun, making her a true Rising Star.

Lori Kewin, Director of Account Service
Tracey O'Brien
Group Account Director
Medicus NY

Tracey's passion and dedication to healthcare is inspiring. Her outstanding leadership is evidenced by her ability to build and motivate strong cohesive teams and enduring client partnerships. Her devotion to healthcare goes beyond her career in advertising. For over 15 years she has volunteered her time to Operation Smile, a worldwide medical charity devoted to providing surgery to children with facial deformities. Tracey leads by example, and is truly a role model for our organization.

Lisa Miglio Ebert, Managing Director
Lynda Parker
Senior Director
Eisai Inc.

Since joining Eisai in 2006, Lynda has excelled in leadership positions in both the field and home office environments. She has been a champion of her people, having developed several of her managers for positions of increased responsibility within Eisai. Lynda currently is charged with building a "best-in-class" operations organization to support Eisai's evolution as a premier biopharmaceutical company. Lynda possesses strengths in leading transformational change, driving outstanding business results, and role modeling Eisai's values.

Doug Calandra, VP, Commercial Operations
Caryn Parlavecchio
Executive Director, Specialty Medicines & Commercial Capabilities
Novartis Pharmaceuticals Corporation

Over her tenure with Novartis, Caryn has taken on roles of increasing responsibility, scope and complexity. Caryn is currently charged with providing HR Leadership for the Specialty Medicines Operating Unit and all our headquarters based commercial functions. In the past two years, Caryn has led or held a key role in two organizational changes. Her strategic leadership, effective communication, integrity, and strong desire to develop people for the future make her a role model throughout our organization.

Anish Batlaw, Vice President, Human Resources
Joanna Pendzick
VP, Associate Creative Director
Sudler & Hennessey

Joanna was chosen as the Rising Star from S&H due to her talent, professionalism and dedication. She consistently combines her creative skill as art director with great organizational and leadership ability. These desirable complimentary skills make her a highly valued member of our creative department. Consistently delighting both clients and colleagues she has been a driving force behind new business and current agency assignments, we look forward to her continued success.

Rob Rogers, Co-CEO, the Americas
Susan Perlbachs
Vice President, Associate Creative Director
DRAFTFCB HealthCare

Susan has been a shining star since arriving at DRAFTFCB HealthCare — infusing the agency with energy and creative brilliance. Once you see her in action, you know you want to be part of her team. She's positive and passionate, dedicated and diplomatic and beloved by clients and colleagues alike. Her brand insights and intellect combined with her unique leadership style make her the success that she is. It's no surprise that our "Pearl" is a Rising Star!

Sheri Rosenblatt, EVP, Managing Director
Amy Pfeiffer
Managing Editor, Skin & Allergy News
International Medical News Group (IMNG), an Elsevier Company

Amy Pfeiffer exemplifies the multifaceted talents of IMNG's editorial team. Amy has played an integral role as IMNG has diversified from a print publication business to a multimedia company that incorporates e-first media as part of our online news offerings from Global Medical News Network. In addition to heading the editorial team for Skin & Allergy News, Amy was IMNG's first video reporter for our online news service and helped to produce IMNG's first e-newsletters.

Mary Jo Dales, Editor in Chief
Kelly Pierson
Product Director - Boniva Brand Team
Roche Pharmaceuticals

Kelly Pierson currently serves as a Product Director on the brand team for Boniva. Kelly is one of the few whose work has quite literally been seen by millions of people, as she is currently in charge of all of the direct to consumer effort for Boniva. Kelly combines a sincere creative nature with a meticulous attention to detail. Her energy, inclusive style and strive for excellence attitude truly make Kelly a Rising Star.

Richard Hinson, Vice President, Commercial Ops
Janet M. Poppe
Director, Customer Development Johnson & Johnson Health Care Systems, Inc.
Johnson & Johnson

Janet is action-oriented and has a tremendous drive for results. She has a passion for women's leadership. Outside of her "day" job she brought our Women's Leadership Initiative (WLI) to field- based associates through a new :Grassroots Chapter" structure. Today, these 15 grassroots chapters have had exponential growth and impact. Janet also helps others realize their potential through her hands-on approach to mentoring. We are delighted to recognize her potential as one of our Rising Stars.

Debra A, Sandler, Worldwide President McNeil Nutritionals, LLC, a Johnson & Johnson Company and Co-Chair, Women's Leadership Initiative, Johnson & Johnson Family of Companies
Caryn Rainey
Executive Director Talent and Organization
Big Communications

Caryn Rainey is action personified. With creativity, intelligence, passion, and business savvy, Caryn is a driving force behind Big's success. Caryn has initiated a wide variety of successful programs from talent review and strategic planning to ensuring that everyone is operating at maximum performance. Her drive and energy are relentless and she continually works toward improving our organization with an entrepreneurial passion. Big is proud to nominate Caryn as our Rising Star.

Lisa Stern, Founder & CEO
Kristan Reid
Senior Vice President, Management Supervisor
LyonHeart

Kristan "walks on water" according to her clients, is a "trusted leader and friend" according to her colleagues, and is a "strategic thinker capable of driving big ideas and new business wins "according to senior management at LyonHeart. Kristan lives our values of being a relentless thinker and never settling for anything less than extraordinary, and acts with such an understated and modest style that we want to loudly recognize her as our Rising Star.

Anne Devereux, Chairman and CEO
Gina Reynolds
Director, Strategic Marketing Research
King Pharmaceuticals, Inc.

Gina Reynolds is an emerging talent that exemplifies passion, accountability, results and teamwork in everything she does. From developing the junior members of her team, to volunteering for "stretch" HBA or King projects, to conceiving the King Women's Partnership Educational resource, Gina is a devoted, enthusiastic employee that is eager to learn and grow both personally and professionally. Her contributions to King's leading product, portfolio and new product market research and her dedication to the development and advancement of women, are only a few examples of her efforts. She is an extraordinary role model within King and we are thrilled to recommend her as our "HBA 2009 Rising Star"

Adriann Sax, Executive Vice President, Business Development and Strategic Planning
Aileen Rivera
Advertising Sales Representative
Elsevier Inc.

Aileen Rivera is a publishing sales professional who delivers consistent results. She has a keen understanding of customer needs and takes a consultative approach in identifying solutions. Her account management, problem solving, and relentless customer service skills enable her to establish true partnerships. Repeated high ratings from customers are the result. Aileen's positive attitude, high level of energy, professionalism and dedication to customers and colleagues alike make her a valued asset to our team and our choice for Rising Star.

Tina DeCarlo, Ad Sales Director
Rene Russo, PharmD
Senior Director, Medical Affairs - Clinical Development Cubist Pharmaceuticals
Cubist Pharmaceuticals, Inc.

Rene leads Cubist's Medical Affairs team and her contribution has helped make CUBICIN the most successful IV antibiotic ever launched. Her early experience as a clinical pharmacist began at RWJ University Hospital in New Jersey. Rene began her career in industry as a manager in Medical Affairs at Bristol-Myers Squibb and subsequently moved into the company's Infectious Diseases Clinical Pharmacology group where she led early drug development programs. She received her BS in Pharmacy and PharmD degrees from Rutgers University.

Robert J.Perez, Executive Vice President and Chief Operating Officer
Jackie Siegelski
Project Lead
eCrossings Media, a division of Dowden Health Media and Lebhar-Friedman, Inc.

Jackie has shown promise from her very first role as web developer, when it was obvious she was considering much more than code. Today, Jackie serves a dual role delivering projects and managing client relationships, but no mater what the task at hand, her positive attitude, natural leadership skills and willingness to exceed our clients expectations are unmistakable.; she has the passion and the drive to put her clients and her company first.

Sid Gokhale, VP, Internet & New Media
Michelle Snyder
Senior Vice President, Subscriber Business
Epocrates, Inc.

Since joining Epocrates as one of its early employees in 1999, Michelle has driven marketing, strategic partnership and subscription sales efforts to successfully transform Epocrates from a start-up to a reputable healthcare company that tops headlines across the country. Through innovation, strong ambition and unwavering commitment, Michelle has helped redefine and significantly grow the company over the years. She is an inspirational leader, always taking on new responsibilities, driving change and challenging herself and others.

Jeff Tangney, Co-Founder and Executive Vice President of Epocrates, Inc.
Candace Steele
Sr. Director, Product Communications
Cephalon, Inc.

In her nearly two years at Cephalon, Candace has made her mark. She exemplifies attributes that we want all of our employees to model  knowledgeable, hardworking, passionate, and collegial. Her leadership skills show that she is able to bring diverse groups together to achieve results. In her role on the board of the HBA Philadelphia Chapter, she has mobilized volunteers and helped us to build our company membership in the global and local HBA.

Robin DeRogatis. Vice President, Human Resources
Lisa Sturk
Associate Physiology Director
Shire Pharmaceuticals

Lisa has proven herself to be relentless in her pursuit of excellence, scientifically engaged in all the projects in her organization and fearless in taking on the hurdles that slow the progress of the treatment of rare diseases in children. Lisa has the rare talent of being able to engage the scientific questions while maintaining a cross-functional perspective that embraces organizational strategy but most importantly the needs of our patients.

Justin Lamsa, Sr. Preclinical Research Director
Jeanine M. Swalec
Sr. Director, Regulatory Strategy and Registration and Strategy
Ovation Pharmaceuticals, Inc.

Ms. Swalec has been the driving force behind Ovation's lead development product as the Global Regulatory program director. Not only has she excelled at this role, but has also effectively taken over all Project Management responsibility for the team and is often times found contributing to areas outside her main responsibilities. She is a diplomatic, well-liked, and well respected leader. No matter what the challenge, Ms. Swalec marshals resources and "finds a way to make it happen."

Tim Cunniff, VP, Regulatory Affairs
Lisa Tamborello
Director, Human Resources
Vox Medica, Inc.

Lisa is a consummate professional whose drive, passion and positive attitude have been instrumental to our company's success. Her dedication to excellent performance is exceeded only by her inexhaustible energy. Lisa's can-do approach to recruiting and developing top talent have been a contributing factor in our growth, and to have watched her leadership skills grow over the past several years has truly been an inspiration.

Yvonne D'Amelio, CFO & Principal
Susie Tappouni
Vice President
Spectrum Science Communications

Susie's unflappable grace under pressure, her steadfast determination and her natural patience augment her reputation as a strategic thinker who drives communications concepts forward to measurable results. Her clients appreciate her "big picture" thinking, while her team members respect her for always trying to foster the growth of others. Susie epitomizes "Rising Star" through her leadership and dedication to excellence in healthcare communications.

John J. Seng, President and Founder
Ruth Thorpe
Chief Information Officer
sanofi-aventis

Throughout Ruth's career at sanofi-aventis, she has held various roles of increasing impact and responsibility, ranging from Human Resources to Business Information and Support. Her most recent promotion to Chief Information Officer (CIO) is indicative of her talents, performance and contributions, as well as her strong leadership. In addition to her depth of technical knowledge, she has a proven track record of building and leading large and successful teams, effectively collaborating and partnering with the business, and delivering on commitments. Ruth exemplifies professionalism, integrity, partnership. She is passionate about the growth and development of her people and is a role model for others.

Christer Odqvist, VP, Business Information & Support
Megan Trask
VP, Group Account Director
Saatchi & Saatchi Healthcare Advertising

Megan Trask has demonstrated extraordinary leadership, marketing savvy, and medical knowledge in keeping a leading brand ahead of the curve. During her stewardship of a first-in-class biologic, Megan deepened partnership with clients, kept stakeholders focused on therapeutic and commercial goals, pioneered communications platforms, and helped the brand navigate the twists and turns of a dynamic lifecycle. She sustained a high level of morale and teamwork on her multi-disciplinary agency team, maintaining continuity over the years.

John Kalimtzis, SVP, Management Supervisor
Laleh Varasteh
Vice President, Pharmacy and Clinical Services
inVentiv Patient Outcomes

Laleh Varasteh is widely recognized for being a compassionate, well respected and diligent leader. Her responsibilites have recently expanded as she is now managing Adheris pharmacy network in addition to the clinical group. Striving to foster a collaborative work environment, Laleh actively participates in developing new business ideas and encourages involvement from all colleagues. Laleh serves on the Board of Directors, Boston Chapter of the Healthcare Businesswomen's Association and also serves as Clinical Assistant Professor of Pharmacy Practive at Northeastern University Bouve College of Health Sciences and as Adjunct Instructor in Clinical Pharmacy at Massachusettes College of Pharmacy.

Dan Rubin, President, inVentiv Patient Outcomes
Estelle Vester-Blokland, MD
Executive Director, EU Market, Russia & Turkey
Bristol-Myers Squibb

Estelle Vester-Blokand, MD served as Executive Director, Neuroscience for US Medical Affairs since 2006. A native of the Netherlands and a 16 year veteran of the pharmaceutical industry, Estelle assumed the global lead for Bristol's neuroscience products, was promoted to Medical Director, and recently relocated to the Paris office to lead the medical teams for the Eastern European markets. Estelle's vision, leadership qualities and medical expertise have made her Bristol-Myers Squibb's Rising Star for 2009.

Suzan McDaniel, VP, Talent Management, Strategic Staffing and Diversity
Antonia Wang
Executive Director, Biostatistics
Daiichi Sankyo, Inc.

Antonia is a respected DSI leader whose business and statistical acumen have played a key role in the successful registration of DSI products globally. Devoted to excellence, she personifies the attributes of both a team player and a role model in her interactions with multidisciplinary teams. Her leadership is visible in the high-performing global team of statisticians that she has built and in her enthusiastic encouragement of their development. In addition, Antonia's personal warmth and collaborative spirit make her a welcome member of DSI's global team.

Joe Pieroni, President and CEO
Melissa Watson
SVP, Account Group Supervisor
Flashpoint Medica

Melissa  leads her teams with a huge dose of insight and strategic thinking that is par excellence. She has a real knack for figuring out complex issues and defining a path for achieving high objectives. Clients and staff value her vision along with her leadership abilities that encourage high-level team functioning for outstanding results. Melissa's entrepreneurial spirit along with her drive, determination and quest for innovation have her reaching for the stars.

Charlene Prounis, Managing Partner
Carmela Wegworth
Account Director
Goble & Associates Healthcare Communication

Carmela exemplifies the true spirit of account service. She does her homework, thinks out of the box, becomes the brand steward and the client's best offense in a challenging market. Internally she creates strong teams and never settles - and her brand communications reflect that commitment

Nancy S. Finigan, Executive Vice President. Account Group Director
Pascaline Wolfermann
Director, Resource Development
MEDEX Global Solutions

Pascaline Wolfermann, a renowned expert in international health assistance, utilizes her expertise to assist patients on all continents with varied health situations, from tropical illnesses to life threatening trauma. Fluent in four languages, Pascaline is a world class leader, role model, and mentor to others. She embodies MEDEX Global Group's corporate values of customer service and innovation.

Susan Torroella, Chief Operating Officer