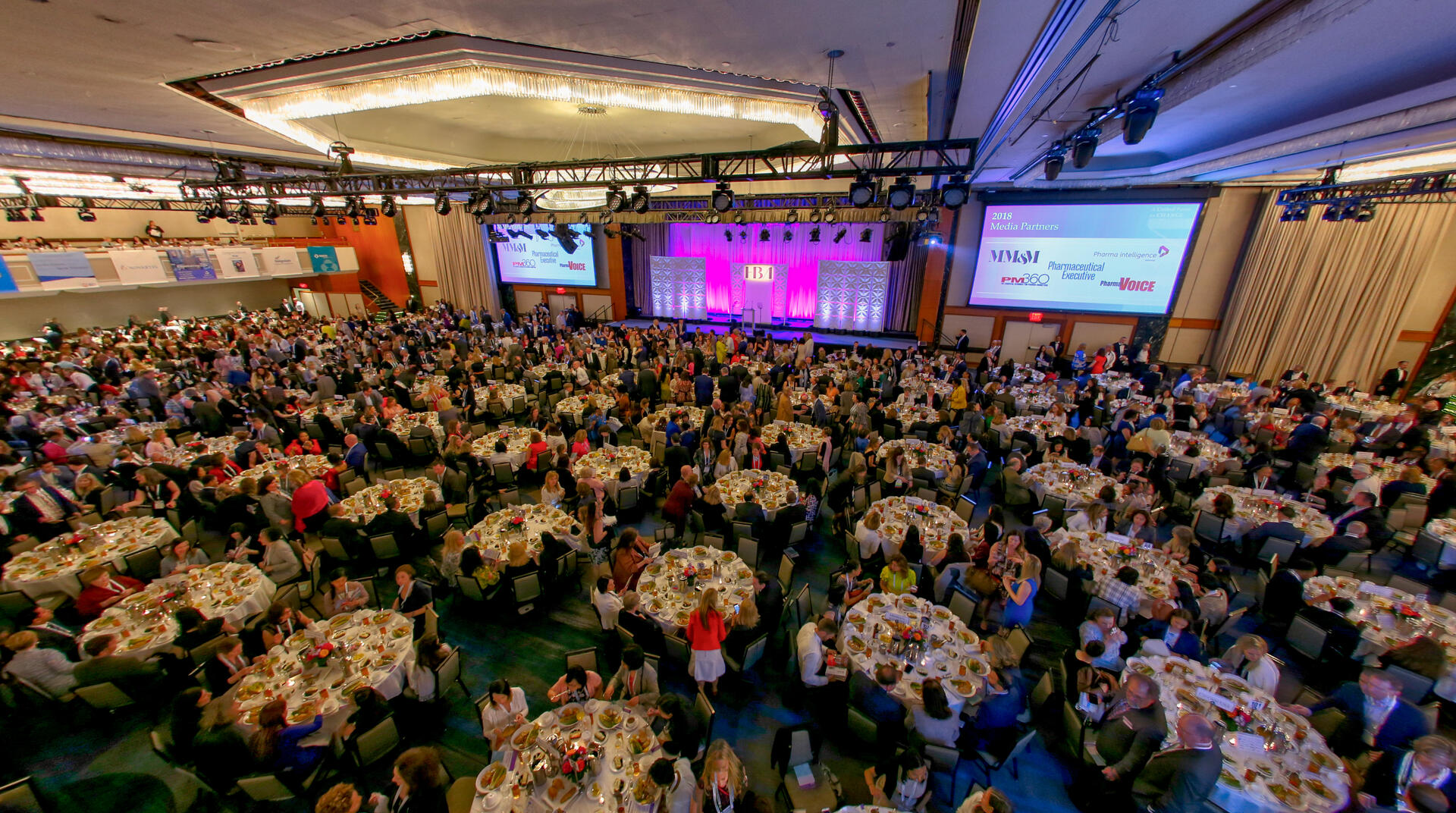 The HBA Luminary award was introduced in 2014 as part of the HBA's 25th anniversary of the Woman of the Year (WOTY). This year, the HBA is proud to recognize 84 senior women, identified by their Corporate Partner companies, who serve as a role model in their company, actively mentor and sponsor others, help advance other women's careers and exhibit dedication to the healthcare industry. These luminary leaders have more than 20 years of professional industry experience. 

Nicole Mowad-Nassar, VP, Commercial Analytics and Operations and AbbVie Patient Services    
AbbVie Inc.
Anne Marie O'Halloran, Managing Director, Industry X.0 and Supply Chain, Life Sciences    
Accenture
Tracy Parker, VP, Biometrics    
Advanced Clinical
Kanchan Relwani, MD, SVP, Medical Affairs  
Alkermes
Carol Pitcher-Towner, SVP, Global Patient Safety and Risk Management    
Alnylam Pharmaceuticals, Inc.
Rohini Deshpande, 
VP Drug Substance Technologies and AMA Site Head   
Amgen Inc.
Susie Tappouni, VP, Corporate Affairs    
Amgen Inc.
Patricia Turney, SVP, Operations    
Arcutis Biotherapeutics
Sharon Barr, SVP, Head of Research and Product Development    
AstraZeneca
Neelima Rao, HRVP, Oncology R&D and North America Country Lead
AstraZeneca
Bela Labovitch, VP, Engineering  
athenahealth
Lisa Locklear, SVP, Chief Financial Officer  
Avanir Pharmaceuticals
Tressa Milton, Senior Director, Safety and Occupational Health    
Baxter
Kim Carson, Director, Brand Management CT/CV Modality, Pharmaceuticals, Radiology    
Bayer U.S.
Stephanie Klocke, VP, R&D    
BD 
Joanne Golankiewicz, Head, Customer Excellence and Operations  
Biogen 
Ainslie Little, SVP, Corporate Strategy    
BlueRock Therapeutics, LP
Jin Jen, Scientific Senior Director, Sequencing Research    
Bristol Myers Squibb
Maha Elashri, EVP, Chief Client Officer    
Calcium USA
Michelle Greene, 
SVP, Chief Information Officer, Pharmaceutical Segment 
Cardinal Health
Annette Walker, President 
City of Hope Orange County
Gomati Venkitaraman, Engagement Delivery Partner    
Cognizant Technology Solutions
Catherine Richards, Chief Data Officer 
ConcertAI
Sharon McHale, VP and Global Head of Policy and Government Affairs, Seqirus    
CSL
Kara Reheis, VP, US Marketing, Oncology Business Unit    
Daiichi Sankyo, Inc.
Shami Feinglass, 
Chief Medical Officer, VP Medical Affairs and Policy, Dx and LS  
Danaher Corporation
Ann Edattel, Partner, Deloitte Tax LLP    
Deloitte LLP
Jen Tully, VP, Strategic Operations    
Doximity
Jennifer Oleksiw, VP, Consumer Experience    
Eli Lilly and Company
Amy Hutnik, General Manager, Agency, Advisory and Evidence Services    
EVERSANA
Doreen Eckert, EVP, Client Partner    
Evoke
Susan Garfield, Americas Chief Public Health Officer and Global Client Service Partner
EY 
Brenda McFalls, National Clinical Educator    
Ferring Canada
Sophia Sharp-Donaldson, Executive Director, Supply Chain    
Gilead Sciences
Keeley Wettan, SVP, Legal    
Gilead Sciences
Victoria Williams, SVP, General Manager, Germany    
GlaxoSmithKline
Amy Flynn, Managing Director, Life Sciences Global Leader     
Grant Thornton LLP
Elizabeth Rappa, PharmD, RPh, SVP, Scientific and Medical Services    
Health & Wellness Partners, LLC
Christine Lennon, VP and General Manager, Incyte Canada    
Incyte
Angela Steinway, VP, Strategy, Business Development and Private Label    
Integra LifeSciences
Jyoti Varma, VP, Finance, Codman Specialty Surgical    
Integra LifeSciences
Nikki Tesmer, Head, People, Operations, Capabilities and Field Training    
Ipsen Biopharmaceuticals
Susan Lipsitz, VP, Associate General Counsel and Chief Compliance Officer    
IQVIA
Patricia Moore, VP, R&D Business Strategy and Operations    
Jazz Pharmaceuticals
Katie Devine, President, U.S. Cardiovascular and Metabolism, Canada and Puerto Rico    
Johnson & Johnson
Tara D'Orsi, EVP, Chief Compliance Officer and General Counsel    
Kyowa Kirin USA Inc.
Michelle Scott, VP and Head, Biotech Development Solutions, EPDS Drug Development    
Labcorp
Molli Jones, Senior Director, Healthcare Data Analytics    
LexisNexis Health Care - Elsevier
Puja Leekha, VP, Chief Compliance Officer     
Lundbeck US
Michelle Juhanson, VP, Chief of Staff     
Magellan Rx Management
Courtney Walker, Managing Director, RX Mosaic    
Marina Maher Communications
Ruthanna Davi, VP, Data Science    
Medidata, a Dassault Systèmes Company
Caroline McGregor, VP, Analytical Research and Development, Merck Research Laboratories    
Merck & Co., Inc.
Boon Huey Ee, General Manager, Merck Healthcare Taiwan, Hong Kong and Macau    
Merck KGaA, Darmstadt Germany
Tracy Picon, 
Senior Director, US Health and Life Sciences   
Microsoft
Jessica Grussing, National Account Director    
Neurelis, Inc.
Eiry Roberts, Chief Medical Officer    
Neurocrine Biosciences, Inc.
Eden Wells, VP, Patient and Specialty Services, US Pharma    
Novartis Pharmaceuticals Corporation
Negelle Morris, Commercial VP    
Novo Nordisk
Juliana Drinane, SVP and Lead, Supply Chain Management    
Organon
Allison Rosenthal, VP, Commercial Franchise Head, CNS   
Otsuka America Pharmaceutical, Inc.
Aida Sabo, Global Head, Diversity Equity and Inclusion    
Parexel
Oualae Alami, VP, Europe 1 Hospital Business Cluster Lead    
Pfizer Inc.
Annaliesa Anderson, SVP and CSO Bacterial Vaccines     
Pfizer Inc.
Josephine Wang, VP, Procure to Pay Global Process Owner, Dalian Site Lead    
Pfizer Inc.
Lana Woshnak, Divisional VP, Product Research and Development    
Pharmavite
Jeanne Penn, VP, Prescient Intelligence and Insight    
Prescient Healthcare Group (UK)
Andrea Palmer, President, Publicis Health Media    
Publicis Health
Mary Stutts, Global Chief Inclusion and Health Equity Officer    
Real Chemistry
Connie Flagg, Regional Business Director, Medical, Field Sales Force, Nutrition Business Unit    
Reckitt
Sarah Burke Mullins, Head, US Cardiovascular    
Sanofi
Amber Doss, Lead, State Government Relations, Southeastern Region    
Sanofi
Suzanne Monahan, VP, Hospital Sales    
Shionogi Inc.
Franny Levene, Learning and Organizational Development Director    
Sobi Inc. (North America)
Cheryl Heineck, Field Director LTC, Market Access and Chair, Women Rising Business Impact Group    
Sunovion Pharmaceuticals Inc.
Jill Zunshine, SVP and Head of Global Real Estate, Facilities and Procurement, Global Finance    
Takeda Pharmaceuticals, Inc.
Jennifer Bryan, Senior Director, Commercial Training and Development    
Teva Pharmaceuticals
Merissa Oliver, EVP    
The Kinetix Group
Jula Inrig, MD, Chief Medical Officer    
Travere Therapeutics
Kerry Black, Head, Early Solutions, US Operations    
UCB, Inc.
Stephanie Franklin, SVP and Chief Human Resources Officer    
Vertex Pharmaceuticals
Jennifer Wilson, Chief Financial Officer
VMS BioMarketing
Megan Brandt, Senior Director Special Projects, Acquisitions and Integration    
Walgreens Boots Alliance
Kristen Vargas, VP, Retail Operations    
Walgreens Boots Alliance