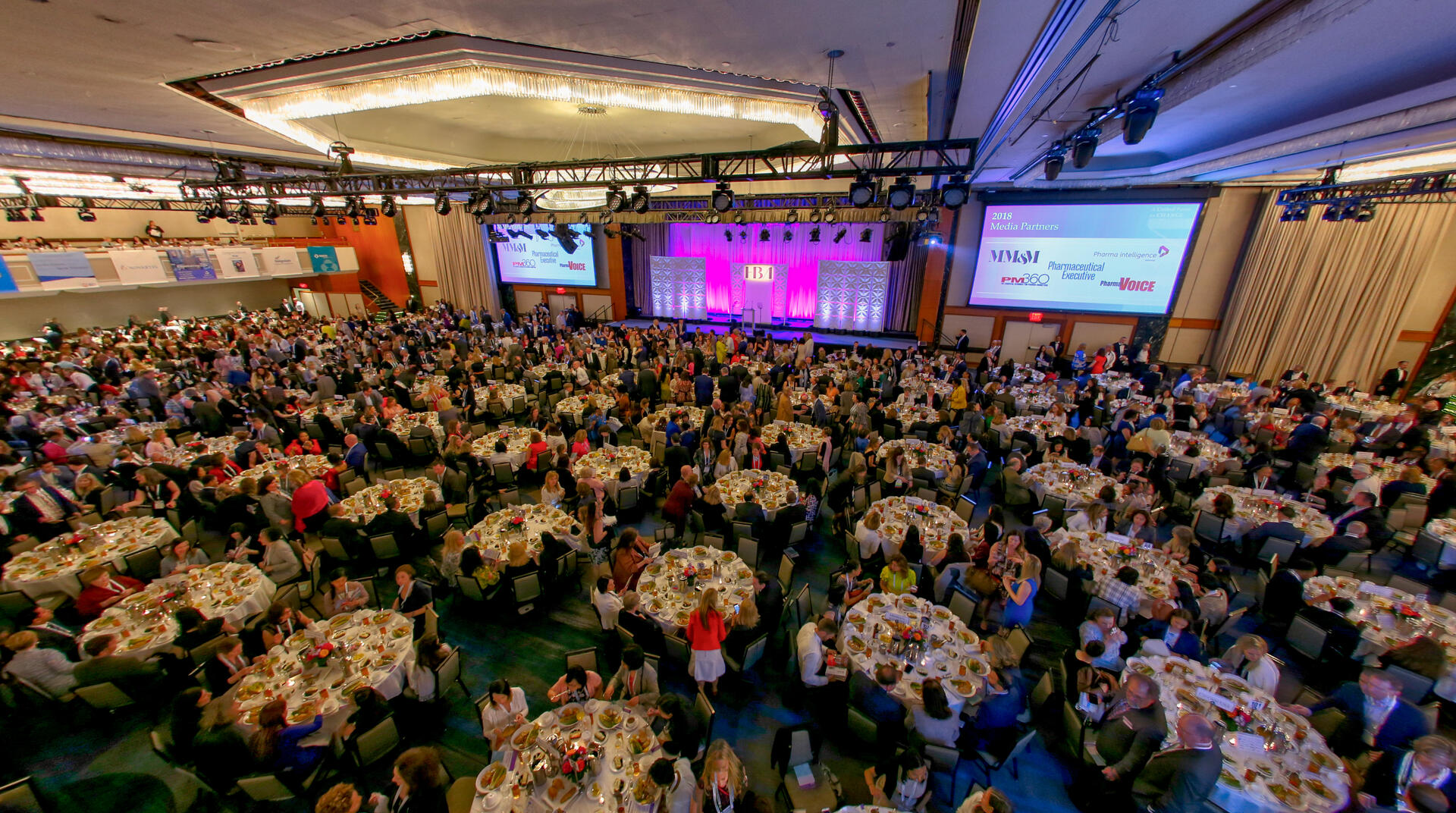 The HBA Luminary award was introduced in 2014 as part of the HBA's 25th anniversary of the Woman of the Year (WOTY). This year, the HBA is proud to recognize 71 senior women, identified by their Corporate Partner companies, who serve as a role model in their company, actively mentor and sponsor others, help advance other women's careers and exhibit dedication to the healthcare industry. These luminary leaders have more than 20 years of professional industry experience. 
Caroline Redeker, SVP, corporate development
Advanced Clinical
Martine Zimmermann, SVP, global head, regulatory affairs    
Alexion Pharmaceuticals, Inc.
Tara Capalbo, VP, marketing, neurosciences and urology    
Allergan
Sepideh Varon, VP, global health economics and outcomes research    
Allergan
Mary Jo Mullen, VP, managed care
AMAG Pharmaceuticals, Inc.
Gwen Cummings, executive director, finance and Amgen Capability Center site lead    
Amgen Inc.
Neha Sheth, executive director, risk managment and benefit risk    
Astellas Pharma US, Inc.
Jackie Ryan, executive director, enterprise financial management customer success
athenahealth
Linda MacDonald, VP and COO    
Avanir Pharmaceuticals
Nicola Kayel, VP, marketing, Salix
Bausch Health
Marie Keeley, VP, biopharma solutions    
Baxter International Inc.
Ellen Kondracki, VP, sustainability and environment, health and safety    
BD
Nancy Forrest, VP, development and commercial alliances    
Bristol-Myers Squibb Company
Teri Foy, SVP, immuno-oncology and cell therapy    
Bristol-Myers Squibb Company
Christina Scully, VP, internal manufacturing and supply chain quality    
Bristol-Myers Squibb Company
Stephanie Revish, VP, finance    
Cardinal Health
Anne Neal, VP, product management assoc    
Cognizant Technology Solutions
Nancy Fetrow, VP, R&D project management    
CSL Behring
Amy Park, VP, pharma partnerships    
Doximity, Inc.
Libby Driscoll, VP, US neuroscience    
Eli Lilly and Company
Suzanne Greenwood, SVP, commercial solutions    
EVERSANA
Jennifer Breuer, partner, deputy co-leader, healthcare practice group, steering committee, Faegre Drinker Women    
Faegre Drinker Biddle & Reath LLP
Tracy Blackwell, creative lead    
Fingerpaint Marketing, Inc.
Laurie Hill, VP, intellectual property    
Genentech, Inc.
Marni Kottle, VP, public affairs    
Gilead Sciences
Anu Osinusi, executive director, clinical research    
Gilead Sciences
Soo Son, director, business transformation    
GlaxoSmithKline
Audrey Pezzuti, CIO
Health & Wellness Partners, LLC
Bonnie Welsch, COO
Health & Wellness Partners, LLC
Melanie Gloria, SVP, R&D operations    
Horizon Therapeutics
Mary Varghese Presti, VP, offerings, life sciences    
IBM Watson Health
Paige Kilian, CMO
Inovalon
Bridget Bilodeau, senior director, global customer service  
Integra LifeSciences
Andrea Caruso, SVP, corporate business development    
Integra LifeSciences
Kimberly Baldwin, VP, franchise head, neuroscience business unit    
Ipsen Biopharmaceuticals
Melissa Easy, VP, head, trial design, planning and site engagement    
IQVIA
Elizabeth Forminard, WW VP, general counsel pharmaceuticals group    
Johnson & Johnson
Adriana Guana, VP, medical strategy and scientific affairs    
LEO Pharma Inc.
Kathy Bardeen, VP, product delivery and consulting    
LexisNexis Risk Solutions Health Care
Ann Hartry, VP, evidence strategy and communication    
Lundbeck
Kristen Reimers, SVP, specialty clinical solutions    
Magellan Rx Management
Angel Cooper, VP, global portfolio and program management    
Mallinckrodt Pharmaceuticals
Amy Inzanti, group SVP, strategy, research and insights    
Marina Maher Communications LLC
Dianne Yurek, VP, corporate marketing    
Medidata, a Dassault Systèmes Company
Wendy Short Bartie, associate VP    
Merck & Co., Inc.
Linda Armstrong, global head, respiratory development unit    
Novartis Pharmaceuticals Corporation
Gina Dunsmuir, VP, associate general counsel    
Ortho Clinical Diagnostics
Kim Martin, VP, CNS sales    
Otsuka America Pharmaceutical, Inc.
Peyton Howell, chief commercial and strategy officer    
Parexel
Charlotte Allerton, SVP, head, medicine design    
Pfizer Inc.
Laura Chenoweth, deputy general counsel    
Pfizer Inc.
Caroline Roan, VP, corporate responsibility    
Pfizer Inc.
Susan Mitmesser, VP, science and technology    
Pharmavite LLC
Marion Chaplick, global client leader    
Publicis Health
Bari Kowal, VP, global head, clinical project management and operations     
Regeneron Pharmaceuticals, Inc. 
Laura Clague, CFO
Retrophin
Ashley Magargee, global head, business insights, operations and established products    
Roche (F. Hoffmann - La Roche Ltd)
Wendy Stein, SVP and site head, Indianapolis, GM, Roche Diagnostics operations    
Roche Diagnostics
Jill German, head, Roche Tissue Diagnostics    
Roche Molecular Solutions
Anne Arvizu, CEO and medical affairs advisor    
RxER Communications Corp
Leslie Pott, VP, communications    
Sandoz, Inc.
Lisa Blevins, global head, organizational development    
Sanofi Genzyme
Anne Marie Dallaire, AVP, head, boosters, travel and endemic franchises    
Sanofi Pasteur
Cynthia McDonald-Everett, VP, global value access and pricing    
Seattle Genetics, Inc.
Denise Flanagan, executive director, regulatory affairs, CMC    
Shionogi Inc.
Emily Doyle, chief HR officer    
Strongbridge Biopharma plc
Leigh Householder, EVP, managing director, innovation and insight, Syneos Health Communications    
Syneos Health
Sora Lee, VP and general manager Korea, clinical solutions    
Syneos Health
Mary-Lynn Fulton, executive director, clinical trial management    
Vertex Pharmaceuticals
Lekeshia Bush, registered manager onsites    
Walgreens Boots Alliance
Georgia Lehoczky, regional healthcare director, pharmacy operations    
Walgreens Boots Alliance