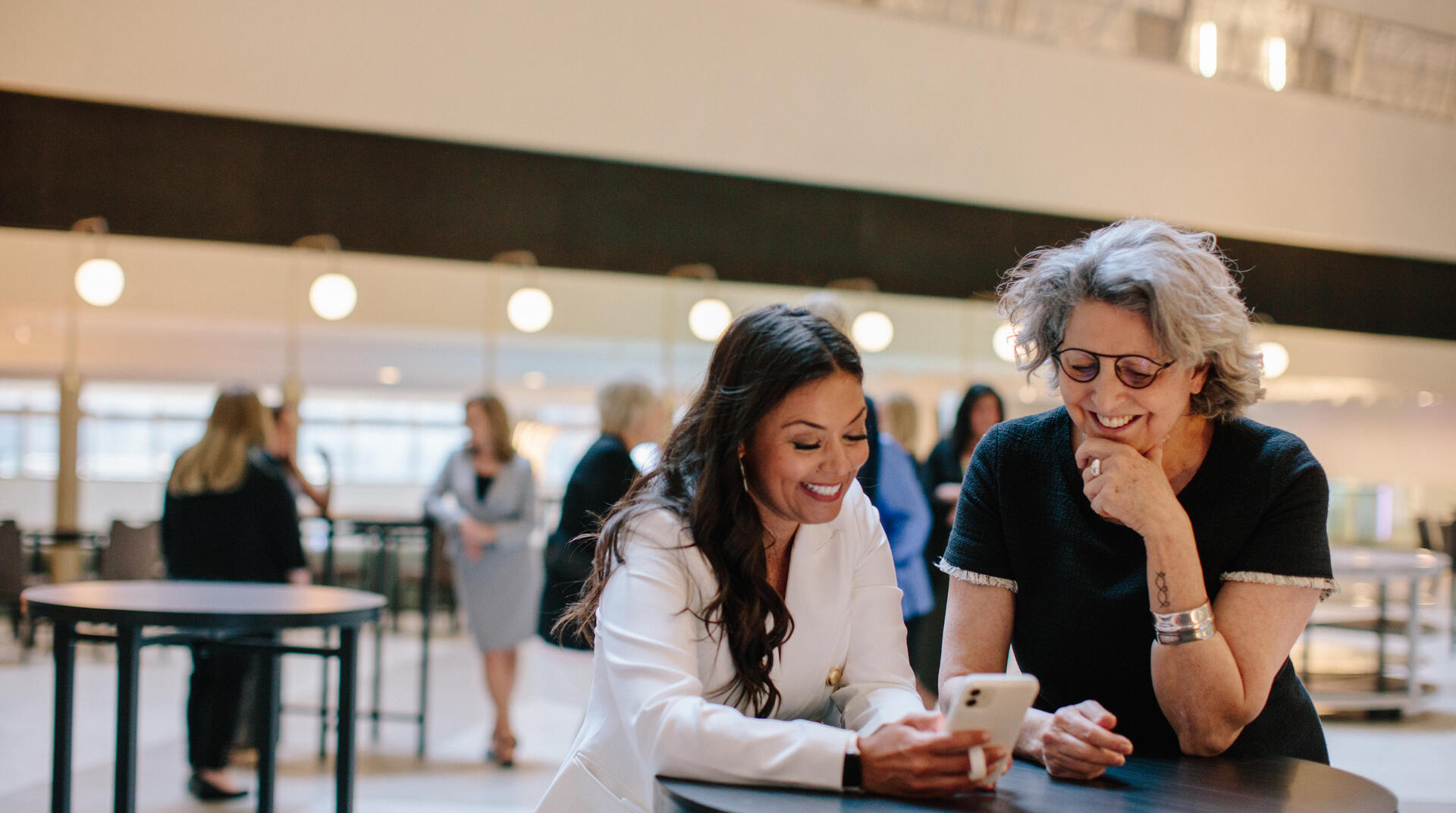 Congratulations to the 2023 HBA Luminaries
The HBA Luminary award was introduced in 2014 as part of the HBA's 25th anniversary of the Woman of the Year (WOTY). This year, the HBA is proud to recognize 78 senior women, identified by their Corporate Partner companies, who serve as a role model in their company, actively mentor and sponsor others, help advance other women's careers and exhibit dedication to the healthcare industry. These luminary leaders have more than 20 years of professional industry experience.
Stephanie Manson Brown, VP, Head, Clinical Development, Aesthetic Medicine    
AbbVie Inc.
Alisa Wilson, PhD, West Life Sciences Lead, Managing Director    
Accenture
Donna Hanson, Senior Director, Strategy and Optimization    
Advanced Clinical
Nada Obeid-Asad, Executive Director, Regional Accounts    
Amgen Inc.
Judy Kannenberg, VP, Primary Focus Regulatory Affairs Head, BioPharma Development 
Astellas Pharma US, Inc.
Wendy Erler, VP, Head, Patient Experience and Insights    
AstraZeneca
Mariam Koohdary, Deputy General Counsel    
AstraZeneca
Andrea Talty, VP, Product Optimization    
athenahealth
Betsy Callas, VP, Integrated Marketing and Brand Strategy    
Atlas
Marcelle Pires, Head, Global Customer Success Center of Excellence    
Bayer AG
Ana Paula Santiago, Director, Operations    
BD
Sarah Jennison, Senior Director, Family Access Managers    
Biogen
Debra Forster, VP, Human Pharma Business Law    
Boehringer Ingelheim
Florencia Davel, GM, LatAm and Local Representative COE    
Bristol Myers Squibb
Wendy Short Bartie, Chief of Staff to CEO    
Bristol Myers Squibb
Sandra Sykes, Global Director, Medical Safety    
Cardinal Health
Wendy P. Austin, SVP, Operations    
City of Hope Orange County
Kavitha Lokesh, GM, Head, Life Sciences, R&D    
Cognizant Technology Solutions
Karen Netherton, VP, Quality    
CSL Seqirus
Mary Pinder-Schenck, VP, Head, Global Medical Affairs, Oncology    
Daiichi Sankyo
Liz Gross, VP, Business Development    
Doximity
Ashley Diaz-Granados, SVP, US Immunology    
Eli Lilly and Company
Shelley Ford, Associate VP, IDS MDU IT    
Eli Lilly and Company
Teresa Perney, Chief Regulatory Officer    
EQRx
Michelle Ziekert, Managing Director, ECD    
EVERSANA
Lisa Banker, Principal    
EY (Ernst & Young) - US
Janet Dorling, SVP, Global Commercial Product Strategy and Operations    
Gilead Sciences
Divya Iyer, VP, Strategy and Business Development    
GoodRx
Saqi Mehta, Senior Director, DE&I    
GoodRx
Zara Muradali, Life Science Industry Tax Partner    
Grant Thornton LLP
Sukanya Choudhury, EVP, Regulatory Affairs, India, Emerging Markets    
GSK
Cynthia Herrli, Executive Creative Director    
Havas Health & You
Julie Robinson, SVP, Group Account Lead   
Health & Wellness Partners, LLC
Keli Walbert, EVP, US Operations    
Horizon Therapeutics
Monica Leipold, Executive Director, Strategic Projects and Business Initiatives    
Imbrium Therapeutics
Tracy Holloman, Consultant    
Insigniam
Laurene Isip, VP, Global Corporate Communications and Marketing    
Integra LifeSciences
Gurpreet Kaur, VP, Global Business Analytics and Reporting    
Integra LifeSciences
Meryle Bemnet, Head, Clinical Nurse Education    
Ipsen Bioscience
Eileen Connolly, Executive Director, Global Regulatory Affairs - Chemistry, Manufacturing, and Controls (CMC)    
Jazz Pharmaceuticals, Inc.
Anu Hans, VP, Strategic Initiatives and PMO, Janssen Supply Chain    
Johnson & Johnson
Jill McConnell, SVP and CFO, Labcorp Drug Development    
Labcorp
Andrea Parks, VP, Healthcare Sales Operations    
LexisNexis Health Care - Elsevier
Marci Chodroff, MD, FACP, VP, Medical Affairs    
Magellan Rx Management
Janet Butler, EVP, Head, Life Sciences Engagement Global Sales    
Medidata, a Dassault Systèmes Company
Jennifer Finnegan McCafferty, SVP, CMC, Regulatory and Quality    
Merck & Co., Inc.
Rashmi Gupta, Senior Director, Sales, Global Pharmaceutical, and Life Sciences    
Microsoft
Shaun Winn, Senior Director, HR    
Neurelis, Inc.
Ingrid Delaet, Chief Regulatory Officer    
Neurocrine Biosciences
Sarah Creviston, VP, Global Patient Advocacy and Government Affairs    
Novartis Corporation
Ayana Champagne, Corporate VP, HR    
Novo Nordisk
Jennifer Gage, Associate Director, Medicinal Chemistry    
Omeros Corporation
Jennifer Halchak, VP, Investor Relations    
Organon
Iris Melendez, VP, Talent and Diversity    
Organon
Debbie Profit, Applied Innovation and Processes    
Otsuka America Pharmaceutical, Inc.
Melanie Turieo, Head, Technology and Product Development, Health and Life Sciences    
PA Consulting Services Ltd.
Amy McKee, CMO and Global Head, Oncology Center of Excellence    
Parexel
Tanya Alcorn, SVP, Sterile Injectables and Biotech Operations, PGS
Pfizer Inc.
Kathy Fernando, SVP Head of Pfizer Ignite and Pfizer CentreOne 
Pfizer Inc.
Jodi Perez, VP, US Hematology and Biosimilars Leads, Biopharma  
Pfizer Inc.
Kara Siak, Divisional VP, Sales Commercialization and Operations    
Pharmavite
Jennifer Bryant, EVP, Policy and Research    
PhRMA
Lori Reilly, COO    
PhRMA
Kylie O'Keefe, Chief Commercial Officer    
PTC Therapeutics
Kara Dugan, President, Razorfish Health    
Publicis Health
Patty Ryan, Chief Information Security Officer    
QuidelOrtho
Emily Poe, Group President and Chief Strategy Officer, Integrated Marketing Communications    
Real Chemistry
Kate Rowbotham, SVP, Head of Customer Engagement    
Roche Genentech
Raquel Mura, Head, R&D Global Operations North America    
Sanofi
Sue Giordano, PhD, VP, Head, Field Medical    
Sunovion Pharmaceuticals Inc. and Sumitomo Pharma America Holdings, Inc.
Jennifer Sozio, SVP, Clinical Operations    
Syneos Health
Charlotte Owens, MD, VP, Head, Center for Health Equity and Patient Affairs
Takeda Pharmaceuticals, Inc.
Kate Friday, Senior Director, US Patient Services    
Teva Pharmaceuticals
Kathy O'Connell, EVP, Sales and Marketing    
ThinkGen
Gail Myburgh, VP, Global Product Strategy    
Travere Therapeutics
Georgia McGaughey, VP, Data and Computational Sciences    
Vertex Pharmaceuticals Incorporated
Emily House, Senior Director, Retail Trade Strategy    
Walgreens Boots Alliance
Eva Struckmeyer, Associate Principal    
ZS Associates