Falling Into Place. Welcoming Change.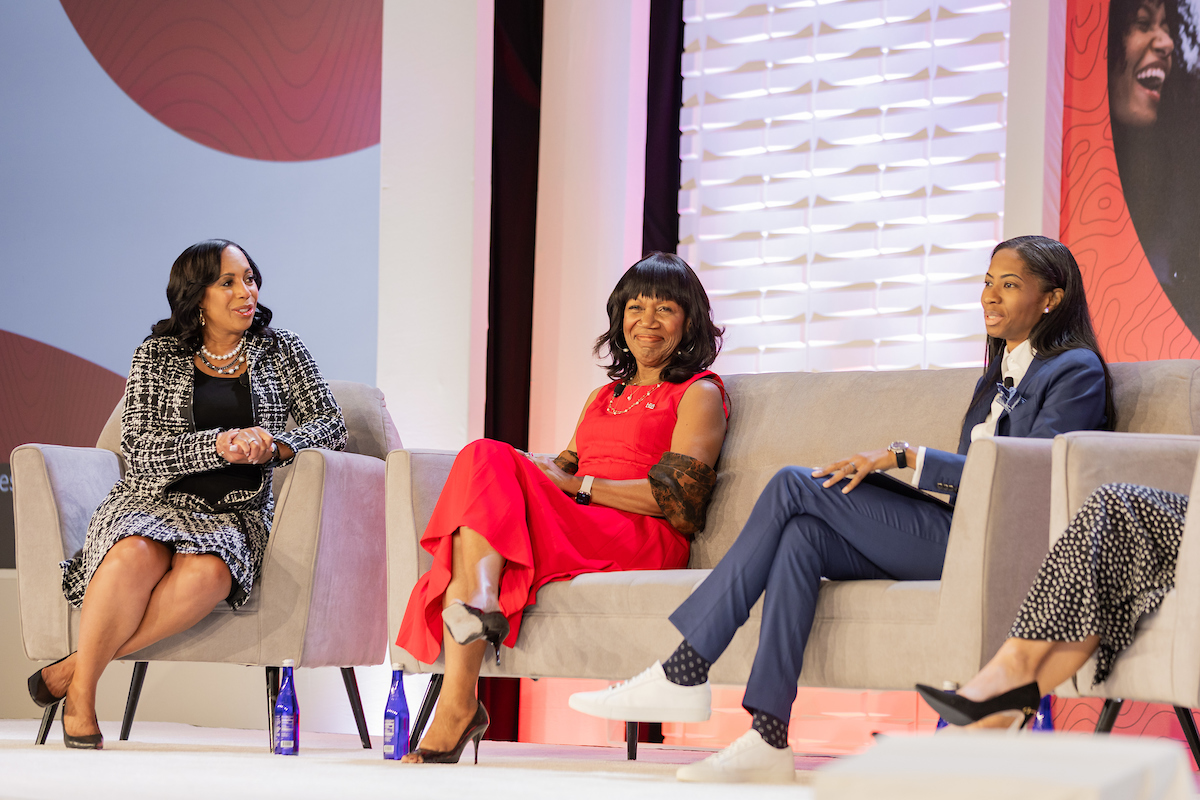 Written by HBA CEO Mary Stutts.
As we move into fall, welcoming seasonal change, it's an opportunity to reflect on how our United Force for Change community continues to evolve, grow stronger roots, and adapt to the climate of our ecosystem. During the last six months, in my role as CEO, I have observed and been in awe of the incredible forces helping to harvest our work to accelerate progress for women across the globe.
While I have been sharing insights on my own LinkedIn page, I want to reach the broader HBA LinkedIn community to share how appreciative I am for the invitations to speak and bring an HBA presence to events both virtually and in person. It is through our shared radical hospitality that we are able to power a collective strength that will help propel a more equitable future.
Speaking of strength, it is fitting that the passionate equity trailblazer Shelley Zalis, CEO of The Female Quotient, and I connected for a LinkedIn Live conversation a few months ago. During our discussion, we talked not only about the harsh realities facing women but also about the inspiring work underway to challenge the status quo including breaking through the "paper ceiling" via an initiative with First Ladies from around the globe. As a supportive ally of our mission, Shelley graciously invited the HBA to participate in one of the Female Quotients' high profile Equality Lounge® Summits just ahead of the G20 Summit in India.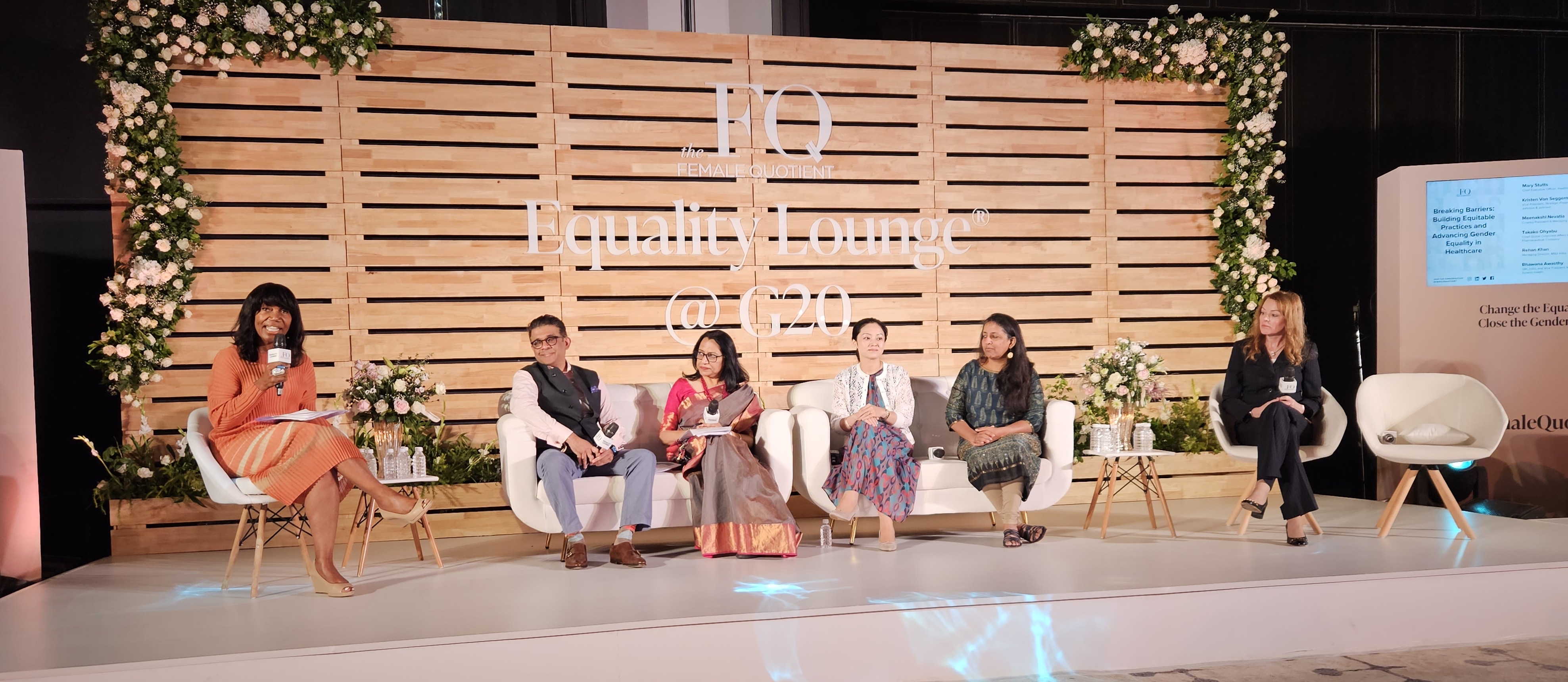 Mary Stutts, HBA; Rehan A. Khan, Merck; Bhawana Awasthy, Syneos Health; Takako Ohyabu, Takeda; Meenakshi Nevatia, Pfizer; Kristen Von Seggern, Johnson & Johnson
By now, I'm hoping you've had a chance to hear about, read about and hopefully watch the panel discussion I was honored to moderate with our partners from Johnson & Johnson, Merck, Pfizer, Syneos Health, and Takeda. Our "Breaking Barriers" conversation was part of the day long series of discussions with influential leaders and advocates from the finance, tech, science, lifestyle and non-profit  industries. It was incredibly inspiring to share the stage with advocates from around the world committed to embracing the business imperative to elevate women, especially those marginalized and underrepresented.    
Earlier this month, I also had the chance for a one-on-one with Giles Platford, President, Plasma-Derived Therapies Business Unit at Takeda & Chair of Global Executive Board, PPTA. We spoke for his "Five Questions With…" LinkedIn interview series talking about the challenges facing women working in healthcare who make 62 percent of the global healthcare workforce and 80 percent of the public healthcare workforce. As our industry broaches a looming crisis with women leaving the workforce, we talked about solutions, and how our twenty-year partner Takeda and the HBA are working together to close gender gaps. As I shared with Giles, when we make the invisible visible, it becomes clear that gender parity is not a women's issue, it's a human issue.
And while you may have already viewed posts from last week, I want to give another shout out to our partners and allies at Johnson & Johnson. I was honored to participate in their Global Summit on Diversity, Equity & Inclusion. This two-day summit convened the organization's senior most leaders including CEO Joaquin Duato (a 2017 HBA Honorable Mentor) and other executive committee members, employee resource group front line leaders, and HBA volunteers. The team's pledge to "Our Race to Health Equity" is proof that as an industry and society overall, we cannot achieve global health equity without diverse, equitable and inclusive workforces.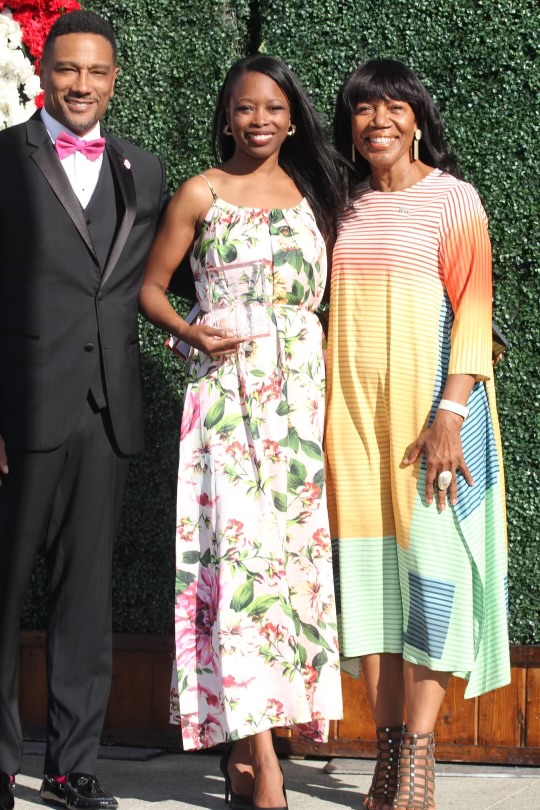 Closer to home I had the opportunity to speak and present an award at the Urban League of Greater San Francisco Bay Area Empowerment Awards & Garden Soiree to Cassandra Trimnell, for her role as the founder and executive director of Sickle Cell 101 (SC101). As the first child diagnosed with sickle cell disease through the Iowa Newborn Screening Program in 1987, and a former Global Blood Therapeutics employee, Trimnell has dedicated her life to bridging knowledge gaps and addressing the needs of the global sickle cell community. 
During these last few months and my experiences witnessing how committed organizations, passionate employee networks, and steadfast advocates can influence a culture that embraces inclusion and belonging, I am confident that we are falling into place and purposefully welcoming change for a future of exceptional possibilities.