HBA's 2023 Honorable Mentor Featured in Pharmaceutical Executive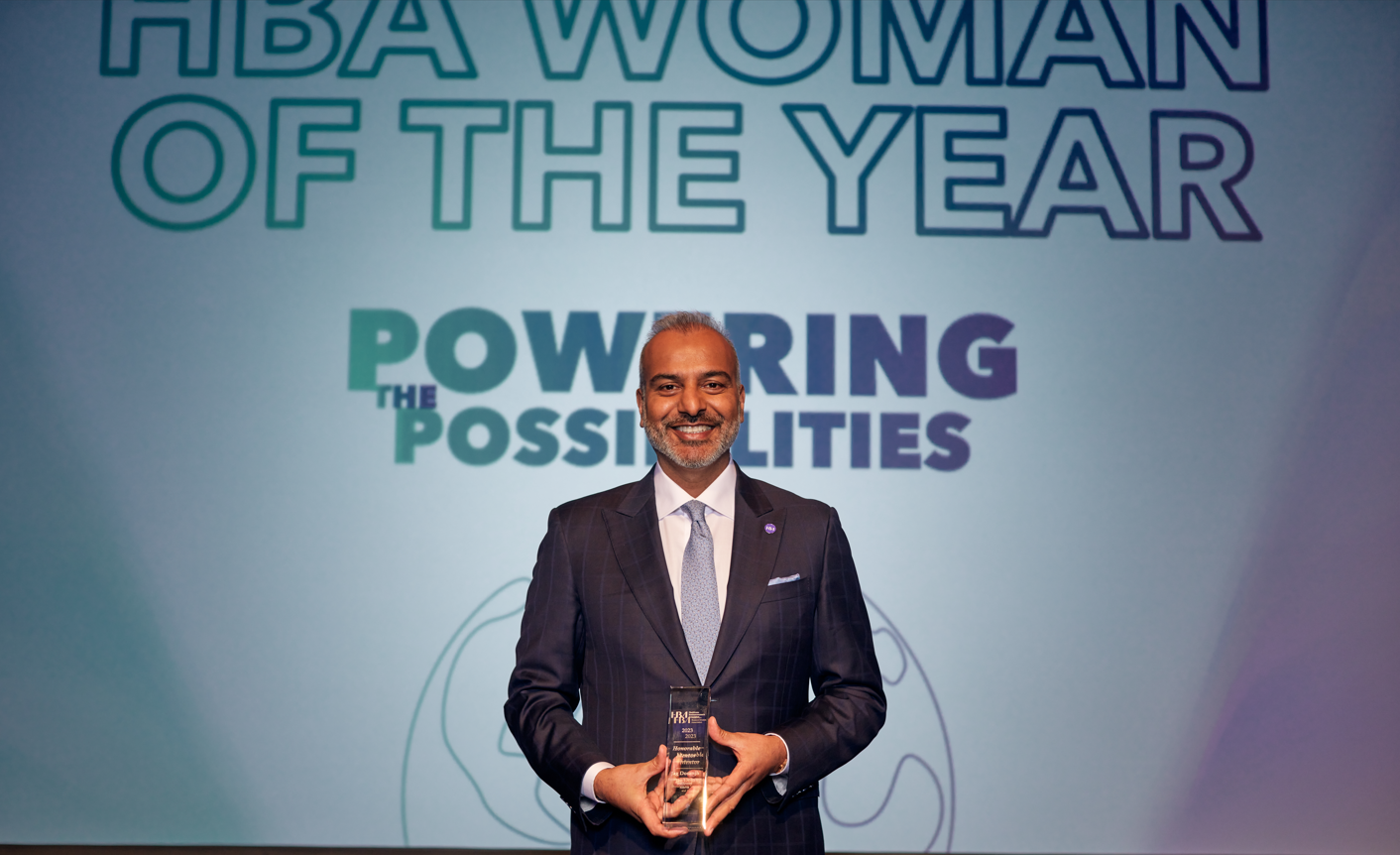 Originally published by Pharmaceutical Executive on 10 June 2023
Jag Dosanjh, president of US neuroscience and eye care for AbbVie and HBA's 2023 honorable mentor of the year, shares what leadership qualities are most important in today's "people industry"—and the impact more voices can make in stakeholder communication and messaging.
One important quality for leaders is the ability to think about others—their needs, desires, and how they can be supported. In the world of pharma, this includes not only the patient but every person a leader comes across in this people-centric industry. No one emulates this thoughtfulness toward others more than the Healthcare Businesswomen's Association's (HBA) 2023 honorable mentor of the year, Jag Dosanjh, president, US neuroscience and eye care, AbbVie.
Dosanjh's first foray into HBA's mentorship programs was in the mid-2000s when he attended an event to support one of his team members who was named a rising star. He describes the event as being filled with camaraderie, support, and encouragement, and he found himself wanting to be a part of it, particularly since he'd benefited from the counsel, support, and guidance of others in his own career.
Like many, Dosanjh entered the pharma industry on the front line. Following university, where he earned a business degree, he entered the industry via the route of medical sales.
In this position, he was tasked with the job that he describes as demonstrating what could be delivered to patients and the impact it could have on them.
"I've never found myself in a situation where I wasn't learning," says Dosanjh. "I started work in UK roles. I also did work across Europe in certain capacities and then came to the United States and did US roles, business roles, as well as global roles in R&D and global commercial development."
In his current role at AbbVie, under the umbrella of neuroscience, he covers psychiatry, migraine, Parkinson's disease, Alzheimer's disease, Botox® therapeutics, and other neuro-degenerative therapeutic areas. On the eye care side, he oversees all elements of areas that address the eye (e.g., the anterior and posterior segments, retina, glaucoma, and ocular surface disease treatments).
When asked what drew him to these two therapeutic areas—neuroscience and eye care—Dosanjh points to both his love of learning and his desire to understand customers' needs. As he describes it, "If you listen to the customers, you understand the patients' needs."
"I pride myself on spending time with customers to understand what's making them tick—really understanding the patient and, therefore, the customer and patient journey," Dosanjh tells Pharmaceutical Executive.® "If you can understand that, you can then understand how a medicine or device or a product you can bring to the doctor or the healthcare professional can help that patient. But you can only do that if you really listen. And I think that's something that I found myself doing a lot over the years."
But in order to change the world and impact lives, you can't work alone. You need a team.
AbbVie was formed in 2013 when it split out from Abbott Laboratories in the same year. In the time since, the company has developed a portfolio for many different therapeutic areas. Dosanjh attributes this success to the company's strong collaboration.
"With the collaboration that goes on across all the functions—whether it's in commercial, R&D/medical, manufacturing, finance, legal, compliance, or whatever might be—that collaboration is really a sweet spot to make sure the small cohort of people on a particular brand, for example, really know what the story is for the brand, what the opportunity is for the patient, and what the proposition is to the customer," says Dosanjh. "If that's fully understood, then you can execute in a unified way. That collaboration requires inclusion, and everyone needs to be part of that. No one function is in charge. It's a collaborative cross-functional process. That's the real secret to the culture of the company."
Dosanjh also describes his efforts toward diversity, equity, and inclusion (DE&I), explaining that the goal is to include all voices, but not just in terms of how everyone is culturally assimilated into the company. It's also about how a company—and the people therein—develops its products and goes to market.
"It's about inclusion, generally, and everyone's voice being counted. I think that collaboration and inclusion are probably the two key drivers of the culture of the company," says Dosanjh.
But what can, or does, inclusion look like? Dosanjh emphasizes how it's about making sure everyone has a voice—including people, like himself, who don't fit into stereotypical molds.
"Everyone needs a voice. Just take me, for example. I'm an Indian man born in the UK and living in America. I don't fit any mold, necessarily… Therefore, my voice may be different or [may] not be heard as much as others' voices may be," says Dosanjh. "I think it's important that everyone's voices are understood, whether it's a female voice or a male voice, from a different accent, or someone who may be less vocal. As a result of that, we've got to make sure that we give people the opportunity to be the best they can possibly be."
Without a doubt, if a diverse group is brought together, outcomes will be reached because everyone will not be thinking the same way, Dosanjh says. But in order to do that, he says you first need a culture that celebrates and encourages diversity.
After his start in the industry years ago in medical sales, Dosanjh shares two major changes in the industry since that time:
More stakeholders. In the past, he would have spoken to just the healthcare practitioner. Now, there are many more people who need to be factored in, such as nurse practitioners, physician assistants, nurses, office staff (e.g., office manager), pharmacy staff, which differs depending on the type of pharmacy (e.g., retail pharmacy or specialty pharmacy), and payers (e.g., health plan, pharmacy benefit manager, group purchasing organization, veterans affairs, etc.).
Advancements in medicine and technology. Medicines are much more targeted now and, as a result, are often more tolerable. This is courtesy of having a better understanding of a given disease or therapeutic area, explains Dosanjh.
One result of these advancements in medicine and technology is the ability to treat patients in a more targeted manner, which will require a more complex go-to-market strategy.
"[A complex go-to-market strategy requires] different resources—whether it's health economic data, medical support, complex specialty pharmacy, networks, or collaborations. It's going to require a different and unique approach," says Dosanjh.
He adds that there will need to be an even more personalized approach going forward, particularly in the go-to-market communication strategies, where companies will need to factor in what the patients require. In other words, determine why they need this therapeutic and why it is beneficial to them and then work backward from there. This goes back to his prioritization of staying close to the customer ("If you listen to the customers, you understand the patients' needs"). Through the efforts of personalizing this messaging and trying to understand why a patient would truly benefit from a given therapeutic, diagnostic, device, etc., you're then working to better understand patients and their needs.
Another piece to this personalization puzzle is data. Dosanjh explains that there is a much greater ability today to target individuals through digital analytics than there was even two years ago. He believes this is a good thing for all parties because the consumers and healthcare practitioners are given the information they want and need rather than receiving generalized pitches or information that isn't relevant to them.
The theme of Dosanjh's understanding of the customer can be easily summed up in a single word: listening. To understand anyone—including patients—we must first listen and then we can learn. Learning is one of the four key mindsets that he thinks have brought him to where he is as a leader today.
"I think listening is super important because you often find that the people working on the day-to-day work know exactly what's going on, and we need to give them the voice and the amplification to ensure that their voice could be heard such that they can drive the outcome," says Dosanjh. "If you can listen well, you can learn well."
The three final leadership skills that have carried Dosanjh through his career include building relationships, channeling energy, and challenging ourselves.
"Another piece would be relationships," he says. "This is a people business. We work within the company, people-to-people. We then talk to people who are customers, who then talk to patients. We often also talk directly to patients. We're ultimately in a people business. However, what's important is the medicine that we provide to patients. The way we act through all the relationships we build, both internally and externally, is critical and a major responsibility that we take very seriously."
Within this people business, Dosanjh believes that energy is—and should be—a priority, explaining that organizations plug into people to get energized, which fuels ideas and innovation.
"Last, but by no means least, is the ability for us to challenge ourselves all the time to ensure that we're not settling for the status quo," he says. "If we introduce medicine that's a breakthrough and can really benefit patients in terms of improved benefit-risk profile, we should ask ourselves: are all the patients who could benefit able to access the treatment? We should set our challenges and our ambitions high. How we challenge ourselves is important."
One additional quality for leaders to be successful today, according to Dosanjh, is the ability to execute.
"You've got great relationship-building skills and connection skills. You've got great problem-solving skills. And then the last piece—but don't leave home without it—is the ability to execute," he says. "If you can marry that mental agility and curiosity with the relationship with the ability to execute, that's a very powerful combination that allows you to raise performance. It creates a passion in the organization, which becomes infectious."
For those that have worked in the pharma industry for many years, it can be hard to nail down what moment or accomplishment makes a person most proud. But not for Dosanjh. He points right to his work in building out therapeutic areas that were nascent and held a lot of opportunities for patients to benefit.
"The proudest moments I've had are probably where I've been fortunate enough to find myself in businesses or companies or therapeutic categories that had a lot of opportunity ahead of them, but it wasn't obvious from the outset," he says. "But by thinking through or breaking down the market or the patient needs, we found opportunities that maybe weren't apparent from day one. I think building markets has been probably one commonality across my career. But I guess that comes from the curiosity in how you can help patients."
Another aspect of Dosanjh's career that has made him proud is his teams and how they've broken ground together.
"There's no ceiling on the opportunity for scientific advancement—for us to move forward in developing medicines for people that can really change their lives in a meaningful way," he adds.
For someone who has led an exciting career to date, Dosanjh knows where he wants to go next, and it isn't a specific role, company, or therapeutic area. It's pursuing curiosity.
"I'm very curious, and that's what keeps me engaged and interested. If I feel like I'm challenging myself every day, that's a good day," he tells Pharm Exec. "But you want to keep that ongoing challenge because it means you're breaking down a problem. It means you're solving something that wasn't solved the day before, which is pretty exciting."
Outside of his career in pharma, Dosanjh enjoys spending time with his wife, Lis, of 25 years, specifically in renovations and home design. Having moved countries and homes several times, the couple has found a passion for home improvements.
"Other than that, I think the most important thing I do is to have a smile on the face, whether it's at work or at home," says Dosanjh. "If you haven't got a smile on your face, then you need to do something about that."
Indeed, even though there are many difficulties in the world, there are many more reasons to smile. Perhaps one of those at the forefront in the pharma industry is the promising future ahead—and the potential impact drugmakers can have on patients if they listen and never stop in the pursuit of helping others.