The Last 70+ Days…It's All About Listening, Being Present, Speaking Up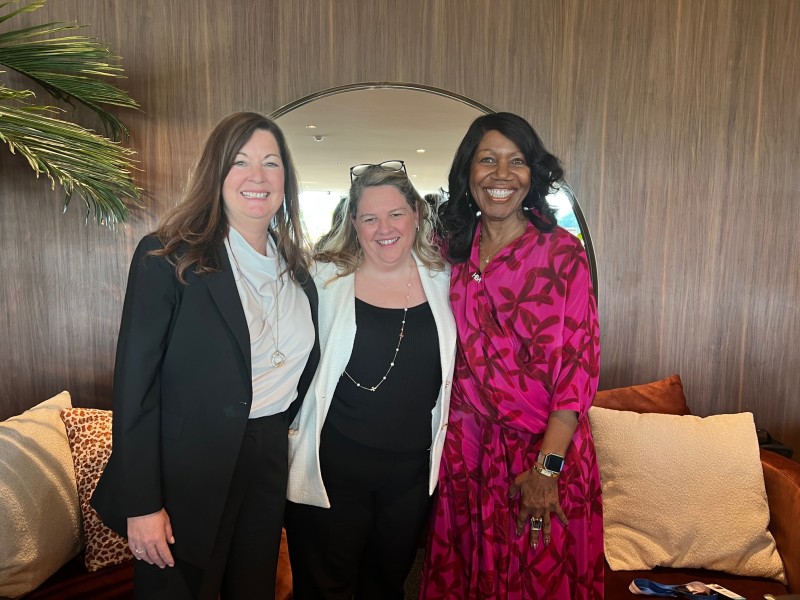 Like most people new to a job role and workplace, I have found these first few months, to be extremely exciting and yet at times challenging, as I try to take it all in and really listen to—and hear—what people are sharing with me as HBA's new CEO.
At the helm since 10 April, it has been a busy, often frenetically hectic 70 plus days. That said, it also has been a time that has left me feeling appreciative and inspired as our corporate partners and alliances have reached out with offers to give the HBA, my role as CEO, and our mission a presence and louder voice.
During the last 10 weeks, I have had the opportunity to represent the HBA on different stages and forums and with new and diverse stakeholders, from the federal government to the black entertainment industry. The events and interactions have been rich with possibilities for our future and support for women in our workforce, so much so that I want to share a brief recap with you.
In May, our valued partner Pfizer invited me to join the Racial Equity Assessment Roundtable in Washington. D.C. Thrilled to be in the room with various influential stakeholders including former U.S. Attorney General Eric Holder, I felt privileged to represent our United Force for Change network providing assessment feedback and recommendations to Pfizer on their racial equity initiatives.
Next, the New York Moves Magazine Lift As You Rise event celebrating diversity leaders also presented a unique venue to encourage women to continue the fight for a seat at the table. I was grateful to be recognized as one of the Lift as Your Rise honorees, nominated by our allies at Gilead Sciences. My remarks were echoed by the many others speaking as if we were aiming to reach a collective crescendo to drive the momentum in our fight for equity and inclusion in the workplace.
Following the few days of HBA's celebratory Woman of the Year events, the Real: Health Equity Summit, Foot on the Gas: Action, Accountability and Acceleration event took place. Influencers from pharma, healthcare associations, research institutes and the U.S. Food and Drug Administration met for this annual gathering which I co-convened and co-moderated. Each one of us pledged to continue our commitment to relentlessly drive real progress and tangible solutions that will ultimately advance the business imperative for health equity.
In June, with a greater global presence key to HBA's growth, I joined other HBA leaders including women CEOs Teresa Harris Graham, Michelle Keefe, and Shideh Sedgh Bina at HBA's European Leadership Summit in Amsterdam. Scheduled presentations like the fireside chats with Teresa and a joint one with me and Michelle—all sharing our career trajectories and answering questions from standing room only audiences. Thank you to so many of you who shared comments about the Summit on social media. Your words bring voice to continuing the conversation and our momentum.
A very unique opportunity to reach new audiences came through our Pfizer allies (again)—the American Black Film Festival in Miami. A few weeks ago, as you may have read, I was honored to introduce a Mental Health and Wellness panel discussion moderated by Pfizer's Global Chief Diversity, Equity & Inclusion Officer, Ramcess Jean-Louis and featured award winning actor Taraji P. Henson. The battle of the mind can be a life altering struggle leaving potential unrealized and can prevent us from achieving our maximum impact, particularly for women and our community of color. Giving voice to this pervasive, and yet often still taboo, health crisis is key to driving impactful change.
The most recent event took place last week, back in Washington, D.C., at the thinc360 Healthcare Innovation Congress, an annual event convening a cross section of healthcare executives from hospitals and health systems to government and life science organizations. As the closing plenary on opening day, the "Addressing DE&I to Meet the Healthcare Need of the Populations We Serve" panel inspired a great conversation which I moderated with Yetta Toliver, DBA, LSSBB, Global Head of DE&I, Xerox and Sharon Dixon Gentry, AVP, DEI Education and Strategic Partnerships, HCA Healthcare.
Not surprisingly, the discussion at thinc360, as well as my conversations with speakers and attendees at all the events I've called out, aligned on shared concerns about how we—all of us—best support the women in our ecosystem workforce. And while solutions and fixes may vary, one recurring refrain I heard was that we must be fierce and fearless in our fight for women, not just for today but for tomorrow.
I've shared this recap to let our community know that I'm out there, for you, on behalf of you, to fight the fight, to be a fierce fighter, regardless of the stage, venue, location or platform. I am here to speak out and as Malala Yousafzai has said, "I raise up my voice—not so that I can shout, but so that those without a voice can be heard…we cannot all succeed when half of us are held back."