HBA Southwest Proudly Recognizes Emily Hobaugh with the Legacy Award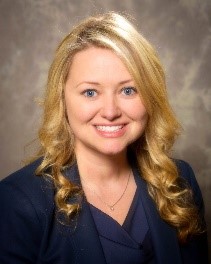 The HBA Southwest region recently presented the Legacy award to Emily Hobaugh. She was nominated for her commitment and countless contributions as an exemplary volunteer and advocate for the HBA, Emily began her HBA involvement in 2014 as a volunteer on the HBA Women's Healthcare Innovation and Leadership Showcase (WHILS) Executive Committee in New York City. She then worked to launch and build HBA Houston into the thriving chapter that it is today.
Emily has an exceptional ability to envision, strategize, and execute initiatives that bring value to HBA members. Her natural leadership, strategic thinking, and intuition for community creation are among her many strengths. Emily goes above and beyond and shares her time, talent, and expertise to upskill new chapters in growth and assist volunteers in their functional areas and organizational processes. She is strategic and tactical, sharing her best practices for program execution through change management and proven financial strategies to improve top and bottom-line results.
Emily's insistence on excellence and inclusion has created an environment that fosters professional development and growth. She excels in organizational leadership and has identified and recruited multiple volunteers to regional board roles across the nation — not just within the HBA Southwest region. Emily leads by example, lives her values, and is selfless in helping others advance.
We thank Emily for her unwavering drive to further the advancement and impact of women in the business of healthcare. Email Emily.
Emily Hobaugh is a Transplant Account Manager at Takeda Pharmaceuticals, Inc. She has held multiple roles working across rare disease, hematology, oncology, GI, and neuroscience in her 20+ year career at Takeda and formerly Shire. Emily also serves as the USBU Development Lead for Takeda's Employee Resource Group "Gender Parity Network Field Based" and volunteers for multiple nonprofit organizations in Houston. She was recognized by the Houston Business Journal with the Women Who Mean Business Award for her community engagement and leadership efforts in 2020. Emily would describe herself as a continuous learner who is passionate about professional development and creating opportunities for others to connect and grow. She is a world traveler who has been all over six continents, although among her favorite things to do is to spend time with her family and teacup Yorkie, Darby. Emily graduated from North Carolina State University with a Bachelor of Science in Textiles and from the University of Maryland - University College with a Master of Science in Management, specializing in Project Management.