10 October 2019
We are continually experiencing change. Change was welcomed when we were young and is easily embraced in our personal lives. However, the same vigor is not always applied in our professional lives. 
This was the perfect framing by Jeff Dufour, country manager, Pfizer Switzerland for the event themed "Thrive in an Environment of Change", held at the Pfizer's Zurich office on 2 October.
The evening began with a warm introduction by Cynthia Queano, president of HBA Zurich – Zug. Cynthia delivered a compelling opener about the mission of the HBA. A mission particularly well represented in HBA Zurich – Zug as it is composed of an experienced, multinational, diverse and trans-discipline board guided by this thought: "If you are privileged enough to be in the elevator going up, don't forget to send that elevator back down." She shared that the two-year-old chapter has enjoyed a great year of positive change, seeing a double-digit increase in membership numbers, with four compelling events during 2019.
"Nobody wants change as much as a baby with a wet diaper." An apt metaphor from Jeff as he continued by talking about the discomfort that comes with change and highlighted the need to embrace it. As a captain of industry, he went on to say that with the rapid technological advancements taking place in the healthcare industry right now, change has become inevitable and will continue to be a constant. However, the impact it has on each individual is strongly dependent on how it is approached.
This was the perfect moment for Jessica Lockhart to take over the evening.
Jessica is the embodiment of change and the personification of mastery over the future. In her own life, she converted hardships into opportunities, she overturned perceived impossibilities into realities. She is resolute in her quest for positive momentum and her alchemy is called Humanology. 
She explained that what upsets people most during a period of change are imbalances of the basic human needs and fear.
The former is defined not through practical extrinsic needs but intrinsically. Security (or safety), adventure (or surprise), love (the need to provide and feel), contribution (or value) and growth (intellectual and spiritual) are the five needs that she identified. The relationship between them is organic and their respective significance (priority) changes depending on the environment at any given moment.
Across a landscape of change, prioritizing these needs can help the individual carve an appropriate and effective path. She explained that while tackling the conditions, we sometimes find solutions that do not really fill the right 'holes', leading to a feeling of being lost and frustrated. Appropriate identification of the needs can provide solutions that are more directed and purposeful, resulting in effectiveness and sustainability.
When these needs are aggregated on a company level, they provide a panorama of the corporate culture – a clear map of the collective need during a time of change.
Jessica then took the audience down the path of the second factor – fear during the time of change. People are conditioned to worry in society, she observed – the need to plan, anticipate and change course is inherent and continually enforced by those around them. However, this worry can easily take a downward spiral into fear when the power of "What if…" is not channeled in the right direction. And it is this fear that paralyzes.
With her ability to break complex cognitive pathways into easily understandable concepts, Jessica provided solutions to break this grip. Whether in a pre-emptive manner, in the moment, or afterwards, the audience took away both mental and physical practical mechanisms to disengage from fear. Her 'mental-switch' technique was easy to construct and her method to focus on the literal 'here and now' were two among the various tools workshopped.
The audience came away from the evening feeling empowered, equipped with new practical tools that project beyond coping, into a mindset of confidence and control. The intimate and interactive session made it feel like it was a tailor-made workshop – undoubtedly, much needed in the current climate. The audience felt privileged having the combination of Jessica's gravitas and Jeff's insights. Perhaps this is the metaphorical elevator that Cynthia was referring to.
Written by Sean Yap, director-at-large, marketing and communications, HBA Zurich – Zug.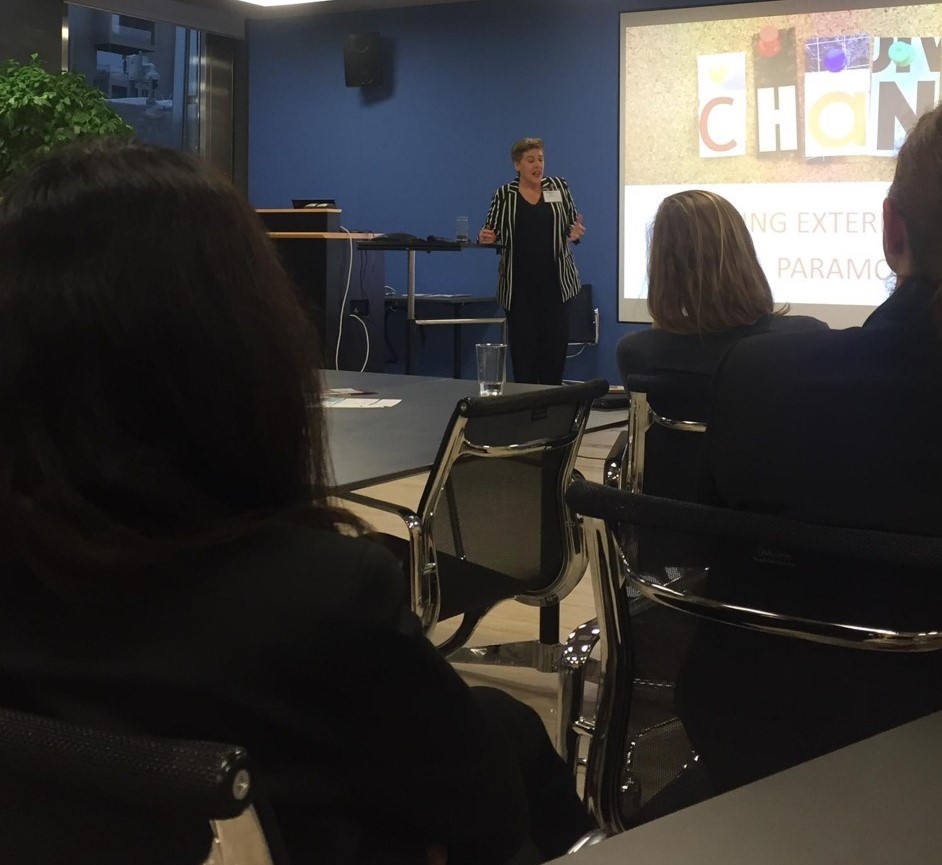 Jessica Lockhart, humanologist, enthralling the audience with her wisdom on thriving during a period of change.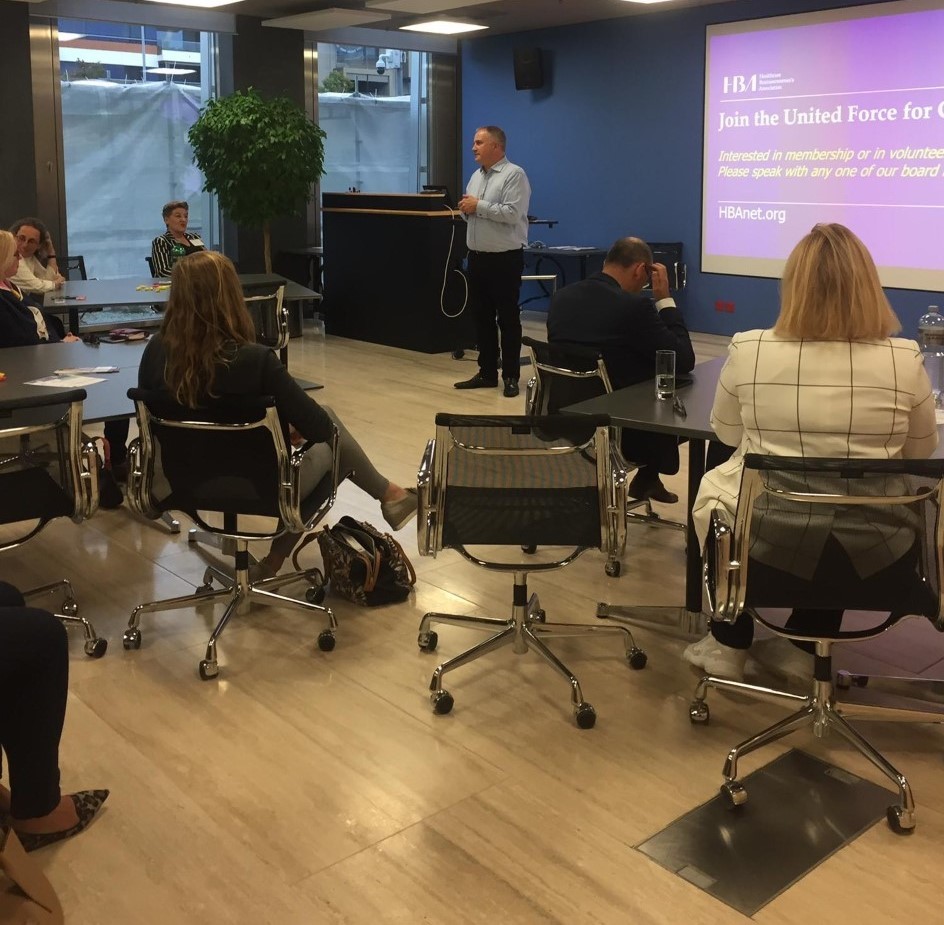 Jeff Dufour, country manager, Pfizer Switzerland.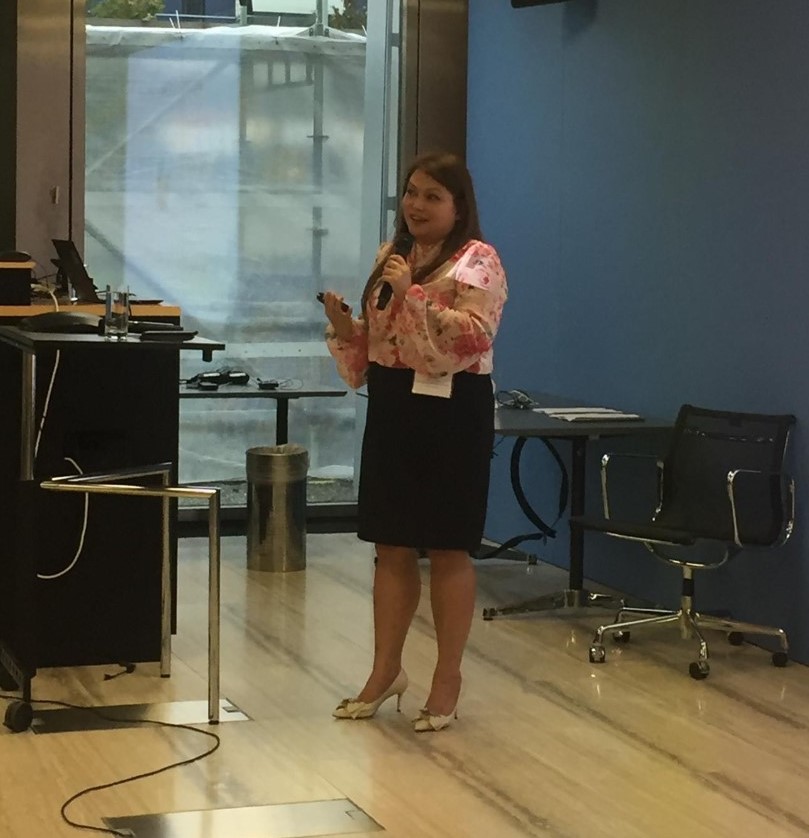 Cynthia Queano, president HBA Zurich – Zug.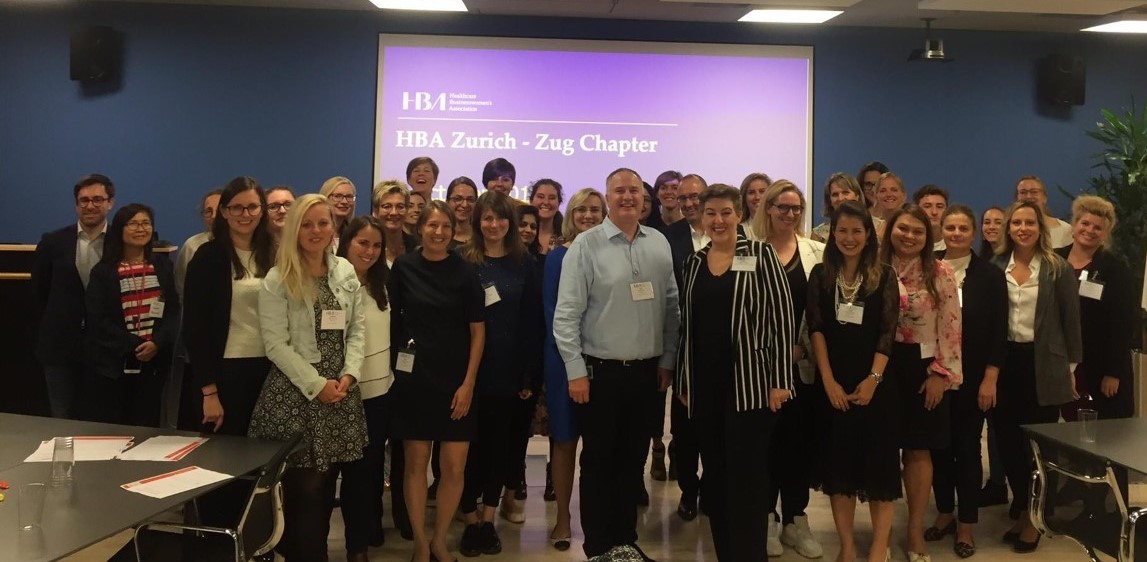 Some of the attendees of this inspirational event.