Recap of an evening event presented by the HBA New England Region Women in Science affinity group
By: Haifa Kassis, MD
On 13 June 2019, the HBA New England Region Women in Science (WIS) affinity group presented a well-attended evening event on transformative therapies for rare diseases. The event was sponsored by Alnylam Pharmaceuticals and was graciously held at their Cambridge location. 
Jennifer Lee, PhD, WIS New England Region director at large, kicked off the event by welcoming the audience and highlighting the work the HBA does to promote gender parity and to support the careers of women in the healthcare industry. Cheryl Small, vice president of clinical operations at Alnylam Pharmaceuticals, also welcomed the audience and introduced the program and speakers.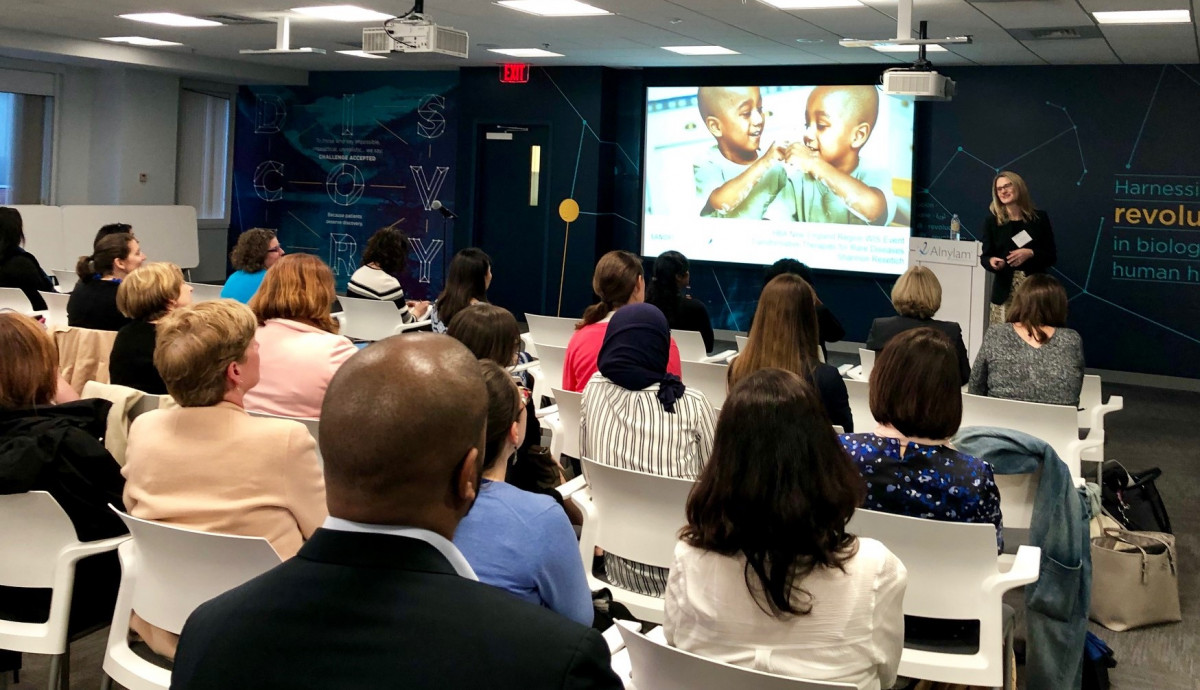 The event featured presentations and a panel discussion by two highly accomplished women leaders in the pharmaceutical industry:  Saraswathy (Sara) Nochur, PhD, chief regulatory officer, regulatory affairs at Alnylam Pharmaceuticals and Shannon Resetich, MBA, head of North America for rare diseases and rare blood disorders at Sanofi Genzyme. 
In her presentation, Sara explained that RNA interference (RNAi) is a natural mechanism for regulating gene expression. In this process, small interfering RNAs (siRNAs) molecules block translation of specific proteins by neutralizing targeted mRNA molecules through the RNA-induced silencing complex (RISC).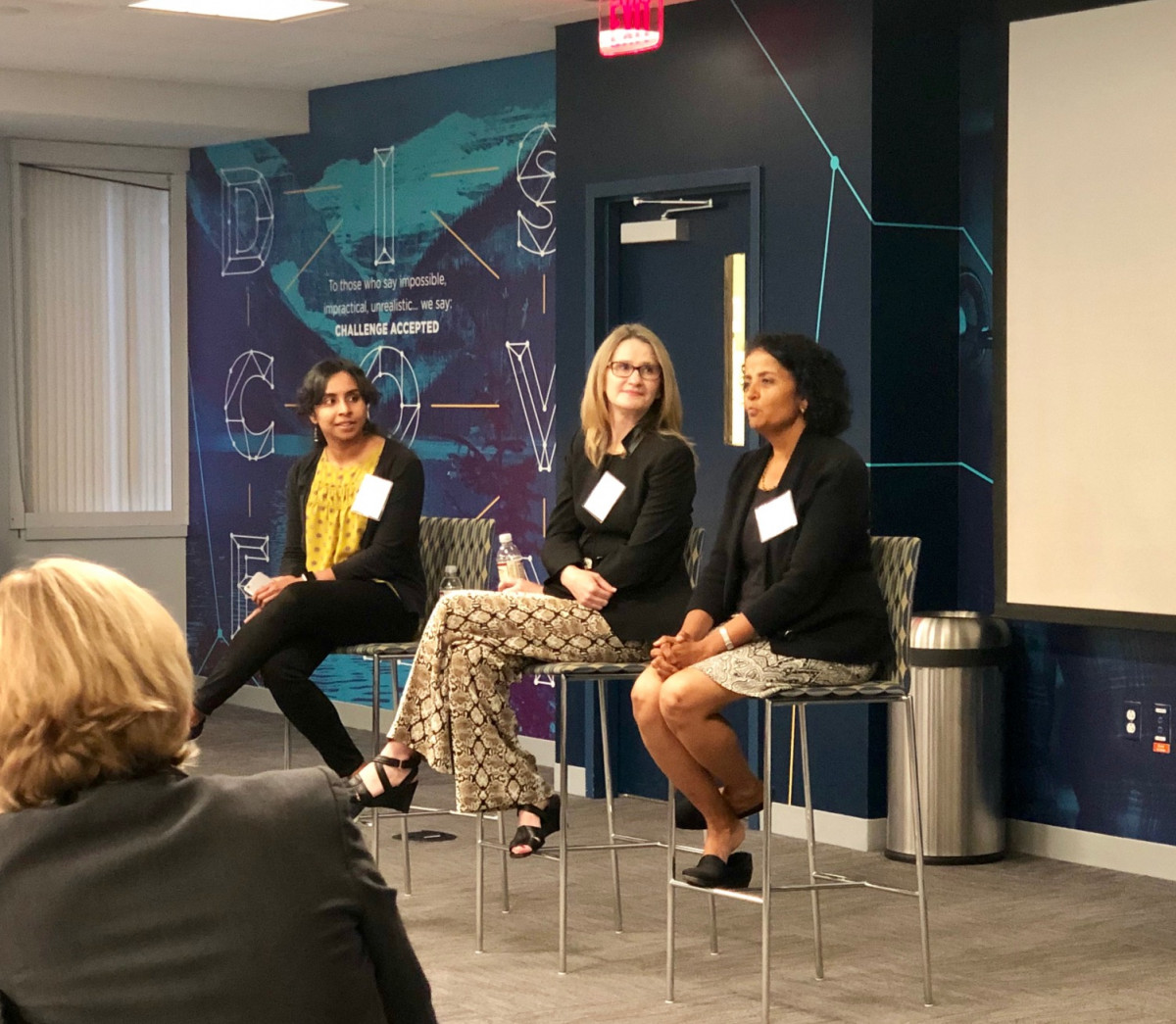 Alnylam Pharmaceuticals developed novel technologies to deliver synthetic siRNAs to inhibit the expression of proteins that are the cause of several rare diseases. Since joining Alnylam Pharmaceuticals 13 years ago, Sara has built a world-class global regulatory affairs team, leading to the approval of Onpattro (patisiran), the first-ever RNAi therapeutic, for the treatment of hereditary transthyretin-mediated (hATTR) amyloidosis. This therapy was approved in 2018 by both FDA and EMA. 
Sara described the unique challenges Alnylam Pharmaceuticals faced in developing RNAi therapy for hATTR. For example, little was initially known about the pharmacokinetics of siRNAs when she joined the company, but this information was required by the FDA because RNAi compounds are regulated as drugs. Furthermore, because siRNAs are unstable if administered orally or intravenously, it was necessary to develop unique platforms (such as lipid nanoparticles and GalNAc-siRNA conjugates) for siRNA delivery. Sara emphasized that creating a focused R&D strategy and building collaborations were instrumental in bringing Alnylam's novel therapies to clinical trials and eventually to the market. Alnylam Pharmaceuticals continues to work on expanding its pipeline and is now collaborating with Regeneron to develop RNAi therapies that can be used for ocular and CNS applications. 
Shannon took the stage after Sara's presentation. She passionately told the audience about the legacy of Genzyme's co-founders, Drs. Henri Termeer and Henry Blair, who emphasized the role of patient-centered approach in clinical research and focused their efforts on developing therapies for rare diseases. They formed Genzyme in 1981 to advance research in enzyme replacement therapy (ERT) with the goal of treating Gaucher disease, a rare fatal lysosomal storage disorder (LSD).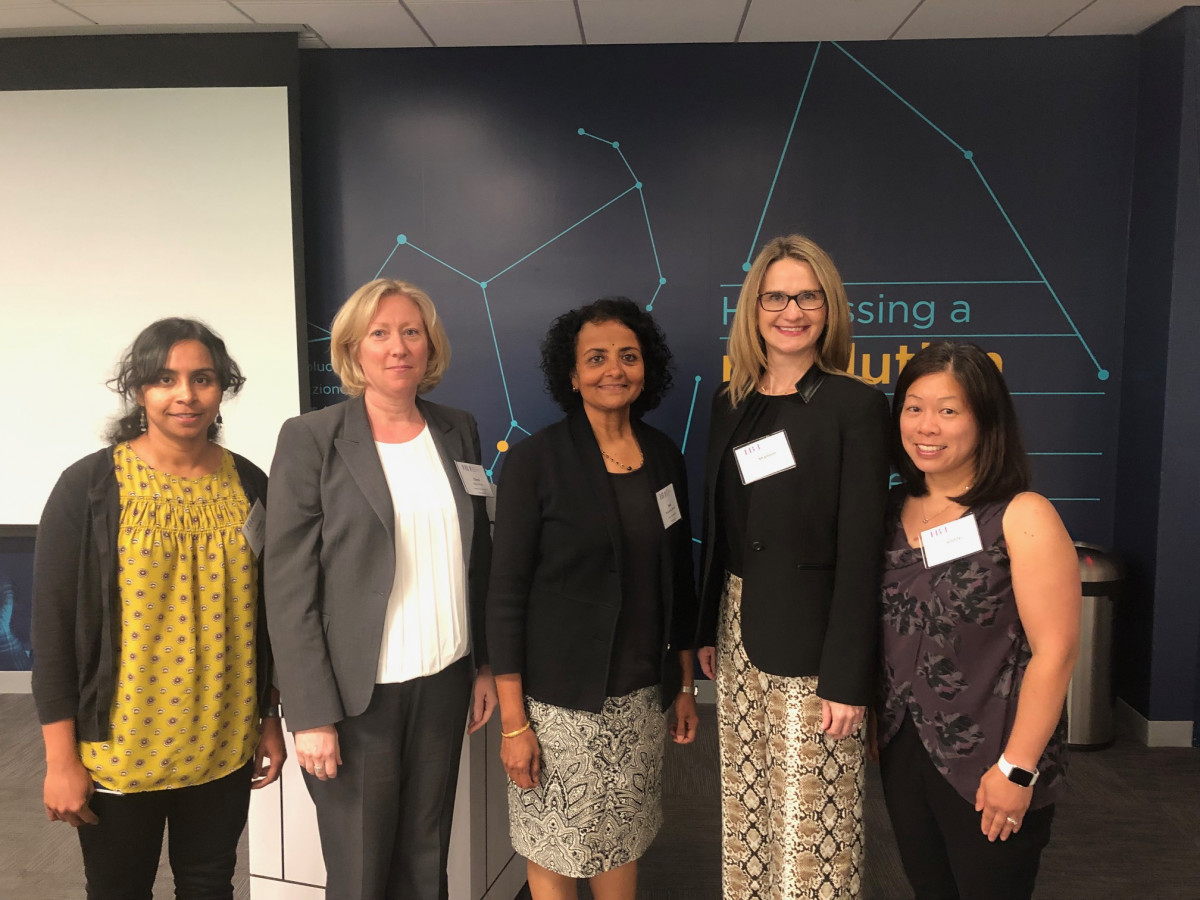 Genzyme became part of Sanofi in 2011. While continuing to focus on developing therapies for LSDs, Sanofi Genzyme has also expanded its pipeline to include therapies for rare blood disorders, multiple sclerosis, oncology and immunology. In February 2019, the FDA approved Cablivi (caplacizumab), a single-domain antibody fragment, also known as a nanobody, developed by Sanofi Genzyme for the treatment of acquired thrombotic thrombocytopenic purpura (aTTP). This is the first FDA-approved therapy for this rare blood disorder. 
Most recently, Sanofi Genzyme entered into a partnership with Alnylam Pharmaceuticals to co-develop and co-commercialize investigational RNAi compounds for hemophilia, a serious rare blood bleeding disorder caused by the absence of clotting factor VIII (hemophilia A) or factor IV (hemophilia B). In addition, with the acquisition of Ablynx, Sanofi Genzyme plans to continue to develop nanobody products for several rare blood disorders. 
The speakers' presentations were followed by a panel discussion and an engaged Q&A with the audience, moderated by Mangala Soundar, PhD, from WIS and Alnylam. Here are some key points:
On overcoming the challenges of developing therapies for rare diseases, Sara said that "You'll need tremendous team effort, hard work and perseverance against all odds. Never lose hope if you believe that therapy can work." Shannon said that "The patient is at the center. Patients with rare diseases need us. They often go for a long time as medical mysteries until their diseases are diagnosed. I keep coming back to rare diseases because working with these patients is very addictive at the fundamental human level." 
On career development, Sara and Shannon shared that none of them had a five-year plan that they aimed to execute. Life is dynamic and at every new level of responsibility, they found that they needed to develop new sets of skills. When one is presented with a new opportunity, they both strongly recommend taking a good look at the company's culture to see if diversity and inclusion are valued.
On how boards of directors decide which rare disease to target, Sara and Shannon shared that many factors contribute to these decisions. These factors may include the magnitude of the unmet medical need, the likelihood of success of regulatory submission, previous experiences with therapy or disease and the current state of the market.