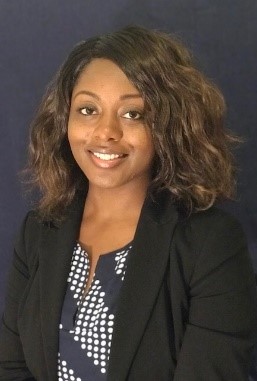 HBA Houston Honored Volunteer award was presented to Kawanah Polidore. Kawanah was nominated for her commitment and many contributions as a volunteer for HBA Houston. She has demonstrated an amazing attitude, enthusiasm and initiative to help the HBA Houston grow. From the very beginning, Kawanah has been one of HBA Houston's most active Ambassadors. Often people comment that they learned about HBA Houston from Kawanah. Most recently, Kawanah has been volunteering her time to get HBA Houston organized by helping us to streamline our communications.
Kawanah Polidore is currently a practice administrator, who works with physicians and healthcare professionals, managing areas of responsibility that make a medical office run efficiently. After several years of analyzing workflows, optimizing productivity and managing personnel, Kawanah believes the ingredient to a successful practice is to build a solid foundation, foster collaboration and have clear and concise communication. 
Before becoming an administrator, Kawanah was given the opportunity to work with the Nacogdoches Memorial Hospital's stroke committee, to prepare data that helped the hospital achieve the Joint Commission's Certified Stroke Center Designation. She is an active member of the American Academy of Professional Coders, which she continues to nurture her skills by completing continuing education courses and seminars. In addition, Kawanah serves as secretary on the board of the Medical Group Management Association Gulf Coast Chapter (GCMGMA) and makes time to mentor children. Kawanah holds an MHA in healthcare administration from Texas Woman's University located in Houston's Medical Center. 
Thank you, Kawanah, for your dedication to inspire and further the advancement and impact of women in the business of healthcare. HBA Houston would not be possible without the contributions of volunteers like Kawanah. She is an extraordinary volunteer that has played a significant role in building the HBA presence in Houston. We are lucky to have Kawanah as part of the team. Email Kawanah.