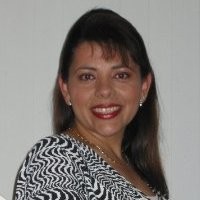 This month's HBA Houston Honored Volunteer award was presented to Adriana Sanchez. Adriana was nominated for her commitment and many contributions as a volunteer for HBA Houston. She has demonstrated an amazing attitude, enthusiasm and initiative to help HBA Houston grow. Adriana has been extremely active helping HBA Houston plan programs and identify speakers that will engage our members.
Adriana is the west coast national account manager for Relypsa. With more than 17 years in the pharmaceutical industry, she has had the privilege to represent multiple products in women's health, cardiology, endocrinology, neurology and nephrology, to name a few. Working with national accounts and pharmacy benefit managers for the last 16 years of her career, she has partnered with these accounts through the many changes in payer landscape to open access and reduce prescription copays of key products to members within these plans. 
Adriana has been named to multiple internal advisory boards and has collaborated with marketing and training in the development and execution of special projects. She has also been the recipient of multiple awards and has earned several President's Club Awards. Adriana believes in supporting her community through non-profit organizations and charity work, empowering women at all levels and as an ex-docent from the Houston Zoo, is known to tell you more than you ever wanted to know about many animals.
Thank you, Adriana, for your dedication to inspire and further the advancement and impact of women in the business of healthcare. HBA Houston would not be possible without the contributions of volunteers like Adriana. She is an extraordinary volunteer and we are lucky to have her as part of the team.