On the evening of 27 September, over 40 attendees joined Charlotte Sibley, 2008 HBA Woman of the Year, and select HBA West Chester board members at the beautiful campus of DePuy Synthes to learn how to lead and thrive in the face of change. The evening started with a networking hour for attendees to grow their network.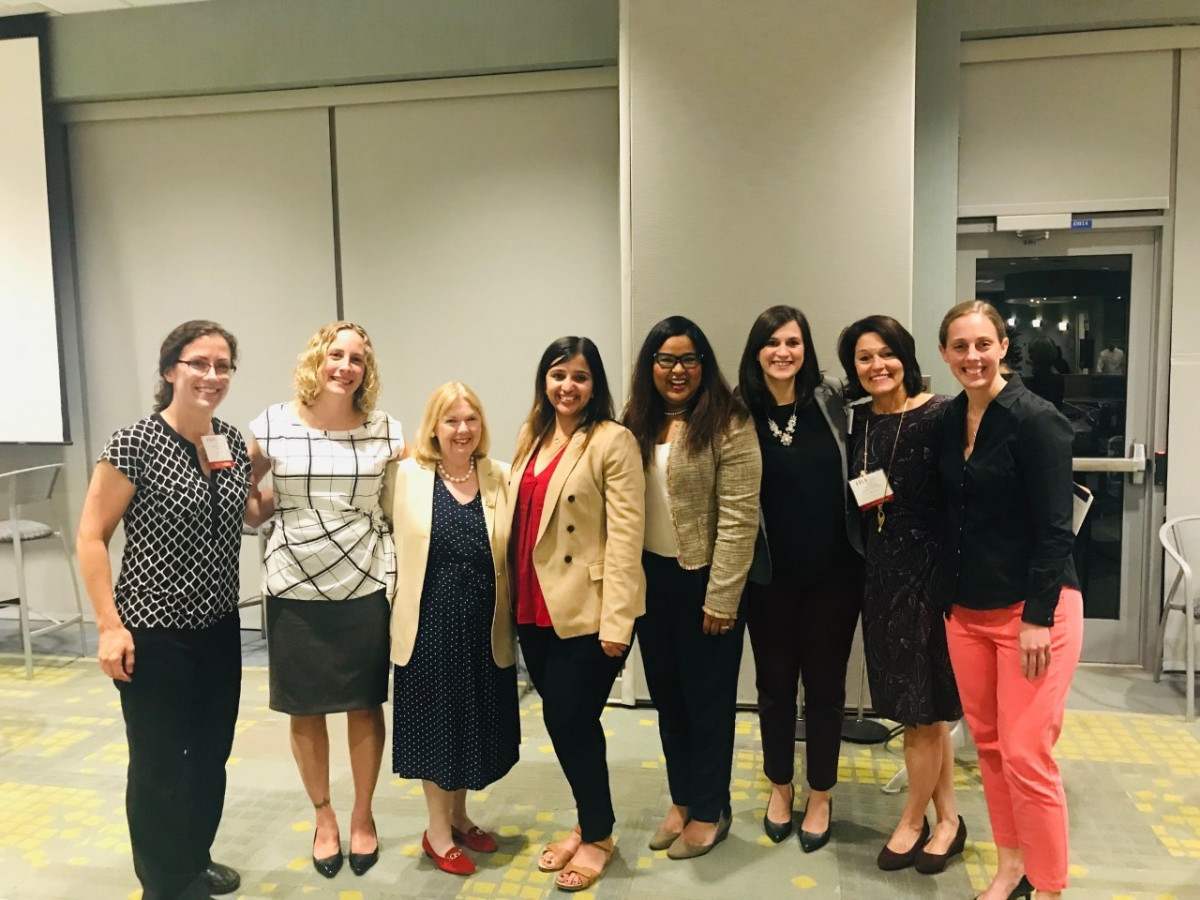 From left to right: Rebecca Casaubon [HBA West Chester chapter operations director at large], Melissa Kucharik [DePuy Synthes], Charlotte Sibley [speaker], Nishtha Gupta [HBA West Chester programming director at large], Nidhi Saxena [HBA West Chester marketing director at large], Danielle DuFour [DePuy Synthes], Nancy Kovach [HBA West Chesetr membership director at large], Jessica Galie [ Depuy Synthes]
Nidhi Saxena, HBA West Chester marketing director at large opened the event and invited Danielle DuFour and Melissa Kucharik to share DePuy's commitment to enhancing women's leadership. Danielle and Melissa provided an overview of Johnson & Johnson, WLI (Women Leadership & Inclusion) steering committee and their key program tracks within DePuy as well as Johnson & Johnson. 
Charlotte Sibley brought to attention factors that motivate people to come to work: doing something of value and being appreciated. Charlotte shared valuable insights from her 40+ years in the healthcare industry and advised that we all need to be prepared for change.
To set the stage, Charlotte debunked some common myths and clarified that healthcare industry is prone to similar macro-economic factors, consumers often do not know what they want, nor rely heavily on price to make choices and technology savviness is not limited to a young age group.  
Charlotte summarized upcoming healthcare industry changes in the following areas:
Big pharma takes promising assets and muscles them through massively expensive phase III and launch
Much innovation comes from small biotechs and academia
Category leadership will likely continue 
More cures means less treatment
Greater convergence of drug, device and diagnostic
Evidence-based medicine (EBM) and precision medicine
Value based contracting
Changing customer drug delivery experience
Anti-counterfeiting measures
Supply chain efficiencies
Charlotte shared that to stay relevant beyond AI, we all need develop skills with digital and technology expertise, creative thinking and experimentation, strategy development, data analysis and interpretation along with social networking. 
Charlotte referenced that personal cycle of change from denial to readjusting can vary in length and gravity. With that, to survive and thrive through change, Charlotte recommended keeping a sense of balance and perspective, taking care of self and soul, doing things you love, volunteering, networking and never eat lunch alone. She shared how she used her time of transition to reconnect with music concerts along with her beloved husband. She urged travel, connect and really focus on oneself when change is manifesting. 
Charlotte concluded her presentation by sharing some valuable tips on in-person networking and some tangible direction on joining an organization that you care about (cultural, avocation, religious). Charlotte shared the importance of being a good listener, asking open ended questions and having your "elevator speech" ready.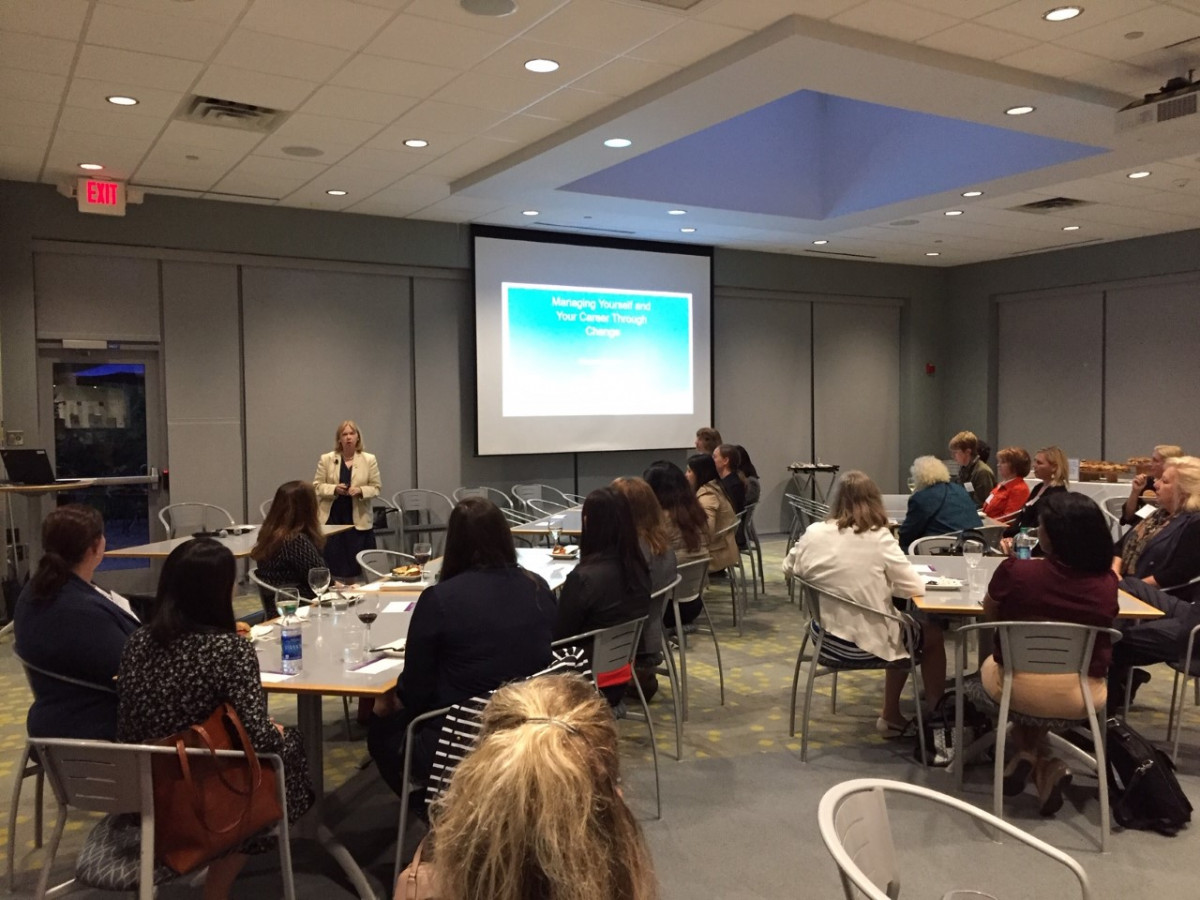 Nancy Kovach, HBA West Chester membership director at large, thanked Charlotte for sharing life lessons based on her established professional journey and presented her with a token of gratitude. She additionally thanked DePuy & HBA's volunteers for making the evening possible. Nancy Kovach urged the members to volunteer for open roles in marketing and programming. Please reach out to Nancy Kovach for expressing interest in one of the few open volunteer roles.
On behalf of HBA West Chester, we'd like to extend our warmest appreciation to our hosts for the evening, DePuy Synthes, volunteers, members and their guests who made the evening exciting and memorable. 
Gentle reminder to register for upcoming events in October:
Charlotte is known in healthcare industry for her strategic vision, building and leading teams, and for developing and coaching people at all levels. She was named PharmaVOICEe's Most Inspiring People in Pharma in 2006 and HBA's Woman of the Year in 2008 recognizing her leadership, business expertise and dedication to mentoring. Over a 40-year career, starting in market research at Pfizer, Charlotte has built and led integrated commercial assessment, insights and analytics groups in four major pharmaceutical and biotech companies. She also spent three years on Wall Street as a security analyst for the pharmaceutical industry. Most recently, she was senior vice president at Shire plc, heading up leadership development and key corporate initiatives focusing on customer engagement and marketing excellence. Currently Charlotte, serves on the board of directors of privately held Taconic Biosciences, Inc, where she chairs the nominating and governance committee. She is chair of the board of directors at Fort Hill Co., which provides innovative tools for workplace and performance improvement.