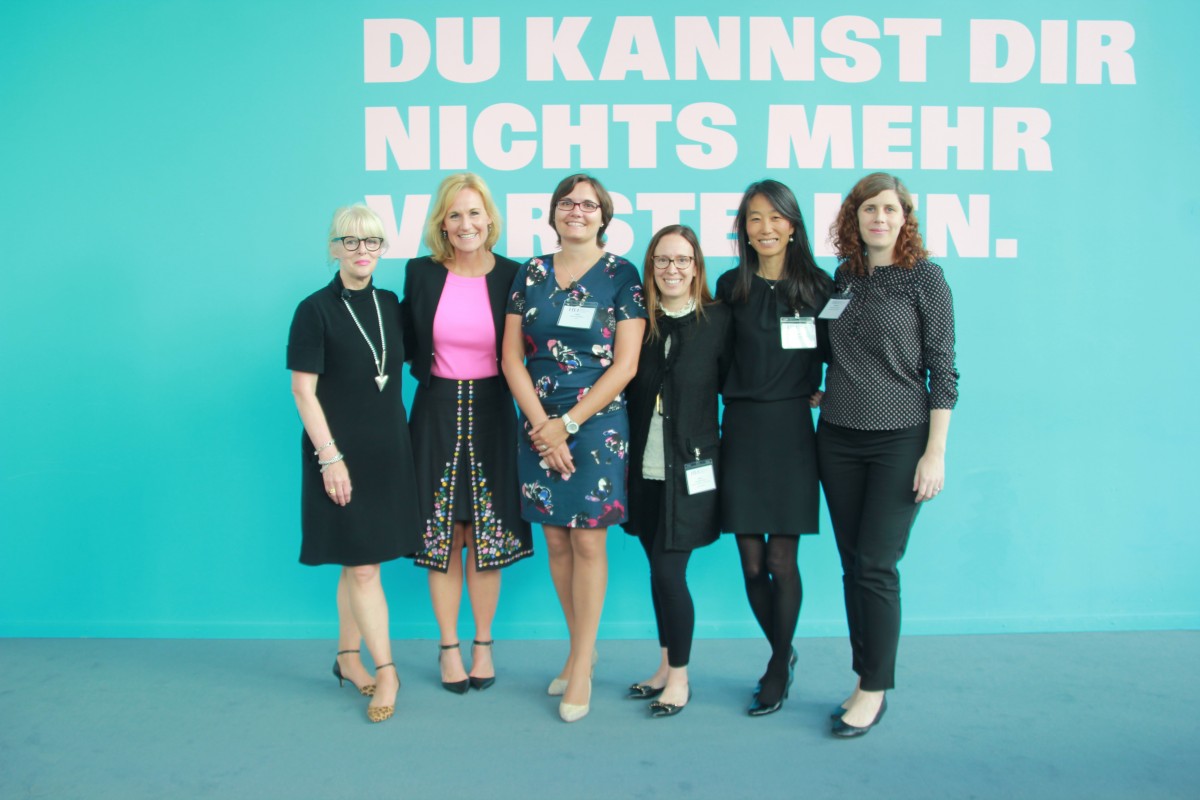 Basel – 22 May, 2018. One year after the successful HBA Basel event on Gender Parity: A Matter of Inside-Out, we met again at Roche with almost 100 participants and leaders from Pharma and other industries, including IT and banking, to continue the discussion on gender parity from a cross-industry perspective. The goal of the 'Gender Parity: Time to Act' event was to exchange learnings and share perspectives to help define actions we can all take to further narrow the workplace gender divide.
The event was kicked off by Marianne Renaud from McKinsey who shared with us her thoughts on the results of their recent research on gender parity. The data clearly shows that there has been a lot of progress, but also that we still have a long way to go, and that productivity and business results are depending on it. If every country were to close gender gaps in work at the same rate as its fastest improving regional peers, it could bring an additional $12 trillion to global GDP by 2025. It is proven by decades of research that companies that are diverse, perform better than their peers who are less diverse.
With this in mind, Rebecca Vermeulen, vice chair of the HBA BoD and dead of customer strategy global medical affairs at Roche, started the panel discussion with Jane Griffiths, global head, Actelion (part of Johnson & Johnson), Yuri Lustenberger-Kim, regionalhead of diversity & inclusion Switzerland at UBS, and Leona Tscherter, head of customer experience practice EMEA at SAP.
How to improve diversity in the workplace?
The McKinsey study indicates that the majority of senior management and c-suite level leaders understand that improved diversity leads to improved business results, but this is not sufficient to make a real change. In order to truly improve diversity at all levels of the organization, we must all be agents for change. Developing an ecosystem to drive gender parity and diversity requires continuous effort and collective actions. In this way, corporate culture plays a critical role in achieving our gender parity goals.
Leona Tscherter feels that even with a pro-diversity ecosystem in place, you still need to reinforce a positive mindset where everyone is really living these values. "The idea is to have a collective where everybody believes in it and acts accordingly", said Leona. Coming from the IT industry, Leona highlighted how using new technologies, such as AI, could help remove unconscious bias in job descriptions.
Lean in or lean out – flexibility at work
The panel discussed the concepts of 'leaning in' and 'leaning out' to one's career, depending on life priorities changes, and how important it can be to take action when the time is right. Jane advocates that women step up, get out of their comfort zones and do not shy away from big, challenging tasks. As women, we must take these opportunities to lead and role model for other women in the workplace. Yuri highlighted that she had chosen to "lean out" for a time to increase her focus on family and her personal life. This is a personal decision that people can choose to make at certain times in their lives. The panel also discussed the idea of leaning out on a micro level, which may not mean taking a professional break, but rather leaning out on days when your personal life demands it.
All panelists agreed on the fact that flexibility at the workplace was needed; there are times where it is critical to lean in and times where it is fine to lean out. Both women and men should be able to balance their professional and personal lives. However, it was stressed that perception is crucial in this context. If people do not feel supported by their workplaces to lean out, they will not do it. The working environment and the corporate culture must contribute to ensure that people take decisions that allow them to balance their personal and professional priorities.
The importance of mentors and sponsors
Yuri pointed out the lack of female role models can contribute to why female employees may feel unsatisfied with their roles and potential in the company. Jane stressed how much she believes in sponsorship of women.
"Focus of leadership should be on diversity. You have to make signature moves in promoting women and reducing bias." – Jane Griffiths
Under-representation of female leadership is an issue. There are often not enough senior role models for young female professionals, so sponsoring high-potential females could compensate until the gap gets closed.
The cross-industry perspective of this event really enabled a productive dialogue that raised a number of learnings for us all. These female leaders from very different industries were talking the same language, discussing the same issues that are affecting all women in the workplace. Audience attendees got engaged during the panel in a lively discussion, which continued in smaller groups during the networking apéro that followed. If the shared lessons are learned and applied, this will help drive change across industries.
Key takeaways
A lot of progress has been made towards gender parity – but progress takes time and requires a constant and collective effort from every level of an organization.
Younger generations should feel positive about the direction in which we are heading with respect to gender parity and stay inspired to work towards their goals.
It is all about balance – we should aim to create organizations where men and women can lean in and lean out on a daily basis.
Stay authentic and passionate.