HBA West Chester managed to deliver a trio impact in their June event - a powerful speaker, incredible tips for building confidence and excellent opportunity to network with 100+ attendees. On 5 June, HBA West Chester was delighted to welcome Denice Torres, HBA 2015 Woman of the Year, for an inspirational talk, "The Confidence Muscle & How to Pump It Up".  The event brimmed with energy with over 100 participants at the lovely West Pharmaceuticals campus.
Following an energetic networking hour, Anita Burrell, HBA West Chester president, opened the evening and shared the mission of HBA as well as HBA West Chester's role in advancing gender parity. Erin O'Brien, vice president of product management and marketing operations at West Pharmaceutical Services, Inc, was the corporate sponsor representative who also talked during the event. She provided an overview of West's mission and history. She also talked about West's WIN (Women in Network) group. This is a West employee resource group focused on mentoring, educating and developing women to foster their professional success, and enabling West to achieve its business goals. WIN volunteers also helped with the organization of this HBA event.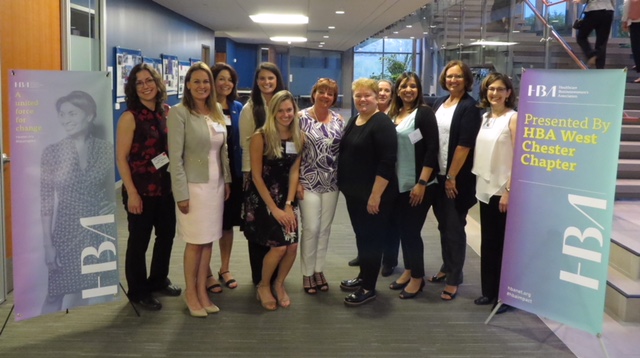 Denice is well known as an engaging and motivational speaker. She has a unique presentation style that both entertains and educates, as she demonstrated once again to the HBA West Chester audience. At the event, Denice shared her personal story and life experiences, showing us how she has built up her own confidence muscles throughout her life and career, becoming a successful and confident business leader, spouse and mother.
Denice assured us that almost all of us struggle with confidence at some point. She talked about how important it is to our confidence to create a balanced sense of self that is shaped by our relationships, experiences and personal needs. She stressed that our own decisions about how we choose to handle life's difficulties play a crucial role in shaping our confidence. She encouraged us to commit to dealing with our inevitable setbacks and wounds – personal or professional – in a positive and self-affirming way. In her memorable style, Denice calls this "turning scar tissue into tattoos".
Denice shared that building confidence is a process of self-reflection and re-framing negative thoughts about one self in a positive and productive way. So in other words, it's not the absence of failure, it's the process of remaining resilient through failure.  
Denice also talked about fear. She mentioned the "impostor syndrome" – the fear of somehow having our weaknesses exposed. The impostor syndrome makes us self-protective, which keeps us from being able to accept our mistakes, and actually prevents us from building and projecting confidence.  A confident person (unlike a swaggering one) is able to be vulnerable to learning, connecting, accepting feedback, admitting mistakes and growing. And as a result, a confident person can create the valued human connections we all want and need.
On a practical level, Denice recommended that we don't just play to our strengths but think about the weaknesses that rob us of confidence. We can build our confidence muscle by building new and sometimes uncomfortable skills. Much like an athlete building up a weaker muscle, learning and practicing new skills will help us grow and build our confidence muscle.
One of Denice's main tips for us was about personal energy. Where do we want to put our energies? Are we putting our energy into the things that are truly important to us? Or are we wasting it, or perhaps letting others drain us? If our lives are about only pleasing others, we can find ourselves exhausted and joyless. It is impossible for tired and unhappy people to be confident, and we certainly will not be able to be the women and business leaders we aspire to be in that state. Confident people practice claiming their own space, saying no when they have to, being open to change and most of all – celebrating and sharing who they truly are.
Denice closed our event with an exercise in identifying our own strengths and weaknesses, and reflecting on the lifelong, often messy process of building up our confidence muscles. The exercise included answering following questions:
If you could transmit three strengths to the person you love the most, what would they be?
If you could extract three things to be hermetically sealed and dropped into the center of the universe what would they be?
If you could then gain three new superpowers what would they be? How would those super powers help you?
Denice shared with the audience that she is writing a book about confidence and it will be release this year. We cannot wait for the release of Denice's new book about confidence later this year.
HBA West Chester would like to thank Denice for the inspiring and educational evening and to West Pharmaceuticals for sponsoring this great event.