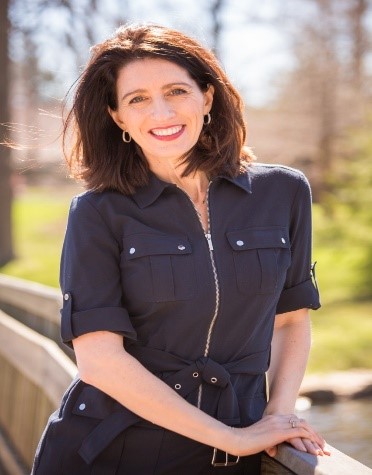 A conversation with Katie Leighton, principal of Leighton Communications, Inc., a woman owned and operated sports marketing and communications firm for 17+ years. 
Hello Katie, can you help our audience with an introduction to yourself, your connection to the HBA and share the work your company, Leighton Communications, currently does?
A woman sports marketing and PR professional walks into an HBA event and people ask… why are you here? The answer was simple for me. While leading the PR and marketing efforts for a 3x world champion Curt Schilling and other national sports names and brands for over 17 years plus previous to that having a career in the sports media, I have collaborated with many healthcare companies on programs that landed in national headlines. Programs focused on skin cancer, ovarian cancer, oral cancer, ALS, Asperger's syndrome, women's health, mental health and more. Merging the power of a celebrity brand that constantly attracts the media's attention with a health or disease topic that often begs for any exposure the media will share, leads to powerful earned media and marketing results.
 
In recent years, my business transitioned to consulting for non-sports industry corporations (many related to health) eager to lean on a sports brand with the goal of securing relevant visibility for their name/product. A client asked me to join the HBA and assist in growing publicity for the organization. I was unaware of what the HBA was but slowly have experienced the networking and wisdom within the group of women.It is far beyond a gender parity organization. It is a fabulous group with infinite resources aligned to propel career minded women to excel. My entire professional career, I have enjoyed navigating a sports industry that has been predominantly men. It is a change of pace for me at the HBA. My involvement has exposed me to networking and learning from a fabulous group of successful women in all areas of the healthcare business. The information shared at the HBA transcends healthcare and can really apply to any industry. Quite frankly, the various programs I have attended are relevant for everyone in business, not just women.
 
A little bird told me that you were instrumental in getting media attention with the recent article on gender pay parity that was co-authored by two chapter presidents and other TV and print articles that featured the HBA; can you lead us through the process? What were the key elements of this success? 
For any organization to advance, it needs to step out of its comfort zone. The HBA has been around over a decade and produces tremendous networking and mentoring programs to arm businesswomen with tool needed to lead. However, it was obvious to me the organization falls into the same trap that I've learned so many businesswomen are also in… not to great at self-promotion. This April as national headlines were being made on the topic of equal pay and prohibiting the salary history question, it seemed like a natural time to have the local HBA chapter presidents step out of the HBA's comfort zone and test the waters with their message in the media. The general public and business community must notice the work the HBA is doing to collaborate in changing the headline for women in leadership in corporate America. Educating both business leaders as well as society as a whole is vital to achieving the goals of the HBA.  
 
If other chapters wanted to increase awareness of gender parity issues what advice would you have for them? 
 
The media is always looking for new stories to cover or new angles to hot topics that are currently dominating the headlines. Chapter leaders should ask themselves questions such as….
What is your chapter doing differently to advance the message of the HBA?
What is unique about your perspective on the topic? 
What success are you seeing?  
What sets your chapter members apart as future leaders in business? 
Additionally, keeping the message simple and easy for all to understand will reach a broader audience. Showcasing what Equal Pay Day is captivates an audience, saying the words "gender parity" can be stale and often loses attention. When an entire generation gets behind a goal, movement will happen. 
What are some of the strategies that you utilize when creating or relaunching a brand messaging in the sports arena? Do they translate to other areas such as women leadership, healthcare and gender parity? 
It doesn't matter the industry, when creating or relaunching a brand message, what is new and different takes center stage. When you think differently or have a forward-thinking initiative, when you solve a problem or have a unique way to do something you can create attention for your mission.  
Katie, you are clearly a driven, accomplished and successful leader in the marketing and public relations industry. What will be your advice to someone wanting to establish themselves in this field? Would you share any pit falls to avoid?
When I was out of college (Syracuse University), I went into sports journalism because I knew I could land a journalism job. I was a big sports fan. There were few women in the sports media which made me a novelty in the industry. I capitalized on an industry severely lacking a women workforce. Just as I mentioned earlier about pitching a story to the media, if you can showcase ways that your skill set is different from others or work against the norm, you gain attention for yourself as you establish a career in marketing and PR. How well you market yourself is often the first way you showcase how well you will market or publicize a product for your future employer.