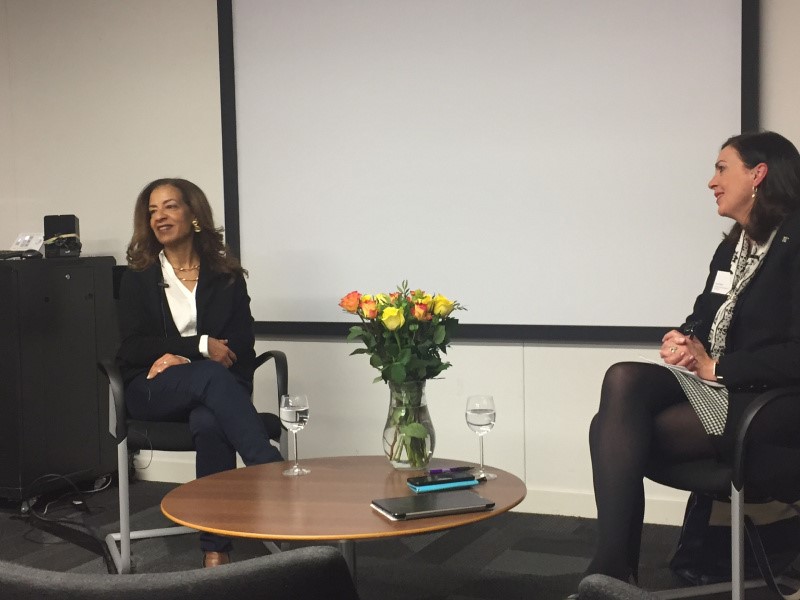 In celebration of International Women's day this year, HBA London was honoured to host Bahija Jallal, president, Medimmune and 2017 HBA Woman of the Year on 12 March and the conversation was brought to life by none other than Laurie Cooke, HBA CEO.
The sold-out event started with Laurie reminding the audience that only 23 pecent of leadership position in the pharmaceutical industry is currently held by women and there is still a long way to go in achieving gender parity and diversity in the healthcare sector. Woman of the Year (WOTY) awards, which are presented annually by the HBA, aims to honour a senior executive female whose accomplishments have resulted in significant contributions to the healthcare industry and Bahija, as 2017 WOTY exemplifies the HBA mission by being an excellent role model. It was a real treat to receive a close insight into Bahija's life and work and as the evening progressed, it was evident that she was committed to the advancement of other women by changing the environment we operate in.
The interactive session brought out many insights and one that stood out amongst many others was Bahija's wise words about changing the narrative, i.e., we don't need to fix women, we need to fix the environment. Data shows that diverse teams are more successful and offer better ROI, and instead of guilt tripping companies about the lack of women leaders, we should change the narrative and demonstrate that diverse teams are more successful. Bahija also stressed the importance of innovation in healthcare and that if we want to remain innovative, we need to work with people who don't all look the same, are the same or have the same origin.

The inspiring event held many pearls of wisdom from Bahija and Laurie, but the engaged audience elevated it to the next level with open, probing and insightful questions. Here are some of the themes that emerged from the combined wisdom of Bahija, Laurie and the audience, as the evening progressed:

Go for the promotion, give yourself positive self -talk and support other women to make these strides
Have the courage to speak up and follow your heart

Believe in yourself

Use this platform to partner with men

Opportunities are everywhere, keep your eyes and ears open

Data shows gender differences in speed and risk taking, why not team up for optimum and holistic outcomes

A great leader isn't afraid of talent and knows they're only as good as the team around them

Leading with empathy is underemphasized but no less important

For women to lead well we need to do so by example and remember someone younger is always watching

As the conversation drew to a close, Bahija reminded the audience what an exciting time it is to be in the healthcare sector, not just in medicines, but also other solutions for patients. The deluge of data and emerging methods for harnessing the data such as artificial intelligence and digital technology is changing the landscape dramatically and will transform the pharmaceutical industry. If we are to remain successful, we need to change the model and get out of our comfort zones and be ready to meet an informed and diverse patient population with a diverse and balanced team.

To bring the event to a close, canapés and drinks were served and the inspired audience interacted with like-minded individuals and the speakers. There was a real buzz in the room as new and familiar faces were brought together along with the opportunity to speak with Bahija and Laurie and continue the all-important conversation on 'changing the narrative'. And the conversation continues…