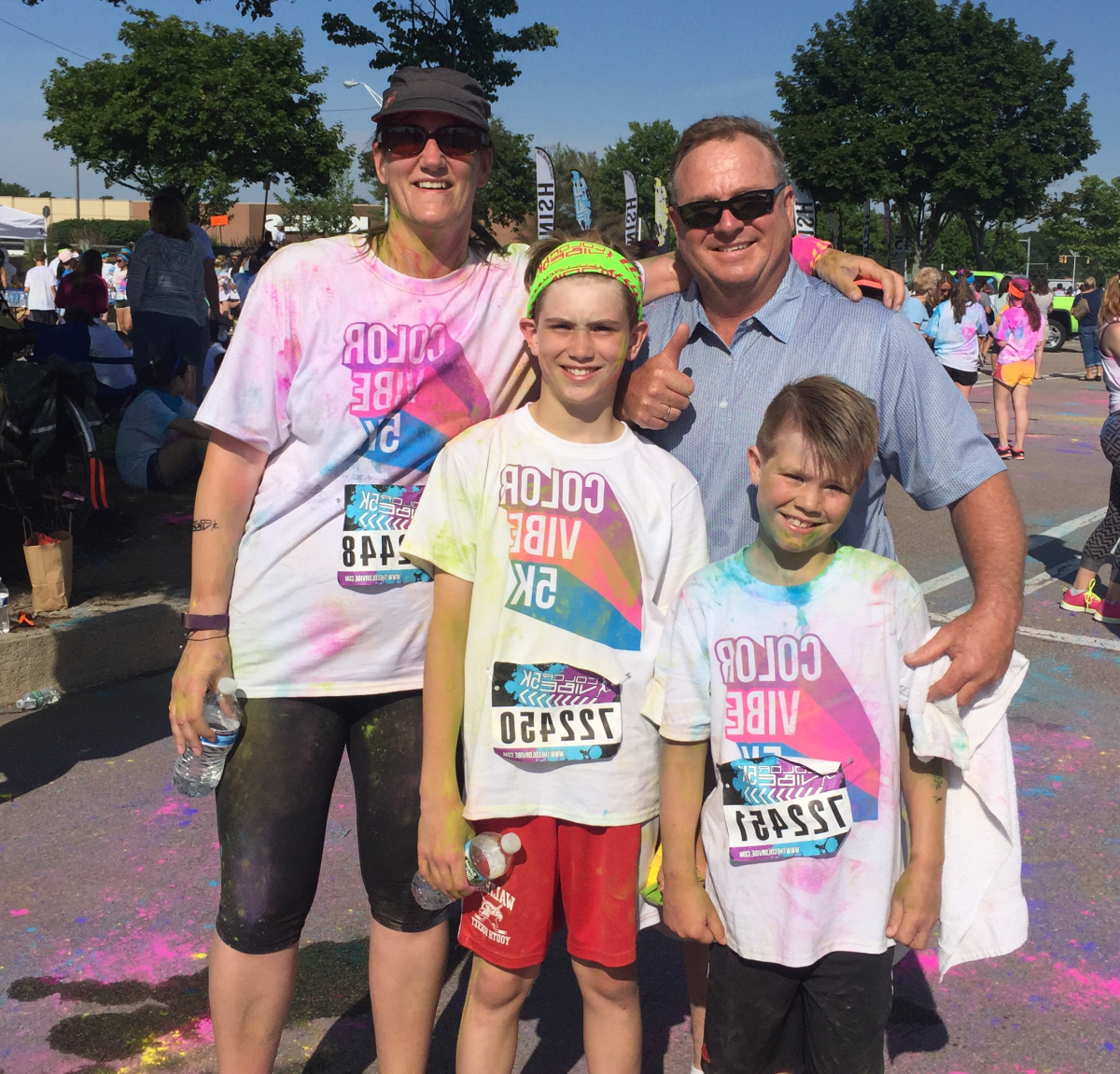 Athlete Profile – April 2017    
Name: 
Michaela Miller 
Company:
QuintilesIMS/Boston Biomedical Consultants
Position: 
General manager  
Favorite athletic event: 
Warrior Dash (so much fun) and 2016 Color Vibe (5K) with my two sons (8 and 11 years old)
What is your background as an athlete?
I started getting interested in sports after my second son was born as a way to lose weight and become healthier. I started working with a personal trainer and joined a boot camp. As a next step, I added light running to my schedule, joined a team (Karna Girls), and ended up running two Half Marathons (Boston Run To Remember and the Lowell Baystate Half Marathon). Most recently, I have only kept up light running and have reengaged a personal trainer to "keep me honest" and help me stay focused on my fitness and health goals. All that being said, calling myself an "athlete" may be a bit of a stretch 

Describe your most challenging athletic event/experience to date.
My most challenging athletic event to date has probably been the Lowell Baystate Half Marathon. This was my first Half Marathon and my training was based on an interval (run:walk) program. I committed to running the entire race and then felt the need to put in a full blown sprint at the end, which literally took everything out of me to the point where I was completely nauseous and swore I would never do this again. Of course, then the inner voice came on and said "Leaders don't quit on that note!" So, I tackled the Boston Run To Remember, which ended up being a MUCH better course and I had a MUCH better end result.

What have you chosen as your transformative event for Fit to Lead Boston and why?
I chose the Whale City Triathlon (July) as my transformative event.  I have never competed in a triathlon before and the swimming will push me outside of my comfort zone. I have also not done much biking for the last 10+ years; combining three activities in one event will most certainly push me to my limits. It is supposedly an excellent race for beginners given the flat course. I have started my training and am excited and petrified at the same time.
How does your experience as an athlete transfer to the workplace?
Over the years, I have realized that better fitness, health, and weight have a direct impact on my confidence level and how I carry myself. I feel more confident in my own skin, as well as when I interact with clients and colleagues. The discipline of training for an event, developing a plan, following it, correcting it if need be (troubleshooting), also find their way into the workplace and are applicable to any professional goals that you need to/want to execute or projects you need to manage. As the old saying goes: "proper prior preparation prevents poor performance". 
Name a random, fun fact about yourself.
I love watching "Cupcake Wars".