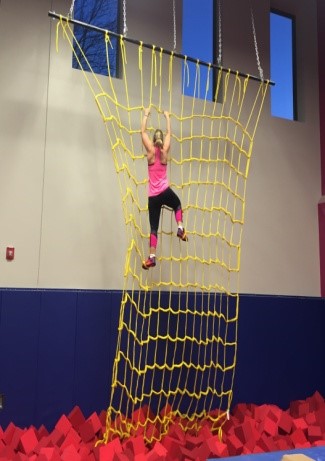 Name: Erin Davalos 
Company: Takeda Pharmaceuticals
Position: QC Manager II
Favorite athletic event: Field hockey and softball
What is your background as an athlete?
I played team sports from a young age – softball, soccer and basketball in elementary school; in high school I played softball and field hockey; in college I played field hockey. I played softball in various biotech leagues into my early thirties and have run a handful of 5K races. I have always enjoyed outdoor (non-competitive) activities such as skiing, ice skating and swimming. I have not done the endurance events that some of the other Fit to Lead participants have (such as marathons and triathlons), but I would like to reiterate that this program can be for anyone who is willing to commit to working towards their transformational goal and improving their mind, body, spirit and overall health.
Describe your most challenging athletic event/experience to date:
Catching double-header softball games in June when it is 90⁰ was physically exhausting. My husband and I went scuba diving for the first (and so far only) time about five years ago in the Dominican Republic. I did not mind being in the water and the breathing, but jumping 10 feet off the boat into the water wearing all of the gear was a little scary for me. Once I was in though it was an amazing experience. I hope to do it again someday. I have also climbed the pyramid at Chichen Itza in Mexico. The run up was no problem but the stairs are extremely narrow and on the way down I had a death grip on the rope that is there to assist climbers (and descenders). The pyramid is 98 feet tall and the sides are angled at >70⁰. I felt like I was going to miss a step at any moment and tumble all the way down.
What have you chosen as your transformative event for Fit to Lead Boston and why?
I have not registered for my specific event yet but I plan to do a Spartan race/ warrior dash/ tough mudder/ obstacle course type of event. In the last year, I have changed my workout routine from almost exclusively cardio to a combination of cardio and weight training. I feel so much stronger, and I am also surprised at the significant improvement in my 5K time. I have never done anything like an obstacle course race, and I look forward to working as part of a team. I plan to look for one that will benefit charity, as I would love to give back to the community in some way. I will do some 5K (maybe even 10K) races as part of my training, also for charities.
How does your experience as an athlete transfer to the workplace?
Participating in team sports has taught me how to get along with many different types of people and work with different personalities. I have made friends with many people who I would not have known if they had not been my teammates. It has taught me collaboration skills, how to work together to achieve a common goal. My job is fairly sedentary, and staying active with regular workouts makes it easier for me to focus on tasks and be more productive at work. I frequently exercise in the morning and it helps me start the day with a positive attitude.
Name a random, fun fact about yourself:
When I was eight years old, I turned an unassisted triple play in a little league baseball game. I made three outs all by myself. I caught a fly ball ball, tagged 2nd base (the runner left early), and tagged the runner going from 1st to 2nd base.