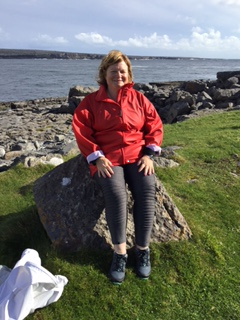 Athlete profile – June  2017  

Name:  Charlene Neu
Company: Mature Caregivers
Position:  gerontologist, senior care manager

Favorite athletic event: As a returning athlete, I'm trying a variety of activities including biking, kayaking, 5k. It's important to me that I pick activities that challenge me but that are also realistic. 

What is your background as an athlete?
Golf, tennis, swimming, biking, skiing, walking. However, due to injuries and subsequently not being athletic, I've had to work on balance, strength, flexibility as well as cardio. I'm finding that the more I move, the better I feel and the better I feel the more I move. I'm getting back to all of these activities and enjoying the chance to do them again.

Describe your most challenging athletic event/experience to date.
I think that the most challenging experience that I had was to sign up to join the Fit To Lead program and to commit to it. The second was the day that I listened to what was required for training for the Spartan Race in November, and I still signed up.

What have you chosen as your transformative event for Fit to Lead Boston and why?
I have decided to do an event a month as a way to try different things, meet new people, in some cases fundraise, and continue to challenge myself. So far, in May,  I did an OrangeTheory Fitness Fundraiser; this past weekend, I participated in the Women's Alzheimer's Movement Workout and on Saturday, I will do the Spectacle Island 5k.

How does your experience as an athlete transfer to the workplace?
My participation in the Fit To Lead program at the same time as the HBA mentoring program has been a game changer. Planning, scheduling, teamwork, competitiveness and confidence have been intrinsic components of both of these program. The results are that I am learning to work more efficiently and effectively and to also understand that success comes from trying; picking yourself up and trying again; keeping your eye on the goal and moving towards that and believing in yourself. I find myself saying a lot, "You can do this." I'm also appreciative of the Fit to Lead's support and encouragement and know that they will have my back when I need it.
Name a random, fun fact about yourself.
I sang onstage with the O'Jay's at a convention!