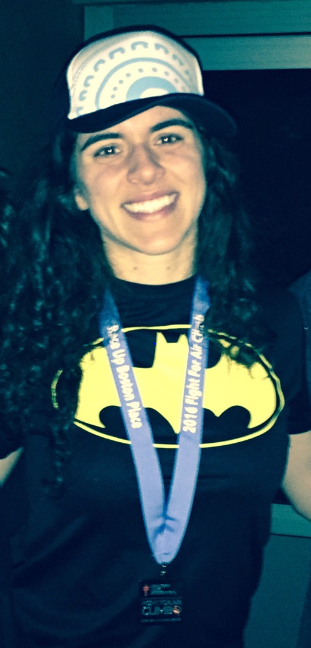 Athlete profile – August  2017  

Name: Cat Bannish
Company: Shire 
Position: Biologics Business Operations Lead
Favorite athletic event: Trail Running & Harvard
What is your background as an athlete? I used to love playing soccer, then moved onto ultimate frisbee in college. Upon starting work at Shire, I joined a crazy group of folks who got to the gym at 5:30 AM every morning to do Insanity videos, Harvard Stadiums, bootcamps, spin, anything that got a great sweat going. Through them, I started doing the Spartan races, which made me realize how much I enjoyed trail running. Wanting to do better in Spartans also lead me to start rock climbing which has become a very positive part of my life.

Describe your most challenging athletic event/experience to date: Incorrectly balancing nutrition and hydration in longer races has led to my most challenging experience, a Spartan Ultra I attempted last summer that I wasn't able to complete. I overloaded my electrolytes assuming there would be ample water on the course, but with a shortage of water, a hot summer day and a very challenging course, I found myself having to lie down on the side of the trail as I battled dehydration, fatigue and an overwhelming sense of defeat. Thankfully had some kind souls on the course who gave me fresh water and stayed with me until I got back up on my feet, which helped me get to the half-way point. Thankfully there were multiple ltra veterans who said this was by far the most difficult Ultra they had attempted, so much so that they chose not to complete it, but it still was a humbling experience.

What have you chosen as your transformative event for Fit to Lead Boston and why? I chose to re-attempt the Spartan Ultra in Killington, VT. Not everyone can complete this race, so I have a drive to join the relatively few who have. I also just have to prove to myself that I have learned my lessons, I have improved and I can succeed. Once I complete it, I can retire from Spartans and move onto long-distance trail races.

How does your experience as an athlete transfer to the workplace? Confidence, perseverance, and pushing out of your comfort zone in order to achieve. Identifying your shortcomings and mistakes in order to improve them.

Name a random, fun fact about yourself: I am like many women in the sense that I buy lots of shoes and bags. I differ from many women since those shoes and bags just happen to be trail-running shoes and hydration packs. Oh, and I'm addicted to race swag!