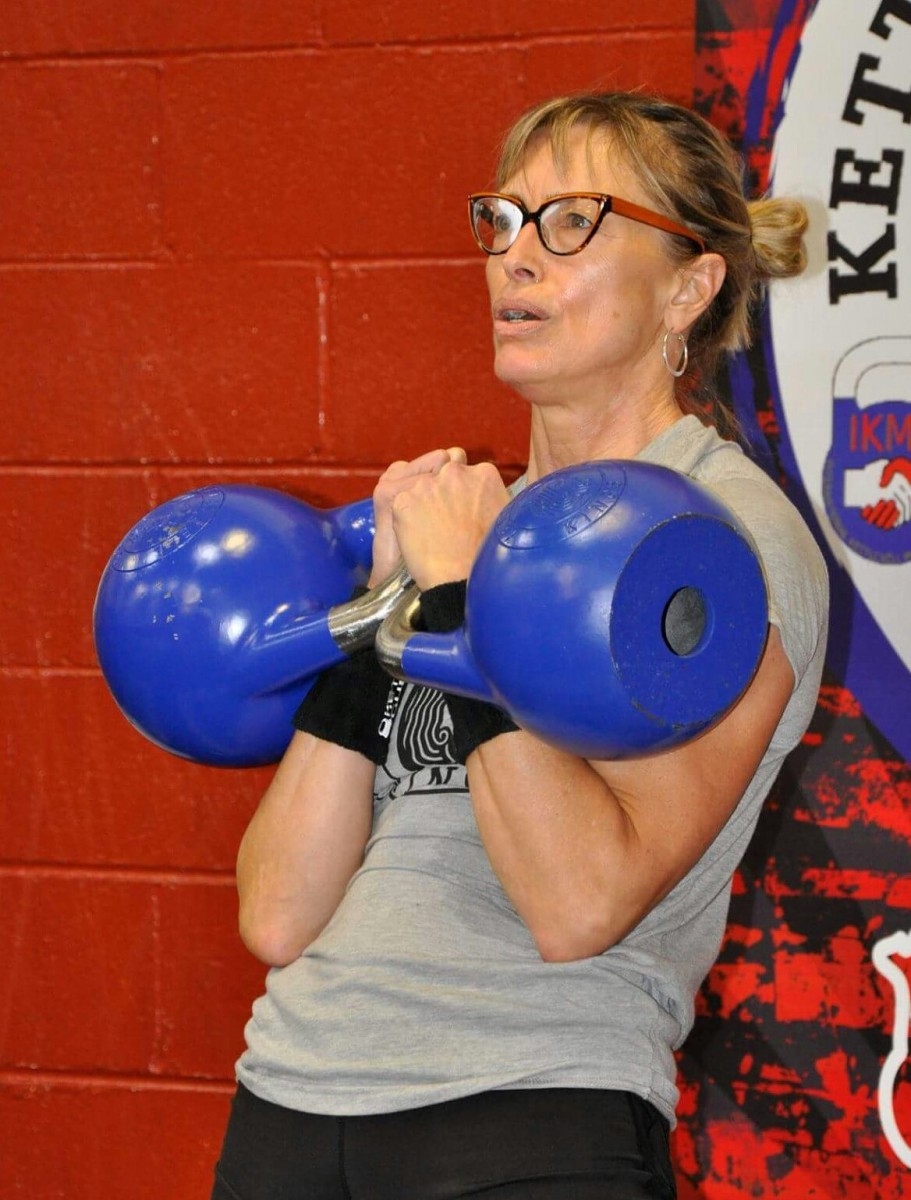 Name: Carol Addy
Company: HMR Weight Management Services Corp., a subsidiary of Merck & Co., Inc.
Position:  Chief medical officer
Favorite athletic event: Kettlebell lifting
What is your background as an athlete? I feel most fortunate that sports have always been an important part of my life. As a child, I was always outside playing, and I began to formally compete in track and field when I was in elementary school/junior high school. This was back in the day before Title IX, so I competed for an AAU team because my school did not have a girls' track team. I competed some in college, but was plagued by injuries. The good news is that in college I discovered the joys of bike riding and that there was such a sport as bike racing. Much to the dismay of my parents, I began bike racing full time right after college, and I was fortunate to have support from various sponsors such as Fuji, Raleigh and Weight Watchers Frozen Foods and to become a member of the US Cycling Team. During medical school, I gravitated back to running due its time efficiency relative to cycling, and I ended up doing several marathons, including qualifying for Boston and competing in the 100 year anniversary. What a thrill! Over time, I was again plagued by running injuries, but the silver lining is that I began working with a personal trainer who introduced me to kettlebells. I have been training with KBs since 2011 and have been competing in kettlebell sport competitions for two years. The events are 10 minutes in duration and require lifters to complete as many reps as possible in that period of time. In a sense, it is endurance based weight lifting, and it is by far the most challenging sport that I have ever competed in.
Describe your most challenging athletic event/experience to date: I would have to say that every kettlebell competition would be on my list of "most challenging". I am not inherently strong, so completing a 10 minute set in competition requires me to dig really deep, especially when my coach makes me compete with a heavier weight. It is interesting to reflect on what happens during those 10 minutes. During the first couple of minutes, I have to do my best to reel myself in from psyching myself out about how heavy the kettlebell feels and feeling like I will never be able to go the full 10 minutes. I have to remind myself that my training has gone well and that I have been very consistent in my prepartion, which allows me to put the jitters aside and to get into the 'zone'. Unfortunately, the 'zone' only lasts until about minute eight……..which leaves the last two minutes for absolute focus, concentration and grit. I get so focused that I many times don't even realize until afterwards that I have torn my calluses and that my hands are a bloody mess. Oh well, I guess I was never meant to be a hand model.
What have you chosen as your transformative event for HBA Boston Fit to Lead and why? I chose the American Kettlebell Alliance National Championships as my transformative event. It was an honor to be able to compete with the best lifters in the country and to try to improve upon my personal best. I competed in the biathlon, which is a combination of two different lifts (jerk and snatch), each of which go for a full 10 minutes. I was pleased that I got a PR by four reps in jerk and was also on target for a PR in snatch………until at 4:38 into the set the kettlebell flew out of my hand. Set over and huge disappointment. The video of my set said it all, and really captured the look of disbelief on my face. Despite the disappointment, I have been able to turn the result into a positive by going back to the training drawing board and doing more dedicated training to focus on grip strength…..and the experience has undoubtedly served to fuel my fire for the next competition.
How does your experience as an athlete transfer to the workplace? There is terrific carryover: having a coach, being consistent, having a plan/goal, learning from mistakes, thinking about the big picture rather than getting hung up on the day to day details (i.e., remembering that it is the "movie version" that is important and not the "snapshots").
Name a random, fun fact about yourself: I just signed up for a beginner tap dancing class.